Why should companies accelerate their digital transformation journey? BDO Digital survey data shows digitally driven companies are leading those that aren't, and the divide is growing.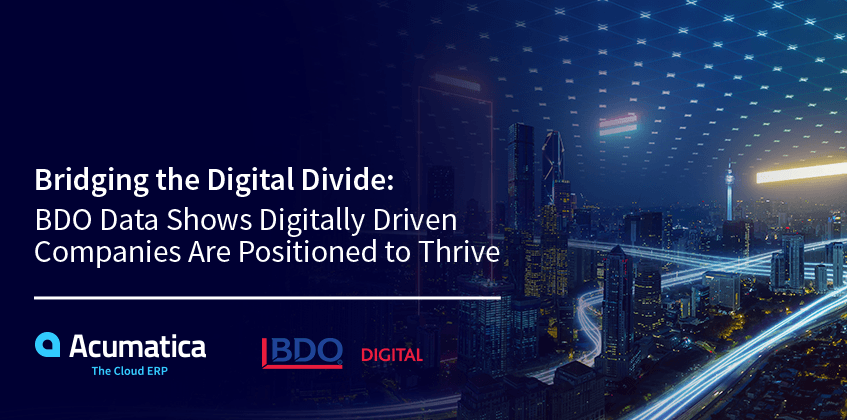 A sense of urgency is shaking businesses awake in every industry, or is it? According to Acumatica's Geoff Ashely, VP, Partner Strategy & Programs, it should be, and the sense of urgency has a name: Digital Transformation.
In a recent article, Geoff states unequivocally that every business needs to digitally transform. Recent research from BDO Digital, one of the nation's leading digital service providers and a subsidiary of accounting and advisory firm BDO USA, shows that he is spot on.
Digitally driven companies are the survivors and the thrivers in the digital economy, and they're pulling away from the technology laggards.
The push for digital transformation
What exactly is digital transformation? Let's use Geoff's definition:
"Digital transformation is a complete rethinking about the way your business uses YOUR PEOPLE (first and foremost), the processes you have in place, the initiatives you undertake, the strategies you employ, and the technology you use in order to manage or even completely rethink the business model and go-to-market that defines you."
Clearly, it's no small matter. He also insists that digital transformation is a journey, which he explains is not a "single instance" but is, in fact, the foundation for business resilience. And the resiliency brought by digital transformation is a key component of preparing for any future disruptions, like the pandemic.
Prior to the pandemic, the push for digital transformation was more like a gentle nudge. Most companies were aware they needed to invest in a digital strategy to become a connected business and to find success in the digital economy, but their disconnected, legacy solutions were still able to get the job done—albeit inefficiently.
They didn't know, however, that they would face unprecedented lockdowns, being labeled a "non-essential" business, having to quickly turn their workforce into remote workers, and needing to bolster its omnichannel commerce capabilities. They figured it out once the pandemic was in full force, but the reality is, they were caught flat-footed.
"For the last year, most businesses have been scrambling to catch up, or, at best, keep up with the pace of change," write the authors of BDO Digital's 2021 Middle Market Digital Transformation Survey of 500 middle market C-level executives.
The report asserts that it's time to shift from a recovery mindset to one of growth, and it appears that middle market organizations are getting the message. Midmarket organizations are hitting the fast forward button on their digital transformation efforts. Ninety percent plan to maintain or increase their digital spending in 2021, 51% are adding new digital projects, 49% are revising their long-term strategic vision, and 43% are accelerating some or all existing plans.
How do organizations compare?
BDO's Benchmarking Report, which gets its data comes from the BDO Digital 2021 Middle Market Digital Transformation Survey, provides a comparison of how Lower Middle Market ($250M-$750M) organizations and Upper Middle Market (4751M-$3B) organizations are doing with their digital transformation efforts. By benchmarking their efforts against similar sized organizations, they can identify their strengths/weaknesses, understand threats to the business, gauge competitive advantages, and prioritize investments as they look for the best methods of encouraging growth.
The report indicates that the respondents' digital transformation strategies are varied, but there is one thing they all agree on: No one had no plans for digital transformation. Put another way, every organization has plans to digitally transform.
Though at differing levels, most of the organizations are focusing on:
Business or operating model adoption (e.g., digitizing the supply chain, adding new payment models, expanding into new markets or customer segments, and more)
Emerging technology adoption (e.g., cloud computing, data analytics, enterprise resource planning (ERP) software, Internet of Things, AI/Machine Learning, etc.)
Innovating their customer experience capabilities (e.g., cloud-based collaboration platform, data-driven personalization, ability to capture user information online, real-time customer/client intelligence, marketing automation, and more)
In addition, businesses are determining how they can prepare their employees for the digital transformation, such as implementing training, hiring new talent, working with an external advisory firm, and more. And the report breaks down how respondents are paying for their digital investments.
Bridging the divide
Even though survey respondents agree that digitally transforming is important, BDO's 2021 Industry 4.0 Survey, a survey of 100 C-suite manufacturing executives, found that the digital divide is growing. Manufacturing companies that prioritized digital transformation efforts prior to the pandemic are in a better position than those that haven't.
BDO's data makes the case for jumping into a digital transformation journey today to start bridging the gap, and one of the digital priorities should be customer experience:
"Manufacturers view the quality of their customer service as a value driver for their businesses and are making investments to continue improving it. Improving customer experience is manufacturers' second most-cited overall digital priority, and 20% say it's their competitive differentiator, just behind better products/ services (28%). Some of their strategies are in direct response to changing customer expectations due to COVID-19. For example, the pandemic has made it a necessity for manufacturers to be able to interact with all their customers digitally, and as a result, more manufacturers are planning to develop conversational AI/chatbots."
With so much at stake, those in the manufacturing industry, as well as businesses in other industries, need to prioritize the digital transformation journey. BDO Digital, a valued business advisor to privately held, private equity-owned, and publicly held manufacturing and distribution companies for over 100 years, is able to help get you started. We believe businesses that use innovation to fuel growth will succeed in today's marketplace.
Download the surveys and benchmark report for the full digital transformation details:
And contact the BDO team with any questions. BDO Digital can get you where you want to be.