What is APS, and how using it with your current ERP will boost production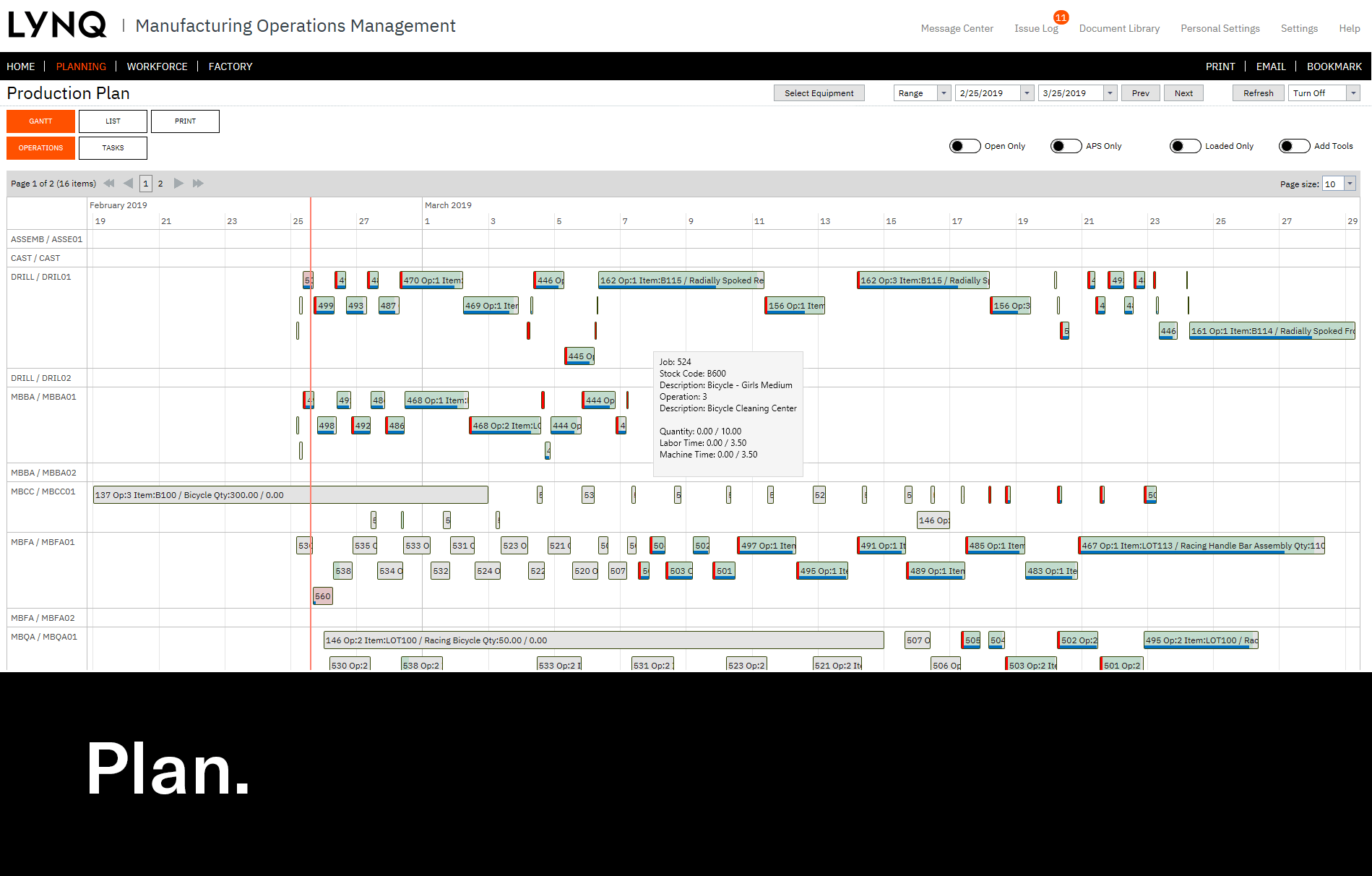 Having come through a period of uncertainty, manufacturers will be more aware than ever of the importance of managing their current resources in the most effective way possible. Collecting data from manufacturing machines and the employees running them is essential to gaining helpful insights into processes. Without visibility of this data, it is impossible to recognize areas of inefficiencies and where losses are occurring. By measuring and analyzing this data, the Production Planner can ensure that machines are running to their optimum capacity and that the schedule is in line with demand.
Commonly, this data is siloed in the machines themselves or recorded on pieces of paper on the shop floor. It is then an admin-heavy and manual process to enter this information into a manufacturing ERP application. As a result, the ERP system highlights inefficiencies and savings opportunities resulting in business growth. This is where LYNQ MES comes into the picture. By digitalizing this entire process, LYNQ eradicates the need for manual data entry and talks to the manufacturer's ERP, with certified integration with Acumatica Cloud ERP, to provide a holistic view of your entire manufacturing operation.
This enables your Production Planner to schedule the production line based on information from both Acumatica Cloud ERP and the shop floor. In addition, LYNQ MES includes feature-rich APS capabilities, which stands for Advanced Planning and Scheduling, equipping manufacturers with an easy-to-use and efficient tool for improved decision making.
Through Acumatica Cloud ERP combined with LYNQ MES, manufacturers can improve their planning and scheduling through:
Visual scheduling: Automated and manual drag-and-drop scheduling quickly produces reliable production plans and instantly identifies gaps in the production line or more efficient working methods.
Flexibility to respond to demand: Adjust constraints and adapt flexible scheduling scenarios to reflect complex manufacturing processes, looking many months ahead.
• Urgent orders: Immediately respond to critical delivery requirements and control subsequent effects of changes in the schedule.
Finite capacity vs. ERP-based scheduling: Enable the manufacturing ERP system to perform sales, operational and material planning based on reliable and predictable shop order start and end dates.
What-if scenarios: Capable-to-promise based on capacity and material availability providing quick and accurate delivery dates for customer quotes.
A solution designed with the user in mind: Technology that is easy to use and intuitive, visual schedules, and graphical representation of the shop floor data make it simple to visualize where losses can be saved and potentially where time is being wasted.
Combining Acumatica cloud ERP with LYNQ MES provides manufacturing organizations with a powerful solution for in-depth insight into production line data and invaluable analysis to digitalize and drive factory performance.