As a growing company, Bluefin Collectibles chose Acumatica cloud ERP to handle their business management needs. The team can't say enough about Acumatica's usability, scalability, and affordability and how it has changed the company's trajectory—for the better.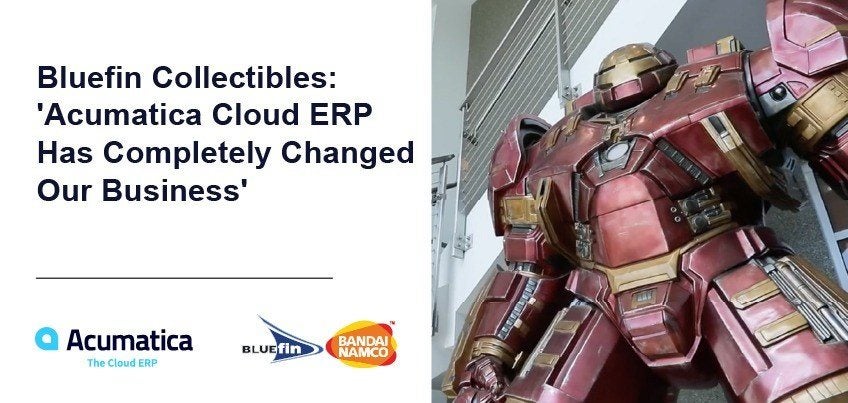 Bluefin Collectibles is the largest U.S. distributor of Japanese toys, collectibles, and model kits (think Bandai Model Kits, Flame Toys, Tamashii Nations, Bandai Shokugan, and more). The business grew exponentially with the increase in the number of fan conventions, such as Comic-Con. Their growth meant QuickBooks Enterprise was no longer able to meet their financial, warehouse, and distribution software needs, so Bluefin's team instigated a search for a scalable and affordable cloud ERP solution.
"I had never heard of Acumatica before," says Bluefin's CFO Chris Sakamoto in the company's video testimonial. "I found out quickly [with Acumatica] that the ease of use, the navigations, and the integration between the various suites, all were very smooth."
Bluefin before and after Acumatica cloud ERP
In 2011, there were only four Bluefin employees doing double-duty from sales to helping manage shipments. The shipments were picked by paper, and because QuickBooks is not inventory management software, they had to rely on remembering where things were located.
QuickBooks' limitations became more apparent as Bluefin added employees. Getting access to the system proved to be a struggle. "It was a constant juggling around of 'I need to get on, who can log off right now'," Bluefin says.
Adding, "Our QuickBooks database was over a two-gigabyte file, and the startup time would be typically two-to-five minutes depending on the session."
Bluefin currently serves 10,000 independent toy stores and large chain retailers. Orders are placed in advance from overseas manufacturers, which means it can take months for the product to arrive. "One of the major challenges for the company is cash management. Because we're a distribution company, we must pay for these products prior to shipment, and we don't collect from our customers until several months later," Chris says.
With these challenges, the Bluefin team recognized it was time to move to a comprehensive and flexible cloud ERP solution. They needed distribution management and financial management software capable of managing their unique distribution requirements.
The things Bluefin looked for in an ERP were secure data access, flexibility in reporting, and extensibility for adding customizations.
Bluefin added that mobility, affordability, and a robust CRM were must-haves. The Bluefin team evaluated Oracle NetSuite, Syspro, and Acumatica. They selected Acumatica and implemented Acumatica Distribution Edition with the assistance of Acumatica VAR Collins Computing.
Now, Bluefin exceeds 50 employees and has found that implementing Acumatica cloud ERP has resulted in:
Automation of their previously manual ordering system
Custom dashboards
Deeper insight into business operations and the ability to track key metrics
Fast, mobile access to financial data
Seamless integration with third-party applications
Improved customer communication & confidence in product authenticity
Increased efficiency
The company's IT department has saved hours by having users create their own reports and spends more time advancing Bluefin's technologies. Acumatica's unique unlimited user pricing is an additional benefit. "We liked the fact that we could have unlimited users and there was no per-seat license with Acumatica, so we could add as many users as we need to keep the work moving," Chris says.
The Bluefin team also appreciates the power of choice to be able to host Acumatica cloud ERP on their own servers as needed and the option of limiting critical financial information access to those approved.
But that's not all…
As an exhibitor at many industry conferences, Bluefin operates on-site stores. Prior to implementing Acumatica cloud ERP, they were unable to get the reporting and metrics they needed to determine how well they did in a timely fashion. However, at their first trade show using Acumatica's distribution software and financial management software, they were able to garner the information they needed immediately, with one result being increased sales.
"That was the first time we were able to see that kind of information so quickly. Generally, we had an idea of what we sold but didn't have the numbers until months later," Chris says.
In addition, Bluefin uses B2B Gateway for EDI transmissions to large chain accounts. With Acumatica and B2B Gateway, Bluefin now can verify product packaging, and customers can track their product through RFID and blockchain technologies.
"I would absolutely recommend using Acumatica for anyone looking at new ERPs. The growth potential for Acumatica with unrestricted user license as well as the support of the ISVs and VARs available is outstanding," Bluefin says. "Acumatica is awesome. It's completely changed our business."
This change has resulted in continued growth and with Acumatica cloud ERP in place, the company is on track to keep scaling up. "We personalize Acumatica to our needs almost daily; it's the real hammer and anvil in my cubicle," Bluefin says.
Are you a wholesale distribution company like Bluefin looking for a modern inventory and financial management solution for your business? Contact our team for a demonstration of Acumatica Distribution Edition and to learn why we're committed to helping our customers (current and potential) power their business no matter what comes their way.