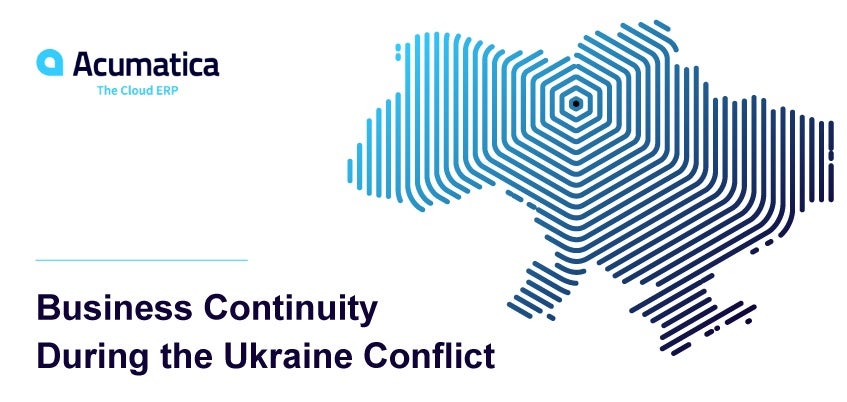 Since Feb. 24, in the face of the ongoing invasion, more than two million people have fled Ukraine to neighboring countries, and one million people have left their homes and are now displaced inside the country. The conflict is only getting worse and, as our Chief Product Officer Ali Jani stated previously, it is real cause for alarm.
We thank the members of the Acumatica community for their awareness of and sensitivity to this international crisis. We'd also like to extend our appreciation to the owners of Acumatica, EQT Partners in Stockholm, Sweden, for their unwavering support of our employees, customers, and partners. As always, we stand committed to employee, customer, and partner success, especially in the midst of crisis.
Acumatica was built for business continuity. We have helped thousands and thousands of customers increase their business success during the pandemic and will continue to do so through this current emergency. Customers in need of product support have several channels available to them, including the Acumatica Customer Portal, working through normal Acumatica systems, submitting a support case, and Acumatica Open University. Together, these resources ensure that customers receive round-the-clock assistance, and as always, customers can also turn to their local Acumatica partner for guidance and support.
The bi-annual release cadence of Acumatica's award-winning cloud ERP products will not change. Acumatica 2022 R1 will be available in the next few weeks, and Acumatica 2022 R2 will be released uninterrupted in September. Our globally dispersed development teams continue to work on product updates, advancements, and new features every day.
We commend the Ukrainian peoples' bravery during the unjustified violence and invasion of their country, and our thoughts are with all those impacted. We are pleased to see so many people, organizations, and governments around the world come together to provide humanitarian relief to those affected. We remain committed to doing our part and invite all to join us in supporting the International Rescue Committee and the World Central Kitchen in their efforts to send vital supplies to displaced children and families.