The Importance of Construction-Specific ERP Software
Construction firms looking to implement a cloud construction management solution should consider the difference between generic and construction specific ERP software.
A generic product is designed to meet the broadest needs of the most customers. This is not necessarily bad, but the "one-size-fits-all" mentality restricts the product's ability to meet specific needs. For example, a generic ERP may supply many features—e.g., CRM, project management, accounting/financial management, business intelligence (BI)/artificial intelligence (AI), and more—while still lacking industry-specific capabilities. This can lead to expensive, time-consuming customizations and third-party fixes.
Cloud construction management software, on the other hand, provides specific, rewarding benefits, and we'll look at some of them today.
Tracking Resources and Managing Delays
Projects are successful when many factors come together at the right time. For construction firms, one such factor is efficiently managing people, materials, tools/equipment, subcontractors, and more. Resource management is made easy with the right cloud-based and integrated construction specific ERP solution.
With a construction specific ERP, every stakeholder has access to critical documentation in a single location. Data is updated in real time, which means employees—whether they're in the office or out in the field—know exactly what's going on, where everyone is, and how the project is (or is not) progressing at all times.
When information (e.g., RFIs, project issues, resource questions, contract disputes, etc.) is shared via cloud construction management software, the costly delays common to construction projects can be reduced or even eliminated.
Streamlined Collaboration and Constant Availability
Cloud construction management software on a centralized platform unifies office and field teams. This is not the case with multiple stand-alone legacy solutions, on which many construction firms have relied for decades. Such legacy solutions have hindered businesses, causing siloed records and requiring manual interventions.
Now, with cloud ERP software, these same firms can access, use, and disseminate critical information 24/7 via an internet connection from a phone, a laptop, or any other web-enabled device. This seamless flow of synchronized information across departments results in on-the-spot collaboration among field teams, office staff, vendors, and subcontractors.
It also heightens end-to-end project visibility, which means project managers are no longer operating in a disconnected bubble. Instead, they're linked to their teams and on top of everything—a huge plus for clients, who want projects to be completed on time and in budget.
Finding the Right Cloud Construction Management Solution
From improved resource management and reduced delays to streamlined collaboration and constant availability, a cloud construction management solution can benefit every construction firm. However, finding the right software is not always a simple task.
Construction firms will want to ask some specific questions about the solution(s) they're evaluating before making up their minds, including:
Does the construction specific ERP help increase productivity?
Does it provide comprehensive cost accounting, project management, and business management features?
Is it built on a modern cloud platform offering ease-of-use, customization, and scalability?
Does it show a clear picture of the total cost of ownership (TCO) and a generous return on investment (ROI) for its lifetime?
Will it safeguard financial and network security?
The answers to these questions will help construction firms during their cloud ERP software hunt, which has been made more complicated by the many fake cloud ERP options out there. To reach greater success in the highly competitive construction industry, firms must search diligently, evaluate carefully, and ultimately find a true cloud construction management solution.
How Acumatica Can Help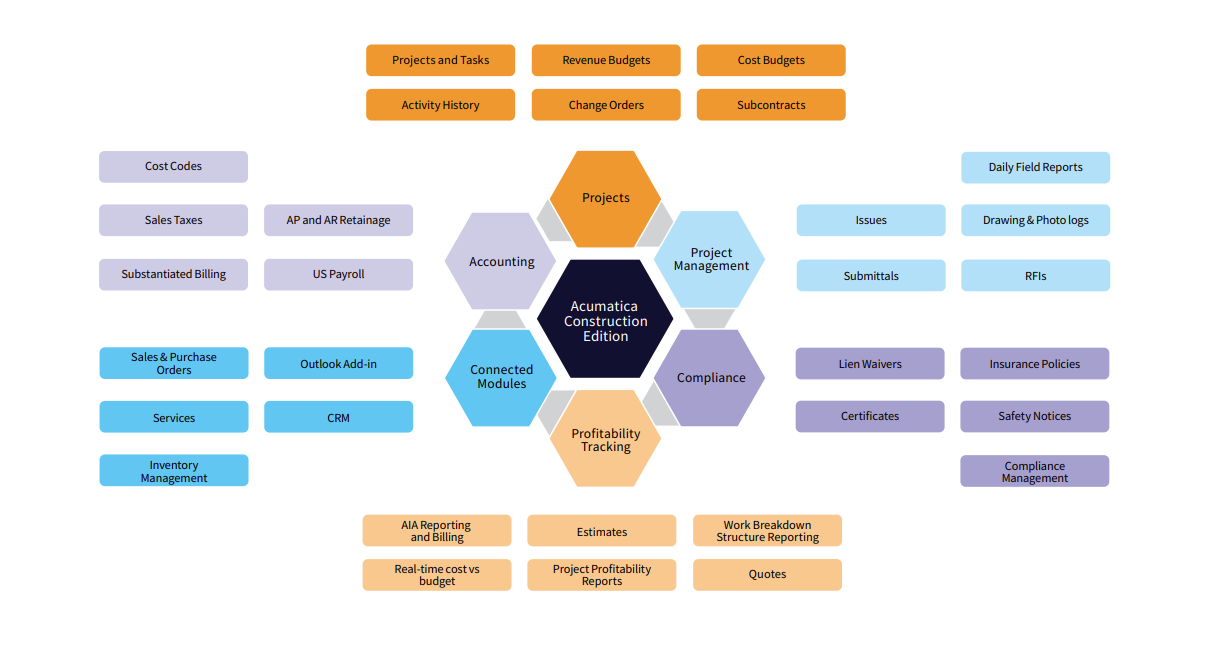 Acumatica Cloud ERP, recognized as one of Construction Executive's standout tech companies in 2021, is a true cloud construction management solution. The construction specific ERP software is one of our core application suites, offering construction companies robust payroll, financials, CRM and inventory and service management, within a single solution. Front office, back office, and job site needs can be seamlessly integrated with third-party applications, such as Procore, ProEst, Prophix, and Assignar. Project information (e.g., budgets, job costing, commitments, compliance, change management, and more) is accessible from a single source of truth at any time, from anywhere.
To determine if Acumatica is the right solution for your business, compare it side-by-side with other construction specific ERP options using Acumatica's Construction Management System Evaluation Checklist, which notes, "The financial management system you select today will affect the way your construction business runs for the next 5 to 10 years. You need a system that helps your staff be more productive and maintain outstanding customer service."
Though the construction industry is in constant flux, and even more so as the fate of the New Infrastructure Bill hangs in the balance, Acumatica's construction specific ERP solution can help you succeed. Contact our experts with any software questions and/or to set up a demonstration.