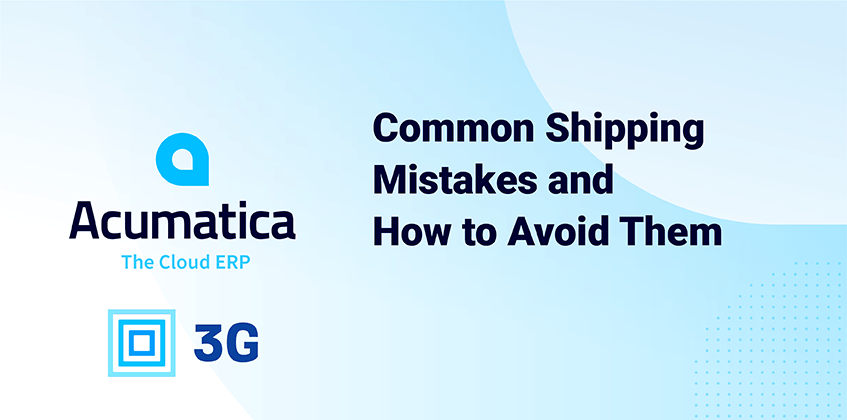 Shipping products can be difficult and daunting—largely due to challenges fueled by the pandemic. As brick-and-mortar stores closed, ecommerce demand escalated rapidly, with four to six years' worth of growth almost overnight. Inventory-centric businesses across industries struggled to fulfill skyrocketing orders amid strained supply chains, unpredictable shipping schedules, labor shortages, increasing costs, and mounting risk.
The ripples of these pandemic shockwaves are still being felt, but businesses can take some important steps to stabilize their trajectories and build sustainable success. Together with our partners at 3G Pacejet, Acumatica has created an eBook, "Streamlined Shipments with Acumatica for Distributors, Retailers, and Manufacturers," to help businesses navigate an ever-changing landscape.
Today, we'll highlight some of the key points from our eBook and talk about some common shipping mistakes and how to avoid them, so you can keep risk at bay.
Shipment Pitfalls You Can't Ignore
The mistakes plaguing today's inventory-centric businesses can be boiled down to a few categories.
Manual Processes: Don't put your company's success at the mercy of manual data entry. People are prone to mistakes. Relying on paper-based processes, manual spreadsheets, and disconnected business management software invites human error to the party. And human error can lead to costly delays, returns, and unhappy customers.
Failure to Rate Shop: Don't marry your business to a single shipment carrier. Doing so places you at risk of overspending and falling victim to capacity shortages. Diversifying your carrier network is the best way to consistently choose the best shipment options and rates for you and your customers.
Picking and Packaging Mistakes: Don't ship the right things in the wrong boxes—and vice versa. When customers place orders, they, of course, expect to receive the right items. Picking errors can cause complaints, returns, or lost business. Customers and trading partners also expect shipments to be packed and branded appropriately. For instance, if you dropship items for both Wayfair and Home Depot, you don't want to ship a Home Depot order in a Wayfair box. This confuses customers and may cause trading partners to fine your company for not following their retail compliance
Labeling Errors: Don't ship items with substandard labels. The label must be legible for every package, and the address must be accurate. To avoid fines, every label should also follow trading partner and carrier formatting requirements—and, since every trading partner has different rules, that means juggling many requirements at once.
Missing or Incorrect Documents: Don't lose track of your paperwork. Misplaced documents and incorrect data are a recipe for shipment disasters. You could ship items to the wrong places, label packages with undeliverable addresses, lose track of carrier and vendor requirements, and incur unnecessary costs in shipment delays and carrier penalties.
Poor Planning: Don't act without rehearsing. Efficient shipping requires careful demand forecasting, route planning, and carrier contract negotiations. It's important to use good judgment and have the right technology in place to help you make accurate, business-enhancing decisions.
The Benefits of Shipping Automation
Implementing modern business management technology, like a cloud ERP solution with fully integrated shipping automation software, is key to avoiding shipping mistakes. Such a system empowers businesses with advanced automation capabilities, so they can stop relying on time-wasting, manual work and start enjoying important benefits like:
Connected Processes

Eliminate steps and streamline shipping. The right business and shipping management system places every piece of companywide data at your fingertips anytime, anywhere. You'll never have to wonder what's happening. You'll never have to deal with missing documents or inaccurate data. And you'll never have to worry about retail compliance because the system will keep track of everything—customer addresses, label requirements, packaging rules, and beyond.
Accurate Financials

Keep track of every cent. With a cloud ERP shipment automation solution, you'll have instant access to a robust accounting suite, through which you can automate freight invoice payments and dunning letters, streamline expense management and sales commission processing, and efficiently oversee every cent that flows into and out of your business.
Business Insights

Monitor results and make business-enhancing decisions. With access to configurable reports and inquiries, you'll be able to keep up with every nuance of your business in real-time. Automated data capture also helps you analyze shipping costs and carrier performance and make the best decisions for diversifying your carrier network and expanding into new markets. 
Streamlined Order Fulfillment

Set it and forget it. With automated shipping, barcoding, picking processes, and retail compliance monitoring, you'll be able to trust that all orders are being fulfilled accurately and on time. With this assurance, you can take a step back to see the big picture of your business.
Customer Satisfaction

A happy customer is a loyal, returning customer. Automated email notifications and easy-to-use self-service portals encourage customers to place their confidence in your business's shipping processes. When streamlined order fulfillment procedures help you get orders to the right place at the right time, that confidence increases. This is a powerful way to build customer loyalty and bolster future sales.
Improved Profits

Minimize effort while boosting the bottom line. A cloud ERP shipping automation system reduces staffing, recruitment, and training costs by placing everything you need to quickly process shipments at your fingertips. It also streamlines the rate shopping process, so you can quickly and easily see which carriers in your network are offering the best rates for you and your customers. Choose the best rates, pass accurate shipping costs along to customers, and watch the bottom line grow.
What to Look for in Shipping Automation Software
You must choose the right software for your business to reap the benefits of shipping automation. There are many options on the market. As you research them, remember that you will need:
A configurable system that can scale with you and be tuned to your business processes.
Powerful order and warehouse management capabilities.
Shipment processing and carrier coordination tools to speed up order fulfillment and facilitate rate shopping.
Retail compliance features to help with labeling, documentation, and packaging requirements.
Powerful analytics tools, so you can make sense of shipping data and align your business trajectory accordingly.
Acumatica Cloud ERP and 3G Pacejet Shipping provide all of this—and much more.
Streamline Shipping with Acumatica and 3G Pacejet
Acumatica and 3G Pacejet are a winning combination for navigating the pitfalls of modern shipping. From unparalleled retail compliance features and the largest, broadest carrier network on the market to automated financials and streamlined warehouse management, we have the tools you need to make your dreams of accurate and automated shipping a reality. Become your customers' source of certainty with Acumatica and 3G Pacejet.
For more information and details on the shipping pitfalls you need to avoid and the benefits of shipping automation, check out the eBook, "Streamlined Shipments with Acumatica for Distributors, Retailers, and Manufacturers."