Acumatica 6 debuted last month, offering great new product and technological updates across the board. From streamlined applications to boosting productivity (such as a CRM add-in to Microsoft Outlook), to real-time insights and improved dashboards featuring unlimited drill-down capabilities, this release delivers the most comprehensive Cloud ERP platform available today.
In addition to these fantastic updates, we've also taken great strides to update our API web services, from contract-based and screen API's to the REST Extension API. Check out the updates below and watch the overview videos for a more in-depth look.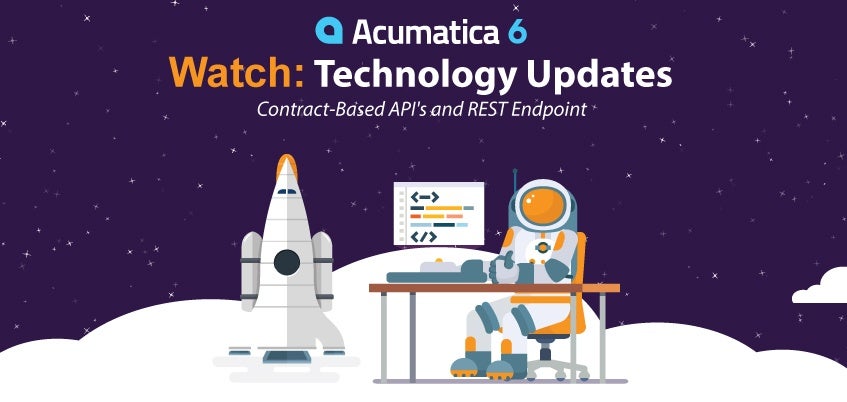 Contract-Based API
There are two major changes to our contract-based API, designed to handle larger datasets and enhance performance and response.
We ship the contract-based API with a predefined endpoint covering key screens, fields and usage scenarios. One of the learnings we found after the first release of this API was that many users needed the ability to add additional fields and entities to the predefined endpoint. This can now be achieved by using one of two techniques: by using extensibility, or using ad-hoc fields as required.
Using the Get() or GetList() commands, Acumatica 6 now gives you better control of how much data is returned. Instead of retrieving all fields for requested data, you can now specify exactly which fields are returned, improving response times dramatically.
Screen API
For the Screen API, we now ship the application with a .NET library named PX.Soap.dll which you can add to your .NET applications and use to replace the usual GetSchema() call. The library will take care of caching a copy of the schema locally, and then re-use that schema for subsequent uses of the API. Using the cached schema will ensure that simple UI changes or application updates don't interfere with your screen-based API integration. We encourage all screen API users to adopt the wrapper library.
The video below gives an overview of the updates for contract-based and screen API.
REST API
With the launch of Acumatica 6, we're excited to introduce REST (representational state transfer) as the preferred API method. Building off of the contract-based API, REST allows you to create, read, update, and delete Acumatica data.
The new REST API builds on top of the contract-based API, and allows you to access the endpoints and entities configured in Acumatica in a RESTful manner. Through the REST API, you can create, read, update and delete Acumatica data, as well as invoke actions and other business logic available in the entities that you expose in your endpoint.
Where SOAP methods can be bulky and time-consuming, relying on XML, REST models your API's off HTML ressources and actions, much in the same way a web browser interacts with the web. The data in REST calls is typically formatted in JSON, which is very lightweight and easy to generate and parse from JavaScript and other newer languages and frameworks.
Watch this overview video to learn more about the features of REST API.
Request a Demo
Acumatica 6 delivers adaptable Cloud and mobile technology with a unique, all-inclusive user licensing model. This enables a complete, real time view of your business anytime, anywhere. Check out our software tour or contact us today for a product demonstration.