A business with cross-module workflow capabilities is a connected business. It's also a successful business. Acumatica's Ajoy Krishnamoorthy explains why.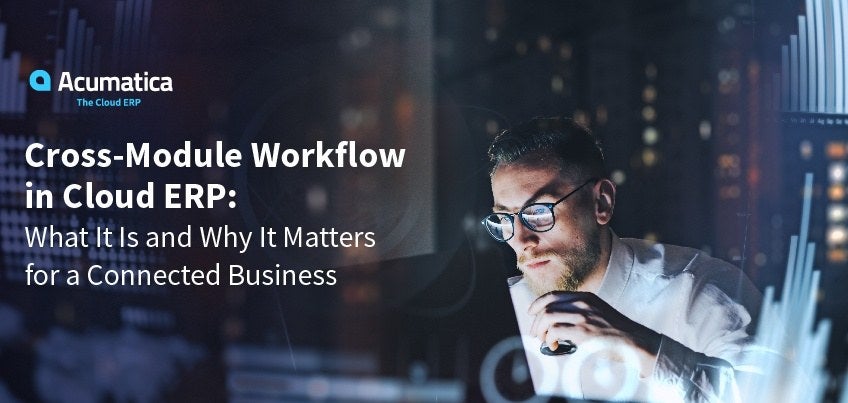 We've been writing a lot in the last year about the importance of becoming a connected business in today's digital marketplace. Acumatica CEO Jon Roskill and I both wrote posts reflecting on the role digital transformation, open APIs, and cloud ERP integrations play in being a connected business. Today, I'll look at what a cross-module workflow is and explain why it matters for a connected business.
Cross-module workflow in cloud ERP
First, what is a connected business? It's an organization that has embraced modern, mobile technology while eliminating siloes. It allows anytime, anywhere access for every team member.
Some organizations see a connected business as a necessity. Some see it as a competitive advantage. Where do they get the advantage? The advantage, and thus power, comes from having a unified platform that provides seamlessly integrated modules for every user within the organization. And this is not just about technology. It is about the people and the process and the community that exists within that industry.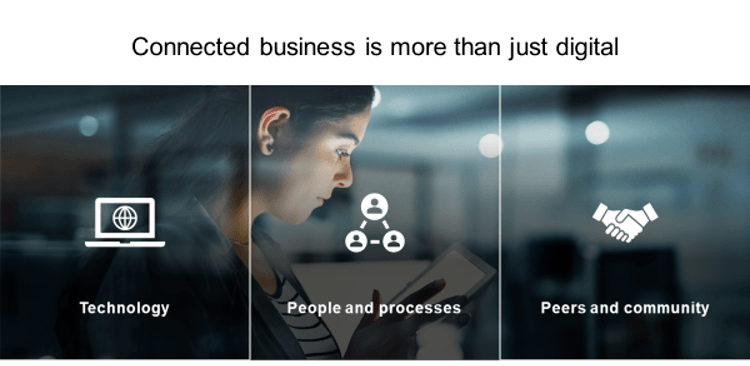 Cross-module workflow is the seamless flow of information between these once disconnected systems and teams. The pain of not being able to communicate essential information in real time is eliminated, driving efficiencies, flexibility, and agility.
For example, eCommerce organizations who choose an integrated cloud ERP solution say good-bye to siloed systems, which slow down the process and limit cross-selling and upselling opportunities, and hello to the interconnection of their separate commerce, accounting, and inventory systems. By doing so, they reduce the complexity of their operations and provide quality service to their customers. Their ability to place an order that is automatically reflected in their inventory and their replenishment workflow automatically noting the low inventory (ensuring that inventory is available for future orders) is now the norm.
This type of engagement, however, is not limited to eCommerce. It's also beginning to happen across all industries, including construction, supply chain and healthcare.
Specific cross-module workflow example
Acumatica's Doug Johnson, VP, Product Management, and Jessica Gadbois, Partner Enablement Manager, demonstrated a cross-module workflow example during Acumatica Summit 2020.
In the presentation, Doug represents the Marketing, Dispatcher, and Accounting personnel of an electronics distributor while Jessica represents the Salesperson and Field Services Manager. Each employee works in separate offices in separate locations.
Doug begins the demonstration by showing his Leads in the last 90 days within the Customer Management module. He explains that with Acumatica 2020 R1, the new workflow engine allows you to personalize the workflow to your specific needs. He creates a new lead and qualifies it easily and quickly with the assistance of automatic prompts.
Jessica takes over as the Salesperson. Because she's able to access all of her Acumatica data from her office or from any offsite location, she sees that she has a new, qualified lead waiting for her. After contacting the potential client and confirming that he would like to order equipment, including installation, she is able to convert the lead to an opportunity. Once the pertinent information (in this case, materials and installation information) is loaded in the system, Jessica creates a Service Order easily and efficiently within Acumatica. And since the installation is urgent, according to the client, Jessica makes a note to her Dispatcher accordingly.
The Service Team is notified in real time about this new order as well as the urgency of the request. Doug, as the Dispatcher, receives the order, and with one click within the Actions tab, he's able to begin setting up the appointment. But instead of it taking hours as it used to, Doug is able to utilize our new partner WorkWave and its route optimization service to quickly schedule the proper field technician. He demonstrates a new screen called Appointment Scheduling Optimization, which allows businesses to schedule same day or daily unassigned appointments easily. With one click of the button—and using AI/ML technology—the WorkWave connection provides an optimized workflow proposal that is sent to the person out in the field.
Jessica once again steps in and is now the Field Operative. She signs in on her mobile device, selecting her appointments list and highlights Acumatica Field Service features, including start/end time capture, capturing travel time, GPS location services, signature capture, pre-payment capabilities, and more, while doing so.
After completing the work, Jessica requests payment from Doug, who obligingly processes and approves her timecard. He was able to do so because the information from her appointment flowed seamlessly to her timecard within Acumatica. He then was able to use Acumatica Payroll (now integrated within Acumatica through 2020 R1) to pay Jessica for her job well done.
Check out the video from our Acumatica Summit 2020 Day 2 Keynote (starting at 17:00) to see Doug and Jessica explain in detail how the organization became a connected business using Acumatica's cloud ERP software. The result is real-time collaboration using the same platform and the same data from separate locations and across different modules.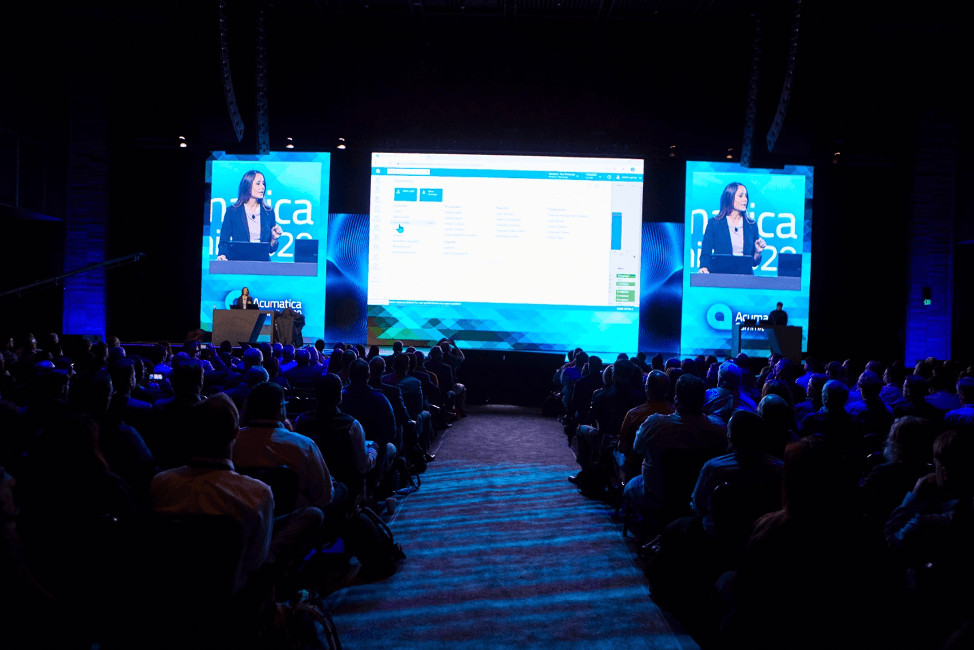 What this means for Acumatica customers (and their customers)
The goal of a connected business is to align with the customer journey. At the end of the day, your success hinges on how your customers interact with you as an organization and their overall, end-to-end experience. Are you trying to drive efficiencies with multiple systems and teams that aren't talking to each other? If so, it's not going to work. You'll need to find an all-in-one cloud-based ERP, such as Acumatica.
Power Storage Solutions did just that. VP of Operations Derrick Elledge explains why they chose Acumatica in the company's customer success story.
"We obviously knew what we didn't want, and what we wanted," Derrick says. "We wanted an operating system that could handle all our business within one system. Frankly, we didn't think we could find it. This is where we set the bar: we wanted to make sure accounting ran well, and we had something that could handle all six current operating systems within the same platform.
"What really threw us over the top with Acumatica is that it offered a full quote-to-cash cycle and it overlaid on top of a solid accounting system. Acumatica offered a service package, purchasing, inventory, a Client Relationship Management (CRM), quoting, manages projects and sales orders – all right there in one Operating System."
Acumatica's adaptable platform was built with tightly connected modules (Financial, Manufacturing, Distribution, Commerce, Field Service, Construction, and more) from day one. Through Acumatica CRM, which Power Storage Solutions is utilizing, every engagement with the customer—new opportunities, orders they've placed, renewals, and cases created in your support system—is available in one canvas. When you look at a customer profile, you're getting a lifetime view.
All modules utilize the same data base, have the same look and feel, and interact easily with each other. Users, regardless of their role, can live in their own module but have the confidence that they can access information from any of these modules at any time and from anywhere from one solution.
For Derrick and his team, they knew Acumatica was the right choice. "We quickly realized Acumatica was the system we wanted to use to grow the company with no need to bolt on anything else. We were shocked to find all of this functionality in one system."
It's a new world
This is the new world we live in. You must be flexible. Agile. Connected. Success lies in accessing vital data through cross-module workflow capabilities and tracking your customers from lead, to deal, to after the deal—something Acumatica's comprehensive cloud ERP solution, based on our cloud xRP platform, can help you do.
Want to learn more?
The Acumatica Summit 2020 Keynotes are available to watch on-demand now and are filled with valuable insights from Acumatica's leadership team. The Day 2 Recap and Day 2 Press Release are also great resources for learning more about Acumatica, including details on Acumatica 2020 R1.
For any questions or to request a demonstration, please contact our team today.