Customers deserve easy to understand agreements. If your cloud ERP vendor doesn't see it that way, then you may need to say good-bye to them and hello to Acumatica.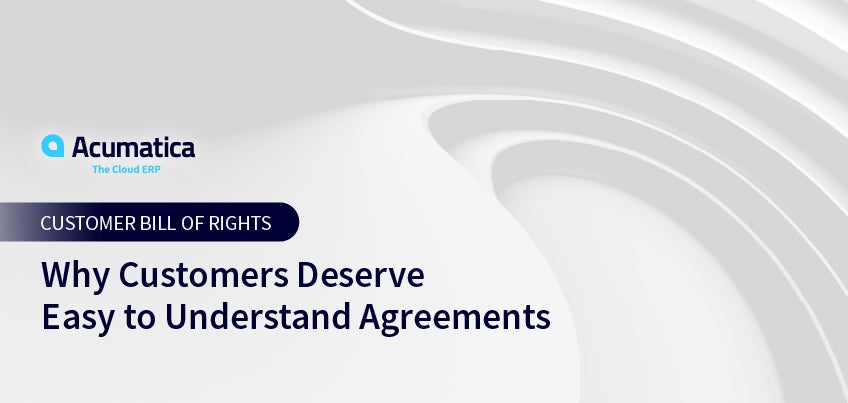 Here at Acumatica, we believe customers have rights. In accordance with that belief, we've set forth the Acumatica Customer Bill of Rights with ten inalienable cloud ERP rights. Today, we'll be discussing our first customer right: easy to understand and not frequently modified agreements.
Customers deserve easy to understand agreements (and it makes them happy)
Probably every business since the dawn of time has understood that you won't be in business for long if you don't have satisfied customers. Satisfied customers are repeat customers, and according to HubSpot's Customer Satisfaction: The Ultimate Guide, repeat customers spend 67% more than new customers.
This isn't saying you shouldn't work to acquire new customers. You should, but it's much more expensive to acquire new customers (5-25x more, says HubSpot) than keeping the ones you already have happy. In the cloud ERP space, a fair, easily understood SaaS end-user license agreement (EULA) is one way to do just that.
EULAs give users permission to use a software application. Customers agree to the vendor's conditions of use and to the fact that the software is the vendor's Intellectual Property (IP). The software vendor owns the license—and most vendors believe they own the user's private data entered into the software as well. (More to come on this topic in a future blog post.)
Unfortunately, many cloud and SaaS vendors make it a complex, multi-page document that's purposely unclear about how their customers can remain compliant with the EULA's terms and conditions. This often results in customers buying additional licenses they don't need out of fear of being uncompliant. Even worse, many vendors treat the EULA as a flexible agreement, amending it to benefit them when they feel it's in their best interest to do so.
Acumatica isn't one of those vendors and has vowed to help customers protect themselves against unscrupulous EULA practices.
Acumatica's easy to understand SaaS end-user license agreement
We believe that not only will customers appreciate an easy to understand EULA, they deserve it.
With Acumatica's EULA, customers can give informed consent because they understand and trust the EULA. Our licenses also charge customers for the resources they use—not by the number of users—so they don't have to worry about remaining compliant.
As a customer, you can stop worrying that you're signing away your rights. Instead, you can relax and enjoy the many benefits of using Acumatica's cloud ERP software, which results in a successful, connected business. Bob Davis Jr. of Bob Davis Sales is one of the thousands of customers who has reaped these benefits, including increased efficiency.
"It's just been a very easy transition and a very easy product to learn. We've seen all kinds of benefits, from efficiencies in our invoicing, even in our inventory, all across the different lines of business," he says.
His son, Brett Davis, agrees. "We can get answers much faster than we were ever able to get in our previous system and that goes a long way in creating a happier customer base."
Happy customers equal a successful business. That's why we believe in easy to understand agreements, especially our EULA for the use of our user approved cloud-based ERP solution. Contact our team today if you're ready to be treated the way you deserve.