Dataquest helps companies with their Acumatica ERP implementations and wanted to first experience for themselves what it took to migrate their internal ERP and CRM systems to Acumatica. The outcome? A raising of their collective glass to Acumatica's comprehensive cloud ERP solution.
When we at Dataquest decided to plant our flag on the Acumatica turf, we committed to making an internal transition to use Acumatica. We knew we wanted to benefit from having a central location for integrated financials, marketing operations, and sales.
But making a migration is a high stake undertaking! Because of the importance of the project, we saw it as an opportunity to document, collaborate and create a successful test case for what we hoped was the first of many ERP implementations. After all, we believe in the product, and we wanted to have the firsthand expertise of a migration from another system.
Here's the story of how we pulled it off, why it worked, and where else we see ourselves growing with the product.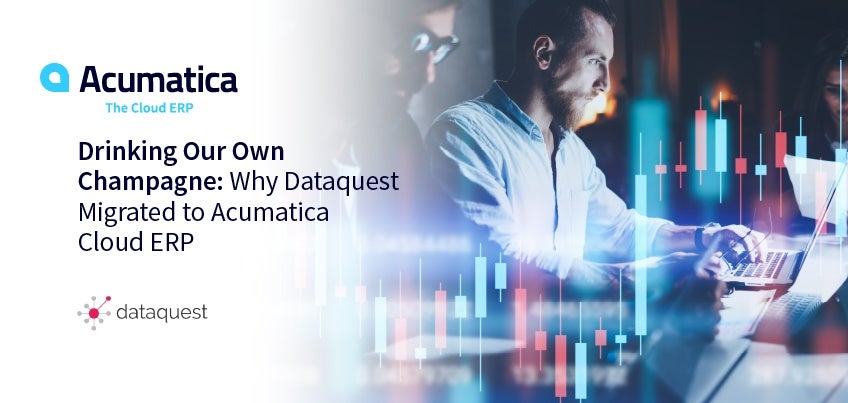 Drinking our own champagne: migrating to Acumatica internally
The primary benefit of migrating our data to Acumatica cloud ERP is to have all our data in one place. Acumatica, because it is such well-designed designed cloud ERP software, can store data from multiple sources. For example, previously, we kept our CRM, ERP and billing software in three different applications, under a hybrid cloud approach. While the applications had some level of integration between our mixture of on-premises and cloud systems, people still had to log into three separate applications to get at all the data.
Now, we just log into Acumatica and query for whatever data we want.
When we decided to migrate to the cloud, there were "no sacred cows" applications. We challenged ourselves to abandon existing solutions and move everything into Acumatica.
Our implementation steps, at a high level, were:
Create a vision for which elements of the business we could run using Acumatica
Prioritize our goals so that we could implement in stages
Identify all the data sources that would need to feed Acumatica
Migrate data with data import scenarios
Create a vision for which elements of the business we could run using Acumatica
As a service company, we knew we'd need some essential CRM elements so we could best keep track of our prospects, customers, vendors and fellow business partners. We knew that our team would be logging in every day to track our revenue goals, to create budgets, add opportunities, and simply to look up information.
We knew that we wanted to use Acumatica's cloud-based ERP for:
Core financial management
Tracking new prospects, business opportunities and activities against those opportunities
Creating quotes
Managing project accounting, milestones and billing
Performance and capacity reporting
Tracking estimated to actual labor via easy-to-consume visualizations in Power BI
Creating invoices, including monthly invoices for subscription customers
E-mailing Invoices to customers and prospects through Acumatica
Creating segmented marketing lists
Making the decisions around our goals immediately clarified our process. It also helped us identify which of the Acumatica features to enable during the implementation, and which ones we could enable over time. This outline was the kickoff for all the stages of planning and execution that would follow.
Prioritize our goals so that we could implement in stages
As a small company, we couldn't just put everything on pause and have an implementation team take over the data migration. We needed to balance our commitments to customers with our internal growth and change projects.
In order to make the migration manageable, we decided to prioritize our implementation steps and get the most critical elements staged in Acumatica first. Then, once those were working properly, we would build the system up over time. We used a priority blueprint to guide us. While this meant that we were using multiple systems concurrently for a short period, it also facilitated our move to Acumatica by getting data into the new system and allowing us to use and trust that data in our new system right away.
Our priority blueprint was:
Defining and implementing our General Ledger and Chart of Accounts
Piloting several options for Opportunity to Project Quote to Project Accounting
Refining and customizing our business forms
Building the ability to do billing from Acumatica
Creating a structure for tracking business opportunities
Creating attributes to use against customers, vendors, opportunities and contacts
Identify all the data sources that would feed Acumatica
Once we had our vision outlined, we discussed all the disparate data sources that would have to be collected, cleansed, and manipulated before being imported to Acumatica. We had a primary architect to set the import vision. Then, as a team, we made data collection manageable by nominating different team members to "captain" the data collecting and cleansing for import.
This meant that each captain identified the data source, the data extraction plan, and the approach to cleansing or merging. Since we had separate systems, this was a major opportunity for data cleansing. Data cleansing eliminates duplicate data, enables only the best and most current data to survive, and offers an opportunity for standardization.
An example of standardization is to create a memorable, unique formula for business account IDs. We chose a best practice of combining the first two letters of the company name followed by the company's main phone number. These two elements combine to form a unique account ID. This way, all the business account IDs would be unique, and anyone with the appropriate security rights could create a business account without needing to rely on a single person or single point of failure to decide what the ID value should be. (We also recommend this approach to our customers who are implementing Acumatica.)
We exported our data from the former ERP solution, former CRM solution, former billing solution, and current Outlook contact lists. These were the various data sources; we stored these in flat files to prepare for import.
Migrate data with data import scenarios
Here we were careful to scrub our existing data before importing it to Acumatica. We did heavy lifting to ensure that all our customers, vendors, prospects and contact data was unique and high quality. This required our team to collaborate and do some tedious auditing. As part of our cleansing process, we seized the opportunity to merge de-centralized silos of Outlook contact data in a unified, Acumatica database. The elegant Business Account structure of Acumatica made this tedious work worthwhile.
Ultimately, we exported "master" records of the key data and used a series of queries to update and transform the data to prepare it for Acumatica import. For example, we cleansed address data, standardized formatting where possible, and removed any inactive records.
In Acumatica, we then configured a data provider for importing each type of record and wrote import scenarios to get the data properly imported to Customer, Vendor, Business Account and Contact records. Import scenarios are powerful and can be used for business requirements other than the first import—they can be leveraged for user rights updates, integrations, and more.
Decide what data to leave behind
We didn't import every single thing into Acumatica. One of our decisions was to import critical data first and handle supplementary data as needed. That way, we could be nimble and build the product based on our needs. For example, we left certain data behind. The data was still accessible by querying legacy databases or by logging into the old software.
Often, we find that customers are anxious about leaving old data behind and want to bring in years of historical data. We had to face that question as well. Ultimately, we knew that as long as that data can be queried and presented in reports, the historical information doesn't necessarily need to be imported to Acumatica.
Here's a short list of what we left behind:
Any sales data older than the last 12 months
Inactive or lost opportunities
Inactive items
Closed sales orders
Closed customer service cases
Drinking our own champagne: what we learned and where we're going
This process wasn't just as easy as "drinking our own champagne". In a way, the process was more akin to choosing the vineyard site, planning out how to use the land to the best advantage of sun, wind and rain, selecting which grapes to plant in which area of the field, and finally, getting the vines planted properly for many bountiful seasons to come!
We learned a lot from managing our internal Acumatica implementation (from vineyard selection to champagne uncorking). For one thing, having a well-defined and clearly prioritized plan was essential. We had a clear vision, so we knew what we needed to do to achieve success milestones along the way. And once a few of our key business processes were being handled in Acumatica, it was increasingly familiar to use the system.
We went from handling our billing through Acumatica to really managing our quoting, opportunities, communications, marketing and sales activities there. Having all the data in one place has been incredibly rewarding. We no longer have to sign into disparate systems to look up key information.
We are known for having a commitment to documentation. We have templated our own onboarding experience and have built detailed checklists that guide customers through this transition as well. Leveraging that experience to help our clients has been very effective.
We are also excited about where we are heading with the product. Because it has so many built-in features, it's easy to incrementally add functionality. For example, we are testing some scheduled automations. And along with creating automation schedules, there are wonderful notification templates that we plan to grow into as well. Acumatica also has workflow capability that is on our future roadmap. Additionally, we see ourselves embracing the Acumatica portal within a short time. Using the portal will help consolidate our customer support requests and build out the "customer story" that Acumatica CRM is helping us construct.
There's more to come, and we're appreciating the fact that we can plan out our future phase work without feeling the stress of doing everything at once.
Cheers to Acumatica for helping us migrate our business to the Acumatica Cloud xRP Platform so quickly, and for building a tool that can scale for all different audiences. We toast the experience!
If you're interested in getting the most from your cloud ERP software investment, contact us today. We'll also be attending Acumatica's annual cloud ERP event,  Acumatica Summit 2020, and would enjoy speaking with you there.
And if you're interested in becoming one of many happy Acumatica VARs who are fully supported by Acumatica and the Acumatica Partner Program, we recommend you connect with the Acumatica team.