Digital Planet is on a mission. They want to enrich the lives of South Africans by providing access to technology and education…and Acumatica cloud ERP helps make it possible.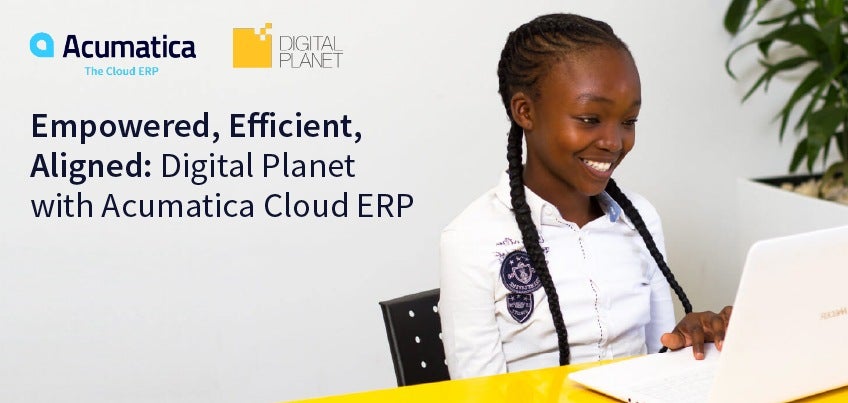 Before Acumatica cloud ERP entered its world, Digital Planet, a B2B2C company that manages smart-device fulfilment operations for financial institutions, was running on manual processes and disconnected systems, including a legacy financial platform and other in-house developed systems for years. Essentially, they were running a marathon with worn-out, blister-inducing shoes, and they were paying the price.
"We had no single point of truth. The warehouse team was on a different system, the finance team was on a different system, production was on another system—we had to add a lot of systems to create efficiencies in all our departments, but each had its own data sets, its own points of truth, and very few told the same story," says Chief Strategy and Digital Officer Zane Zietsman in the company's customer success story. "It became a big barrier."
He adds, "Our financial platform had an antiquated way of working." Translation: The legacy financial management suite was an on-premises solution that couldn't get them to the finish line.
It was becoming mission critical to find a cloud-based, customizable, and scalable solution.
Digital Planet's journey to Acumatica cloud ERP
Through an extensive partner network, the South African-based company connects customers with exclusive offers that bundle technology (cellphones, laptops, and smart TVs) with educational platforms, entertainment vouchers, WIFI access and more. Digital Planet also manages all touchpoints from product to consumer including call center order management, customer service, customer product tech support, consumer home delivery and after sales warranty. While it sounds complicated, their mission is simple: "Enriching every South African's life with access to technology and education."
With such an important mission, they searched for the right cloud ERP software. Unfortunately, their first selection wasn't it. Zane says the 13-month process showed them that the solution "wasn't scalable and couldn't handle our transactions." Understandably, they were concerned about trying again.
So, to ensure their second foray into the ERP selection process was a success, the Digital Planet team created a scoring system. After evaluating 12 solutions, Acumatica came out the winner, rating high on flexibility, pricing, customization, and functionality. The swaying factor, however, was a partner with a proven track record of successful implementations.
"Our Acumatica partner, Palladium Business Solutions, was actively involved in an in-depth process consultation phase to map our requirements against Acumatica's base functionality and provided us with a project plan and timelines upfront, giving us a good idea of what the journey would look like, what would be quick wins, and what would take a little more time and require upfront customization," Zane says.
Quick implementation and multiple benefits
Digital Planet and Palladium Business Solutions made short work of implementing Acumatica's Financial Management, Distribution, Warehouse Management, and CRM editions. They also connected with a 3PL partner and an internally developed order communications platform and are contemplating further integrations as we speak.
Their Acumatica customer benefits, which are detailed out in the Digital Planet's customer success story, are many, including:
Elimination of multiple systems
Cutting of administration, operational, and infrastructure costs
Saying good-bye to spreadsheets and hello to running reports from a single data source
Increasing productivity across the board (30% in finance, 20% in operations, 20% in after sales, and 20% in the warehouse)
Automating of their invoice and purchase order processes
Streamlining of their warehouse processes
Tracking of key metrics
Utilization of personalized dashboards
Enjoying mobile access to the solution anytime, anywhere
And here are two more huge benefits: increased collaboration between employees and pivoting easily to remote work during the COVID-19 pandemic.
Regarding collaboration, Zane says, "With our previous systems, departments would work in isolation as each had their own system focus with little consideration for how actions affected another department. With Acumatica's one version of the truth, the understanding and realization that what one department does affects another has created deeper alignment and decisively improved collaboration between departments."
For the pandemic, Zane says having a warehouse management system, distribution management software, financial management software, and customer management software that are based in the cloud has been a life saver. "Acumatica has allowed us to continue working as we would normally and eradicated a potential situation where 130 people would not be able to accomplish much remotely."
Listen to what Solutions Architect Chris Opperman has to say about how Acumatica was the only way the business was able to cope and to have access to their data with just one click of a button.
Turn your workforce into "knowledge workers"
Ultimately, Digital Planet has become an efficient, mobile, and flexible business with the help of Acumatica's cloud ERP solution. They're also a growing business.
"Automation is going to be the thing that allows us to grow, but what it is really going to do is give us greater efficiency and allow us to focus on important work versus manual work, turning our workforce into knowledge workers as opposed to task workers," Zane says.
If you're interested in learning more about Acumatica and our ability to help you grow your business, contact our team today. We'll be happy to answer your questions and/or to set up a demonstration.