It's never easy to pick only a few favorite features from our twice-yearly releases. However, Acumatica's Director of Product Marketing took on the challenge and shares her top three Acumatica 2020 R2 features today.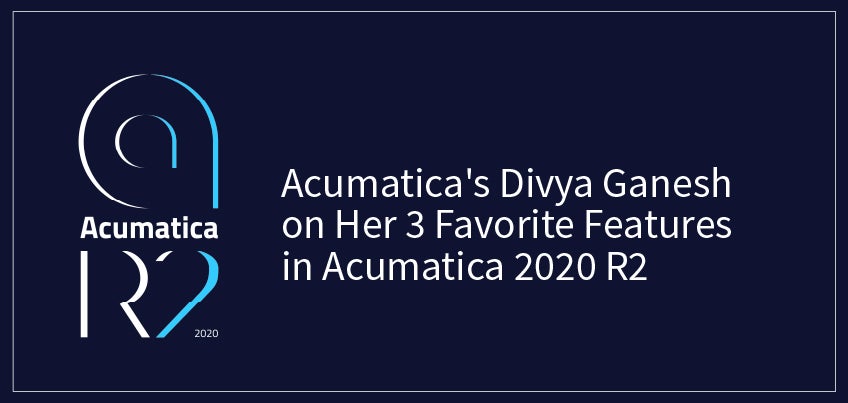 ERP solutions have a reputation for being back-office, dreary, stodgy applications. In a recent post on why ERP usability is a priority and a differentiator, I explain that modern, cloud-based ERP solutions are just the opposite. Acumatica's second release for 2020, Acumatica 2020 R2, supports my claim by enhancing our already exciting, user-friendly, and streamlined cloud ERP solution.
My three favorite Acumatica 2020 R2 features
A modern ERP solution acts as the central nervous system of your business. The central nervous system controls most of our body functions just as the ERP solution controls—and integrates—your complex financial, customer, and operational processes.
To keep our nervous system healthy, we must exercise, eat well, and rest. To keep your ERP solution healthy, it must be enhanced, improved, and advanced regularly. That's why Acumatica provides two releases per year. Acumatica 2020 R2 offers the best-in-class functionality as well as a future-proof cloud platform that will help businesses work smarter, not harder, leading to a successful business.
AP Automation
With this in mind, my first favorite feature of Acumatica 2020 R2 is our Automated AP Documentation. Through the power of Artificial Intelligence (AI) and Machine Learning (ML) bill recognition, businesses can now import PDF documents from files or email attachments and automatically turn them into AP documents. This function saves you from rekeying the information manually and reduces expenses.
Acumatica's Jessica Gadbois, Partner Enablement Manager, and Doug Johnson, VP, Product Management, provide a detailed demonstration during the Acumatica 2020 R2 Launch Event. Check out the demonstration on-demand here, around the 52:26 mark.
Next-Gen Advanced Expense Management & Electronic Bank Feeds
My second favorite feature is Acumatica's Next-Gen Advanced Expense Management & Electronic Bank Feeds. As noted in an Acumatica 2020 R2 press release, we've built-in expense management capabilities, eliminating the need for third-party add-ons, such as Concur and Abacus. This feature also reduces these and other solutions' user-based licensing fees.
The new Advanced Expense Management feature provides automatic creation of receipts for streamlined expense reporting, advanced automated approval processes, streamlined reimbursements, automated corporate card bank reconciliations, and more. Acumatica Electronic Banking securely connects over 11,000 financial institutions with multi-factor authentications and tokenization technologies, allows for real-time activity downloads with automated smart matching to existing transactions, and more.
Says Ali Jani, Chief Product Officer, Acumatica: "One of the most exciting features within Acumatica Advanced Expense Management is its ability to detect corporate card use activities and remind the user to capture images of physical receipts for auditing and compliance purposes. Combined with its Intelligent Machine Learning enabled receipt recognition, expenses are intelligently categorized to streamline the approval and back-office reconciliation processes."
Shopify Integration
My third and final favorite feature has to do with Acumatica's efforts to become a truly commerce-enabled ERP solution. "Acumatica's commerce-enabled ERP [solution] is all about making your life easy, not having to synchronize systems, and managing your system from one source," said Ali during the Acumatica Summit 2020 Day Two Keynote. "You can integrate Acumatica to any commerce solution."
Earlier this year, we introduced our native BigCommerce integration as part of Acumatica 2020 R1 – which was one of my favorite features of that release. Now, our new Shopify Integration is my third and final favorite feature of Acumatica 2020 R2. Using our powerful commerce engine, you can integrate your Shopify storefront with your financials, warehouse, and distribution for complete real-time visibility and control – from order acceptance to fulfillment. Acumatica's integration with popular eCommerce platforms such as Magento, BigCommerce, and Shopify provides a truly unified commerce solution.
Acumatica 2020 R2 fulfills Acumatica's promise
As the recent recipient of multiple G2 badges and the title of Leader in IDC's MarketScape for Midmarket Business ERP Applications report, Acumatica continues to be an ERP leader, especially in the area of usability. CEO Jon Roskill says, "This IDC study is a great acknowledgement of the huge R&D investment made by Acumatica to deliver a product that is both innovative and high on the usability scale."
Acumatica 2020 R2 fulfills Acumatica's ongoing promise to listen to our users and deliver powerful enhancements and improvements to our already user-and-analyst-approved cloud ERP software. The Acumatica 2020 R2 press release provides an overview of the features and benefits, as does the video below.
We welcome any questions about Acumatica's cloud-based ERP solution and our latest release. Contact our team today.