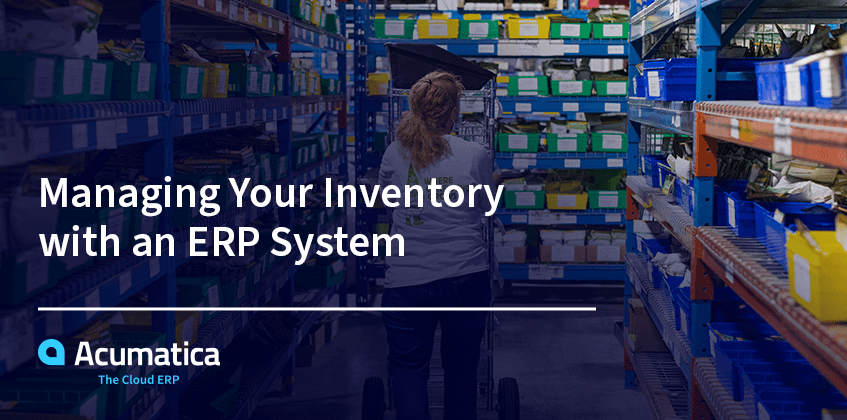 Every company that carries inventory knows how challenging it can be to properly manage that inventory. Of course, you have to make sure there's enough product on hand to meet shifting consumer demand, but overstocking can lead to unwanted waste; and, according to a report from materials supplier Avery Dennison, there's plenty of that happening. On average, 8% of stock perishes or is thrown away every year, which adds up to a shocking $163 billion in wasted inventory. Every. Year.
No company can survive the costs and pitfalls of poor inventory management. But avoiding these issues may seem to be easier said than done—given human fallibility and the errors it can bring.
That is why every company must be equipped with the right technology. In this case, the right technology is an inventory management system integrated with a cloud-based ERP solution.
Inventory Tracking with a Cloud ERP System
When housed in a cloud ERP solution, inventory management software provides sophisticated tools for simplifying stock processes. Once you may have used pen and paper to track inventory, but now you can input data into the software, access that data from a role-based dashboard, and control stock across your warehouse(s) with the click of a button.
This might sound too good to be true, but it's all possible because of how a cloud ERP system works. Once implemented, an ERP solution becomes the nerve center of your entire organization, with data from every department streaming into and out of the software in real time. This centralized repository of accurate information can be instantly accessed by all authorized users at any time, from anywhere.
Such a comprehensive database—one that connects all facets of your business—certainly helps with everyday tasks, like the pick-pack-and-ship process and counting and locating stock. But it also offers other critical, inventory-specific benefits, including automating the stock replenishment process and providing actionable inventory insights for data-based decision-making.
Planning and Automating Replenishment Orders
Replenishing inventory is not just a matter of noting a product shortage and reordering that product. It's a complex process that requires you to:
Have accurate data for inventory quantities.
Make precise demand forecasts based on sales and customer data.
Track and project lead times.
Research customer needs/wants.
And more.
If the replenishment process is not done properly, TechTarget says that "organizations may put their business at risk" of production delays, lost sales, and customer attrition.
But cloud ERP systems can help mitigate these risks in two major ways: first by gathering and storing accurate, instantly accessible, real-time data and second by providing powerful inventory and replenishment automation features that reduce the possibility of human errors. Items can be replenished automatically by using forecast models with ERP data (min/max economic order quantities, reorder points, seasonality, lead times, safety stock, etc.). This means you'll know that your inventory won't face shortages and that replenishment isn't happening without corresponding sales.
Automating the replenishment process saves time, money, and energy. It also means that you'll never over- or under-order again. You won't face inventory shortages, and, because replenishment won't happen in the absence of corresponding sales, you'll never order more stock than you actually need.
Analyzing Data for Actionable Insights
A cloud ERP system with inventory management software gives you a 360° view of your organization and sets you up to gather data across multiple sources. Every team member from any department—sales, marketing, operations, finance, and beyond—will have the relevant, up-to-date information they need to make informed decisions. And because cloud ERP systems have built-in analytics features, you can use inventory data to track costs of goods sold, monitor inventory carrying costs, consider turnover rates, spot trends, identify low/dead-stock items, analyze profitability, and more.
These insights will increase efficiency, reduce costs, and put your business on track for a bright future.
How Acumatica Can Help
So, inventory management software built into an ERP system offers many benefits and opportunities, but which ERP system is the right one for you?
We believe that our award-winning, cloud-based business management solution, Acumatica Cloud ERP, will be a perfect fit for your needs—just as it was for Clive Coffee, a leader in the luxury home espresso market.
Prior to the pandemic, Clive Coffee sold its espresso machines in person and online, but it ultimately closed the in-person store to pour its energy into the online business. While this was the right decision, the Clive Coffee team didn't have the right business management system to handle this shift in organizational needs.
Says Jessica Yutrzenka, Clive Coffee's then-Supply Chain and Operations Manager, "[We] had an inventory management system, a separate finance system, and a separate shipping station. A lot of our systems were decentralized from an operational standpoint."
Clive Coffee sought a solution that could bring everything together under one technology umbrella. CFO Amanda Datte says, "We found the perfect size for us in terms of cost and flexibility, which was Acumatica. We knew it wasn't going to limit us to what we could do. There is a lot of possibility for Clive and how we want to continue to expand."
After implementing Acumatica, Clive Coffee now has instant, accurate, and automated financial reporting; an exponentially faster month-end close; instant access to companywide data; the ability to ship orders 50% faster; and real-time inventory insights.
"Because our inventory system is in the same system as our distribution, we are able to receive [a product] in real time and then sell it the second we receive it," says Yutrzenka. "Order cancellations and order edits all happen in that very moment. And distribution is a lot smoother because we have one place for everyone to go to get all the answers they need. How much stock do we have? How much did we ship? How much product did we receive this month? We're able to get that data really quickly."
Yes, as Yutrzenka indicates, Acumatica is a comprehensive, user-friendly solution, and its robust inventory management software will help you:
Manage multiple warehouses with location-specific inventory quantities, allocations, availability, and costs.
Streamline item creation and maintenance with sub-items for like products and matrix items for products with attribute variables.
Automatically distribute inventory from a central warehouse to other locations upon receipt.
Track inventory by lot or serial number.
Seamlessly integrate with Acumatica's General Ledger module for robust financial reporting.
Eliminate manual data entry with integrated processes and barcode data capture.
Manage complex pricing and discount policies, complete shipments with small parcel carriers, and track non-stock items for product warranties, services, or labor.
The above functionalities barely scratch the surface of what Acumatica Cloud ERP can do for your business. If you'd like to learn more, contact our experts today.