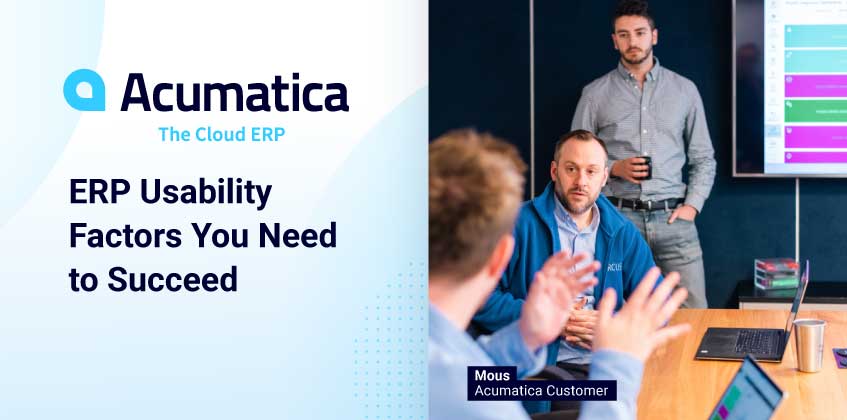 If you're planning to upgrade your business management technology or move from a legacy system to a modern, cloud-based solution, you know how significant that business investment is. These times of economic uncertainty have revealed the importance of deploying smart technology systems that empower employees and connect organizations.
ERP usability ensures your technology investments yield solid, sustainable returns. But you may be struggling to define what ERP usability actually is and how it works. If so, you're not alone.
Today, I'll explain ERP usability and review two valuable Acumatica resources that will help you discover which usability factors are most crucial to your success.
Defining ERP Usability
Simply put, "ERP usability" reflects how easy it is for people to use an ERP system's features and functions. It also involves helping users be more efficient and less error prone, which I discuss further in a recent article about our latest release, Acumatica 2023 R1.
Though easy to define, ERP usability, or the lack thereof, can make or break a business. Employees who find a new business management solution difficult to learn and hard to navigate will either use it partially or reject it completely in favor of inefficient workarounds. According to Gallup's State of the Global Workplace: 2022 Report, such unproductive behavior and employee disengagement can cost businesses $450–$550 billion in global losses per year.
That's a lot of money to lose after investing in a costly ERP solution and a time-intensive ERP implementation. As Nucleus Research rightly asks, "What's the point in having the best functionality if few people within the business can actually use it?"
This rhetorical question perfectly illustrates why you have to assess ERP system usability before signing on the dotted line. But knowing whether a solution really offers stellar ERP usability can be challenging.
So, to help, Acumatica developed several complimentary resources that extensively cover this topic.
The 5 Usability Factors You Need to Know
In a recent solution brief, we explain how understanding five critical usability factors is key to making the best ERP investment for your business.
1. Real-Time Data and Visualization
The ERP system you choose must gather reliable, real-time data and deliver the business intelligence capabilities you need to analyze that data for actionable insights.
2. Personalized Reporting and KPIs
While collecting and analyzing large amounts of data is vital, it can lead to "information overload." The right ERP system will help you make sense of your data by automatically sorting it through personalized reports, role-based dashboards, and customizable KPIs.
3. Ability to Engage All Users
The ERP system you select must deliver a user friendly, highly intuitive interface that empowers every team member—from the newest to the most experienced—to do their jobs efficiently and well.
4. Industry-Driven Usability
Often, industry-specific, specialized software works independently—meaning it can't connect and share information with other applications, which creates data silos. An ERP solution for today's businesses should offer distinct but integrated industry editions (e.g., Distribution, Construction, Manufacturing, and Retail-Commerce) that give users visibility into and control over data and processes companywide.
5. Ease of Building Connections
Finally, the right ERP system should easily and seamlessly connect with third-party applications that extend its functionality. It should be simple to:
Configure and extend the solution.
Build and modify applications.
Transfer data between systems without coding.
A Comprehensive ERP Usability Checklist
Need another helpful resource? Our ERP Usability Evaluation Checklist is a complete list of features and benefits across four critical categories: Ease of Use and Navigation, Ease of Task Completion, Ease of Administration, and Ease of Integration/Scalability.
Here are some cross-category feature and benefit examples pulled from the checklist:
User-centric design: Navigate with ease. Configure and learn ERP applications with minimal training.
Platform neutrality/anytime, anywhere access: Access the ERP system from any browser through mobile apps and a secured internet connection.
Relational database: Get immediate access to real-time, accurate information via a single source of truth.
Automated processes: Automate billing, approval processing, document management, and order fulfillment.
Artificial intelligence with machine learning: Improve data accuracy and minimize data entry for a host of crucial business processes.
Bidirectional sync engine/and data exchange services: Automate data imports and exports between the ERP application and external systems or data sources.
Scalability: Boost growth with support for global businesses' security/accounting needs.
Of the checklist's 43 features and corresponding benefits, "Proven usability with third party validation" may be most significant. When an ERP system's ease of use has been independently verified by existing customers and expert industry analysts, you have solid evidence for choosing that solution.
Acumatica Ticks All the ERP Usability Boxes
If you download our comprehensive Solution Brief, handy Evaluation Checklist, and eBook, "How Acumatica's Award-Winning Usability Empowers Success," you'll find easily digestible facts to help your ERP research journey. And you'll discover that Acumatica ticks every ERP usability box.
Case in point, G2 recently awarded Acumatica it's Best Usability Badge. In its ERP Systems Usability Index: Mid-Market for Spring 2023 report, which is based on real-user reviews, G2 gave Acumatica an Overall Usability score of 88%—an exciting ten percentage points above the average.
And here's what Acumatica customer Devin Samayamanthri, Chief of Staff, Design Studio, says about Acumatica: "Unlike the other ERP applications out there, Acumatica is super intuitive and user-centric, meaning you don't need a mammoth team of ERP experts in-house to get the job done."
To learn even more about Acumatica's proven usability, watch the short, informative video below.
If you have any questions about ERP system usability or about Acumatica, contact our experts today. They'll be happy to discuss how Acumatica, as an ERP leader, delivers award-winning, user-friendly cloud ERP software by putting customers and innovation first.