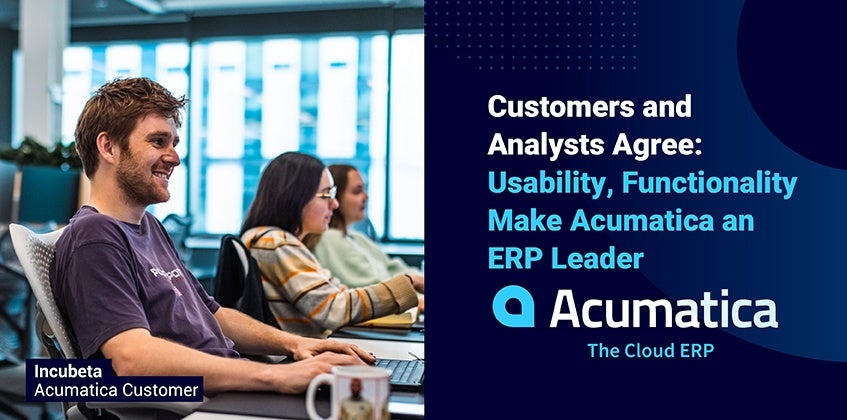 The old adage still rings true today: "The customer is always right." Businesses operating on that principle apply a customer-centric approach—taking the time to listen to feedback and understand what people need.
At Acumatica, our customers and their feedback is core to who we are and what we do. We're passionate about incorporating their insights into our comprehensive cloud ERP solution, and we're committed to building a robust Community that equips them with the tools, resources, and support they need to succeed.
We judge our own progress by the success of our customers and their feedback.  Which makes it all the more gratifying to hear positive accolades from recent customer surveys and analyst reports based on real-user reviews. Acumatica's ERP usability, quality, and performance have secured rankings that soar above other leading vendors, including Epicor, Infor, Oracle NetSuite, Sage Intacct, and SAP.
These most recent Acumatica awards from G2, SoftwareReviews, and Nucleus Research not only reflect the value of our product but also underscore Acumatica's focus on building a thriving Community—one customer at a time.
G2
G2, the world's largest and most trusted software marketplace, relies on authentic user reviews to help individuals and businesses select the best software for their specific needs. Four times a year, G2 delivers Usability and Relationship index scores for dozens of mid-market ERP systems, and G2's Summer 2023 reports declared Acumatica the top vendor in eight categories.
Together with the incredible results from G2's Spring 2023 Usability Index Report and Spring 2023 Relationship Index Report, where Acumatica placed first in 17 separate categories, we can proudly say that Acumatica's commitment to offering a user-friendly, intuitive, and continuously updated cloud ERP product is paying off for our customers.
As Acumatica CEO John Case noted in the press release announcing our latest awards, "While industry recognition is always gratifying, the true fulfillment comes from the boundless enthusiasm of real users reflecting our commitment to crafting the tools that empower them to innovate, collaborate and anticipate what's next."
Nucleus Research
Nucleus Research is a global provider of ROI-focused technology research and advisory services. In its recently published June 2023 SMB ERP Value Matrix, Acumatica earned the highest position in the Leader quadrant and was rated best in usability.
The report notes:
Acumatica is recognized as a leader in this year's SMB ERP Technology Value Matrix. Acumatica's cloud ERP solution is engineered to be easy to deploy, with a large ecosystem of ISVs to meet the needs of the mid-market. Its ERP platform includes accounting, sales, inventory, warehouse management, project management, customer management, and shopfloor applications, built on an open and secure cloud architecture. This provides users with constant availability, seamless remote collaboration, and enterprise-grade security.
In a recent Nucleus Research Note Acumatica Extends Its SMB Lead, analyst Samuel Hamway focused on Acumatica's consistent provision of two quality-driven updates per year—each one based on customer feedback. His bottom line? "Nucleus is confident that the [Acumatica] ERP system will continue to be embraced by SMBs in the coming years."
SoftwareReviews/Info-Tech
SoftwareReviews is a division of Info-Tech Research Group. Like G2, they analyze verified real-user software reviews—specifically those from IT and business professionals—to evaluate, compare, and recommend software. In its May 2023 Enterprise Resource Planning Mid-Market Data Quadrant Report, SoftwareReviews considered 100+ reviews of our  Cloud ERP solution and recognized Acumatica  as a Leader, placing us in the top five of every category, including:
Plan to Renew: 100%
Importance to Professional Success: 94%
Likeliness to Recommend: 85%
Satisfaction that Cost is Fair Relative to Value: 85%
Ultimately, we received an 8.3 Composite Score and a +82 Net Emotional Footprint Score, which tells us that our ongoing effort to keep our customers at the center of our product innovation roadmap is working. Their knowledgeable insights, drawn from their daily experiences using Acumatica, help us craft a solution that provides the tools and processes they truly need to get more done collaboratively and efficiently.
Says Acumatica customer Sue Severns, the Strategic Realization Office Senior Director at Inspirus, "Acumatica is essential to Inspirus as we evolve our products and scale our operations. Our Acumatica implementation was instrumental to achieving our business objectives and we can now be much more responsive to our customers' needs, which ultimately helps us with our growth."
Where Acumatica Goes From Here
Acumatica is consistently rated as an ERP Leader by customers and analysts alike, including our recent recognition as one of the Top 20 ERP Software Products of 2023 and Top Financial Reporting Software in 2023 by Crozdesk, a software review platform that provides unbiased recommendations through AI and machine learning ranking algorithms.  But we are hardly resting on our laurels.
Such humbling recognition only strengthens our commitment to delivering a cloud ERP product that meets and exceeds our customers' highest expectations. So, what's next? Building on our processes that make direct engagement with our customers possible as we continue to foster a strong, resilient Community by listening to their input, acting on their concerns, and delivering technology that addresses their needs.
This effort at building Community culminates each year at our Acumatica Summit event.
Our most recent event – — Acumatica Summit 2023 — received the "Event of the Year Award" from Globee® Business Awards, a program that recognizes and honors organizations and individuals around the world who demonstrate exceptional business accomplishments. According to Globee, Summit "achieved an unprecedented sense of community."
We're committed to continue building our Community and the future of business technology on a customer-and-innovation-first foundation. To learn more about who we are and how our award-winning cloud ERP solution helps businesses thrive, contact us today.