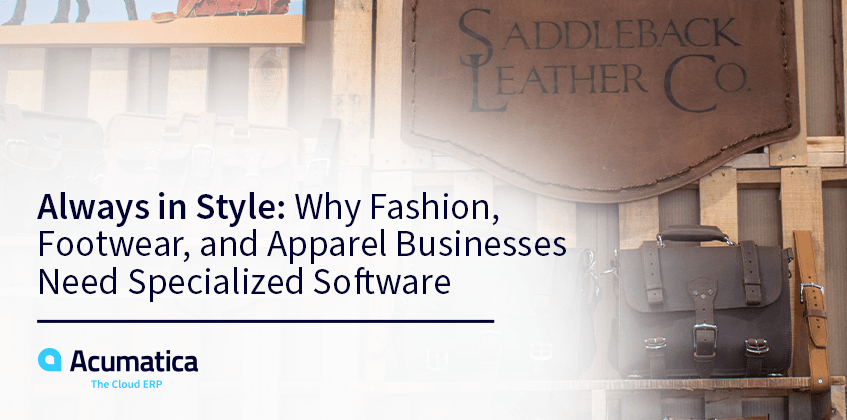 "The only constant in life is change." Greek philosopher Heraclitus could have been speaking directly to today's fashion, footwear, and apparel businesses faced with ever-evolving fashion trends and growing omnichannel shopping expectations. To keep up, these businesses need retail management software within a cloud ERP solution.
Cloud-based ERP solutions with retail software, such as Acumatica, offer fashion, footwear, and apparel businesses order fulfillment, shipping, financial analysis, reporting, and inventory tracking capabilities within one system, seamlessly uniting their eCommerce website with their back-office application. An ERP for fashion and apparel businesses helps users manage their business holistically, which translates into increased efficiency and profitability.
Retail Management Software in Real Life
According to a Shopify Plus article, the eCommerce fashion industry is expected to hit a $672.71 billion valuation by 2023. The following businesses are successfully operating in the growing industry because they implemented Acumatica's retail software, and their real-life experiences drive home the benefits.
Saddleback Leather
Saddleback Leather designs, makes, and sells their "excessively high-quality leather" products online. There isn't enough time or space to explain how the company came to be, but it involves bullfighting, hitchhiking, surf trips, and more (read all about it in "Saddleback Leather + Acumatica Cloud ERP: Boosting Sales While Saving Millions").
Founder and CEO Dave Munson has taken the company from selling his first leather bag out of his Land Cruiser to having a factory in Leon, Guanajuato, Mexico, and headquarters in Fort Worth, Texas, employing hundreds of employees. A success story for sure, but it didn't come about without a few hiccups, including choosing to replace their custom-made financial system with Oracle NetSuite.
"Nothing worked fresh out of the box," Dave says in the company's customer success story. "It took 14 developers and systems staff just to make it work. It was proprietary, so anything you wanted changed took 10 times longer than necessary to implement."
In addition to not being able to use NetSuite's front end as Saddleback's first online store (and connecting it to their financials), they were unable to do SEO on their website, needed a programmer to create new product landing pages, and couldn't get NetSuite to enable customer reviews without it taking three months, which also cost them extra and didn't come with numbers next to the ratings. After years of frustration, Dave and his team instigated a search for a new ERP system.
Their search led them to Acumatica. They implemented Acumatica Retail Edition with:
Since joining forces with Acumatica, Saddleback has enjoyed a multitude of benefits, including technology costs down by 33%, ten times the functionality, organic traffic up 45%, accurate inventory, and so much more. Says Dave, "I had a million ideas but all of them were impossible with Oracle NetSuite. Now, I sleep, dream, and hope—three things I was not able to do with NetSuite."
Shoebacca
Shoebacca sells name-brand athletic shoes, accessories, and apparel at competitive pricing via their retail website and online store. The company is also heavily invested in helping local and national communities by supporting youth organizations and charities.
Prior to selecting Acumatica (and becoming Acumatica's 2016 Customer of the Year), the growing eCommerce retailer relied on disconnected eCommerce software solutions, such as Oracle NetSuite and a home-grown warehouse management system, to help them automate their business processes. Unfortunately, the juxtaposed systems were overpriced, lacked real-time synchronization, and provided limited operational functionality. What they needed was an open and easily extensible solution that was fully integrated, customizable, and affordable—and one that could grow with them.
IT Director Thomas Finney says in the company's customer success story that they chose Acumatica because they were looking for "an ERP that could also act as a backbone for all of our other systems. Something that would integrate with our eCommerce platform, our warehouse management solution, and business intelligence reporting suites."
Once they found Acumatica, he says the single system became their source of truth. "We are an eCommerce retail company, we do all of our product management through Acumatica, we do all of our order management/order fulfillment with Acumatica, and all of our accounting in Acumatica—and we actually do that for multiple companies, as well. Acumatica allows us to connect with third-party solutions to a degree that other ERP solutions don't have. Acumatica can be molded to our specific needs, which allows us to achieve the highest degree of efficiency and automation that provides for a better bottom line."
After implementing Acumatica Retail Edition, Financial Management, Distribution, and Customer Management, along with FusionRMS – Fusion WMS, and Kensium Solutions – Magento/Acumatica Connector, they increased their interoperability, growth, and profit.
Design Studio / D2 Clothing / Mila Fashion
Founded in 2009, Design Studio produces and exports ladies wear garments from Sri Lanka and Bangladesh to UK and Europe markets. The company's mission is to "build a unique portfolio of clothing, striving to surpass our competitors in quality, innovation and value, elevating our image in the industry, worldwide."
Design Studio's journey to success hasn't been without a few speed bumps, including it home-grown Accounting and production systems. Becoming a state-of-the-art manufacturing operation requires a robust, integrated system, and the company's solution was anything but. Thus, the team decided to replace it, establishing a digitalization initiative dubbed "Project Nova."
The garment manufacturer chose Acumatica and implemented Acumatica's Manufacturing Management with Estimating along with Acumatica Intercompany Accounting and Fixed Asset Management. Says Chief of Staff and ERP Project Manager Devin Samayamanthri:
"Our choice of ERP is the most mission-critical business application we rely on. As the world has moved on from bespoke on-premises solutions that are clunky, monolithic, and don't integrate well, on to cloud-based ERPs, Acumatica had everything we were looking for. It is fully managed with round-the-clock support; it is modular and easily integrates with our HR & Payroll system and mobiles/tablets used on the factory floor."
Devin also notes that Acumatica's Open University provides excellent training material. He also likes that Acumatica charges for resources used, not per user licensing fees, making it an affordable solution for them and other SMB and Mid-Market businesses within the fashion and apparel industry.
"Most importantly," Devin says, "unlike most other market leaders out there, [Acumatica] is super intuitive and user-centric, meaning you don't need a mammoth team of ERP experts in-house!"
Drive eCommerce Growth with Acumatica
Fashion, footwear, and apparel businesses can expect their industry to continue thriving even as supply chain, compliance, and labor shortage challenges arise in the wake of the COVID-19 pandemic. The good news is that both circumstances can be effectively managed with the right retail software and cloud ERP solution, like Acumatica. Our free Industry Digest concurs, noting:
"Fashion, apparel, and footwear retailers and distributors prosper with Acumatica Cloud ERP. Manage omnichannel orders through back-office ERP applications connected with B2B and B2C eCommerce storefronts and point of sale applications for in-store sales. Manage inventory and item data inside Acumatica with bidirectional connectivity with commerce and retail systems for order management, returns, and exchanges."
To learn more about Acumatica's cloud ERP software and becoming an Acumatica customer, reach out to our team today.