Fidelux Lighting's decision to implement a modern cloud ERP solution will help them grow their already successful business even further. 
In March 2017, newly rebranded, women-led, and minority-owned business Fidelux Lighting seemed to have all the ingredients needed to continue successfully designing and distributing their top-tier LED lighting solutions for commercial customers. Turns out, they lacked one essential component: a comprehensive cloud ERP solution.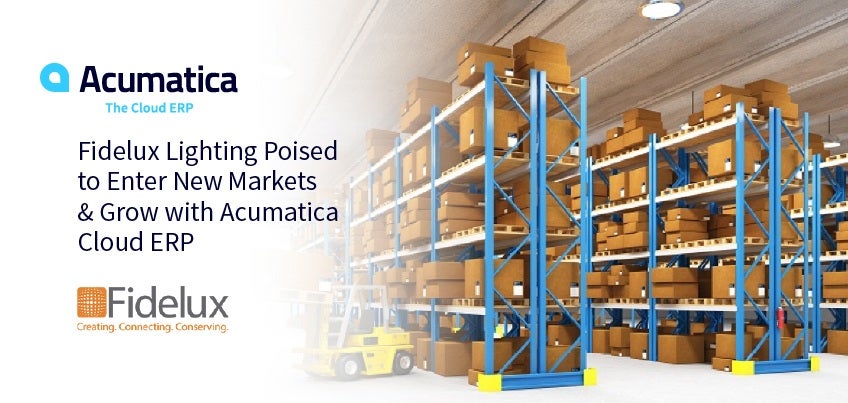 Their lack resulted in a search for a solution that could streamline their inventory, order processing, and accounting processes. They waded through their many options, including Microsoft Dynamics GP and Microsoft Dynamics 365, but after an Acumatica cloud ERP software demonstration, there was no question as to who they would choose.
Fidelux's Director of Operations Shivani Raval says in the company's customer success story, "When we saw Acumatica, we totally switched gears."
Here's a look at Fidelux, which means "Trusted Light" in Latin, and its past, present, and future with Acumatica.
Past: before Acumatica cloud ERP
Before Acumatica, Fidelux was using QuickBooks. It wasn't by choice. They inherited it from UIC Energy, their division name before a rebranding happened in 2017 by their parent company, PRIME AE Group, Inc., a professional engineering services firm.
UIC Energy was formed in response to commercial businesses switching en masse to LED lighting. It had a successful first five years, and PRIME AE Group, Inc. decided to change the business model from direct sales to selling through distributors. The need to track and pay commissions, as well as to manage inventory and to handle their accounting, was too much for QuickBooks.
"For the first three to four months, we were doing a lot of the commission tracking on spreadsheets," says Senior Software Specialist Leslie Alt.
Manual tracking is a time-consuming and potentially error-prone process but was a necessary task with QuickBooks. QuickBooks also limited their ability to track their lighting kit assembly inventory, wasn't customizable, and couldn't integrate with other software.
The implementation of Acumatica cloud ERP, with the help of Acumatica partner CAL Business Solutions, took Leslie and her team approximately 45 days, and they saved money by using Acumatica's self-service resources. And implementing Acumatica's Financial Management, Distribution Management, Customer Management, Inventory Management, and Order Management software gave the 15 Fidelux employees and their distributors a bevy of benefits.
Present: Acumatica cloud ERP benefits
"We selected Acumatica due to the ease of use. Cost was another factor," Shivani says. "Licensing with Acumatica is all about the resources and usage rather than how many users you have."
In addition to this ease of use and cost savings, utilizing Acumatica's cloud-based ERP solution meant Fidelux:
Streamlined their commission and inventory processes
Granted limited access to more than 30 distributors affordably
Saved 7 hours of manual data entry
Automated their commission payments via a customization by CAL Business Solutions
Improved their inventory visibility
Reduced the number of people it took to process an order
And more
The business' customer success story dives into the details and includes how much Leslie loves Acumatica's ease of use and flexibility. "I am not a developer, but I can understand how it is built, and I can do as much customization as I want."
She continues, "We love Acumatica's dashboards. We are in the process of integrating Microsoft's Power BI to pull information for our sales team reports to send to our distributor agencies, and the overall transparency of Acumatica has been very helpful to me."
Future: poised to grow with Acumatica cloud ERP
Fidelux is rapidly moving forward with their LED lighting solutions and branching out with new projects, including President Sindhu Natarajan's project that focuses on retrofitting/replacing various town and municipality streetlights. She plans on continuing to grow the company using Acumatica as their modern, agile cloud ERP solution.
Shivani says the same. "As we move into new markets, Acumatica gives us the confidence that we can handle the increase in transactions and growth with ease for many years."
Are you feeling confident that your cloud ERP solution can and will scale with you as you grow? If not, contact our team to schedule a demonstration. You may also want to consider attending Acumatica Summit 2020, our premier cloud ERP event taking place in Las Vegas, Nevada at the Cosmopolitan of Las Vegas on January 26-31, 2020 to get a clear picture of what Acumatica can do for you and your business.
Leslie is hoping to attend, stating that the Summit is the place to learn more about Acumatica. "I would look forward to meeting other customers…and get new ideas. The sky's the limit. There's so many things you can do with [Acumatica], and I would love to be able to develop it in such a way that there's even more automations and efficiencies for our team and to be able to see what other people have done to do that."
We hope to see Leslie and you there!