At Acumatica, one of our main objectives is giving our customers the tools they need to make informed decisions regarding their ERP choices. We created our free field service management checklist for this purpose. Field service management software is integral to streamlining – and improving – field service businesses' day-to-day operations; our intent with this checklist is to give you the ability to select the right field service software for you and your company.
All field services businesses have at least one thing in common: the desire to provide top-notch, on-site care of their customers' equipment. Whether it's providing preventative maintenance, taking care of repairs, or satisfying warranty-covered responsibilities, field technicians require the right resources to effectively fulfill that goal. Enter field service management software – the ultimate tool your employees can use to satisfy your customers' expectations and increase your bottom line.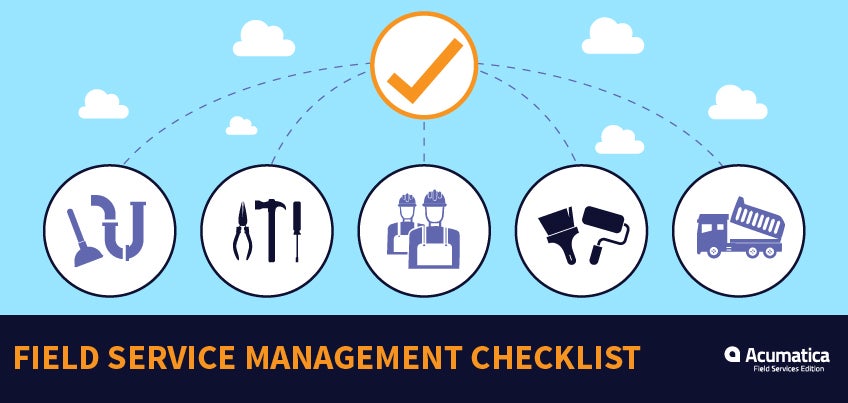 It's important to note, however, that finding the right field service management software for you and your business is not as simple as randomly picking a provider and getting started. It takes research to find the best field service software that works for your specific needs. To help you with your research, we've put together a free field service management checklist: Top Seven Things to Look for in a Field Service Management System.
The importance of field service management software
Field service software – such as Acumatica's Field Service Edition – integrates your management and accounting systems, automates your scheduling/dispatching systems, allows real-time updates via mobile applications, streamlines your processes and more. Our new checklist delves into the details of these benefits. It discusses the seven most important areas you should take into account when you are deciding which field service software you want to implement.
As a preview to the checklist, here is a look at three of the seven most important factors in your decision-making:
Scheduling and Dispatching
Scheduling and dispatching are the key tasks of field service management software.
Getting the right people to the correct location quickly is essential for a field service business to succeed. Your field service management software system must be able to balance already scheduled appointments with emergency service calls, provide mapping capabilities, and should mesh with inventory tracking.
Mobile Technology
This may seem obvious in our technologically bound world, but having the ability to go online from any location at any time is a necessary function of your field service management software. Mobile technology enables your service team to receive updated, real-time information from their phone or tablet. The billing software increases accuracy and equipment/repair history is a button away. This improved service increases customer satisfaction and loyalty.
Flexible billing
Your billing software must allow your team to create invoices according to contract stipulations as well as allow for variations that occur with each customer. The invoice software should be able to process billing for each project specifically rather than as a blanket system that tries to cover everyone the same way.
Analytics, integration with back-end systems, inventory management, and installed equipment tracking round out the top seven things to pay attention to when reviewing your billing software options.
Field service software is synonymous with field service success
Increasing efficiency, accuracy, and customer service therefore increasing profitability is the goal of your field service business. To reach this goal, you need to implement the best field service management software for you and your company. Our checklist located here will aid you in that effort. Please take a moment to read more about the top things to look for in a field service management system mentioned above and to read about the other four areas of importance.
Want to have a conversation on this topic? Contact us directly to discuss how the right field service management software can benefit your entire business all the way to your bottom line.