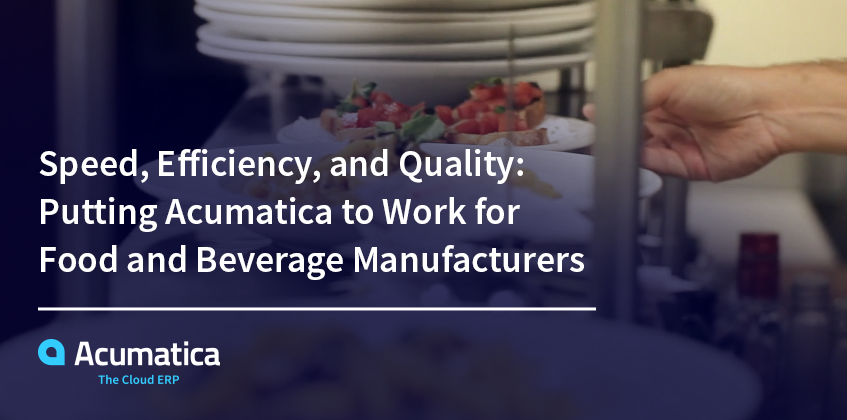 As 2023 quickly approaches, the food and beverage industry continues to wrestle with elevated costs, supply chain delays, and product/ingredient shortages. Along with these troubling concerns, food and beverage manufacturers can expect growth to be stagnant in the immediate future.
According to the 2023 Foodservice Industry and Segment Projections from the International Foodservice Manufacturers Association (IMFA), "operator spend in the foodservice industry will decline by 0.1 percent, considered flat on a real basis in 2023, compared to 2022."
The IFMA also believes the industry will experience inflation of 7.7%, leading to high-priced goods and increased expenditure.
These projections are based upon several key assumptions, including an economic recession in 2022, supply chain constraints, labor shortages, and many white-collar employees continuing to work remotely rather than in the office.
To address these challenges, food and beverage manufacturers must first assess the technology they're using to manage their manufacturing processes—the setup they have for monitoring expiration dates, handling recall requirements, complying with governmental regulations, managing financials and customers, etc. They need to implement food and beverage ERP strategies—but not just any food and beverage ERP strategies will do.
If you're still using a legacy ERP system to keep track of these complex processes, then you're likely grappling with siloed data and the errors that come with manual procedures. Thankfully, a modern ERP solution, like Acumatica, can transform your business into an automated, connected, resilient organization that is ready to meet expected—and unexpected—challenges head on.
How an ERP Implementation Can Transform a Company
Food and beverage ERP strategies should be grounded in software that can integrate multiple systems—enabling businesses to handle financials, order and inventory management, quality management, regulatory compliance, EDI transactions, sales, reporting, and more from a single application. Acumatica does just that. As a cloud-based ERP solution, Acumatica is designed so that users can access company-wide data from a central repository at any time, from anywhere. Our software can also be seamlessly integrated with critical third-party applications, so you can truly customize it to your company's needs.
Below, we'll talk about some of the ways Acumatica's wide-ranging capabilities and functionalities can help food and beverage manufacturers transform their operations for success in today's economy.
1. Integrated, Optimized Workflows and Data
Food and beverage ERP strategies must be up to the ongoing challenge of optimizing workflows while sharing updated, accurate information across the organization and throughout the supply chain. Disconnected systems, changing conditions, and evolving regulations make it difficult for leaders to acquire the data they need to make informed decisions.
With Acumatica's cloud-based ERP system, data from every part of the business flows into and out of a central, unified solution, providing a single, comprehensive view of the entire organization. This clear visibility exposes a business's performance in real time and provides the information necessary for data-driven decision-making.
A good example of this is Marikina Food Corporation, the producer of HOBE "QUICK COOK" Bihon and Hobe Express products. Marikina once managed its business with legacy ERP software and Excel spreadsheets, but, as the company grew, this disconnected system soon became a stumbling block. So, Marikina began researching other solutions that manage ERP for the food and beverage industry, and this search led to Acumatica.
Now, Marikina Foods is an efficient business that experiences less downtime and operates on a solid base of accurate, complete, real-time data.
"We used to wait seven days for the information to come in. With Acumatica, we have it in two days or less. This allows us to make decisions at a faster rate, react faster, and stay ahead of the competition," says Patrick Ordonez, Financial Consultant at Marikina. "We can now see which items need to be discontinued, if there is a problem with costs, and do a deep dive by product, by region, by salesperson, and product category. Our decision making is much better."
2. Energized Production Lines and Operations
Food and beverage manufacturers work with and manage numerous materials and products at once. Unfortunately, many still use spreadsheets to track inventory manually—leaving them susceptible to human error.
Acumatica's ERP solution replaces these slow, inaccurate processes with inventory management software that allows businesses to automatically track inventory and provide updated, reliable information to all employees. Businesses can also oversee and analyze production lines and transactions across multiple channels and platforms.
Acumatica customer Derek Szabo, Managing Director at Devil's Peak Brewing Company, says they replaced QuickBooks with Acumatica, and it has helped them improve "control and visibility of inventory as it moves through the end-to-end value chain."
He also says: "Full supply chain visibility will enable us to target the areas where we have issues and tackle them, to ensure we are operating efficiently and driving growth across sales, supply chain, manufacturing, and finance. We are already trusting the numbers in our systems more, and as our business becomes more and more complex that becomes more critical. We can focus on selling and making beer."
3. Accelerated Hiring and Staffing Cycles
Today's manufacturers are struggling to find employees for open positions, and food and beverage manufacturers are no exception. Businesses are now placing a strong emphasis on recruiting and retaining employees.
This is another area in which Acumatica can help. It gives business leaders a single dashboard that shows accurate data about their current staffing resources, labor rates, and costs. With this information, they can easily pinpoint their hiring and staffing cycle needs. By automating business processes and streamlining workflows, Acumatica can also reduce the number of staff members needed to keep the organization running.
In a recent article on staffing shortages, Martha Lucia Groulx, Chief People Officer at Acumatica, writes, "With ERP systems, people, processes, and records are brought together under one umbrella. Employees don't have to switch from one system to another, saving them time and effort. Managers have a 360-degree view of the business, including the workload and resourcing of their teams, which provides insight into where and why pain points exist. Working smarter with fewer people is a reality when SMBs implement the right ERP system."
4. Streamlined Quality Assurance and Management
Quality and safety are top priorities in the food industry. According to Acumatica's "Manufacturing: Food and Beverage Industry Digest," food and beverage manufacturers are heavily regulated.
Companies face strict lot tracking and must manage recalls, allergens, nutritional labeling, and more. Other challenges include process manufacturing production methods, expiration dates for perishable inventory, catch weights, byproducts, and flexible pricing with promotions and allowances for customer returns due to spoilage and damage.
Food and beverage ERP strategies must align with manufacturers' overall goal of ensuring that the products they make are safe for consumption, meet regulatory requirements, and exceed customer expectations. With Acumatica, manufacturers have a connected quality management application with the quality testing capabilities, certificates of analysis (COA), AQL and sampling features, traceability and recall notices (and more) that they need to succeed.
How Acumatica Can Help
Acumatica's cloud-based ERP solution integrates and optimizes workflows and data across an organization, manages inventory, assists in hiring/retaining employees, helps companies ensure food quality and safety, and much more. Ultimately, it's exactly what manufacturers need to manage ERP in the food and beverage industry, overcome challenges, and transform their operations for success in today's marketplace.
To learn more about Acumatica's capabilities or to schedule a demonstration, contact our team today.