If you've ever wondered why cloud ERP systems are hyped as the solution for companies looking to grow, then distributor Frederick Block, Brick & Stone's story is for you.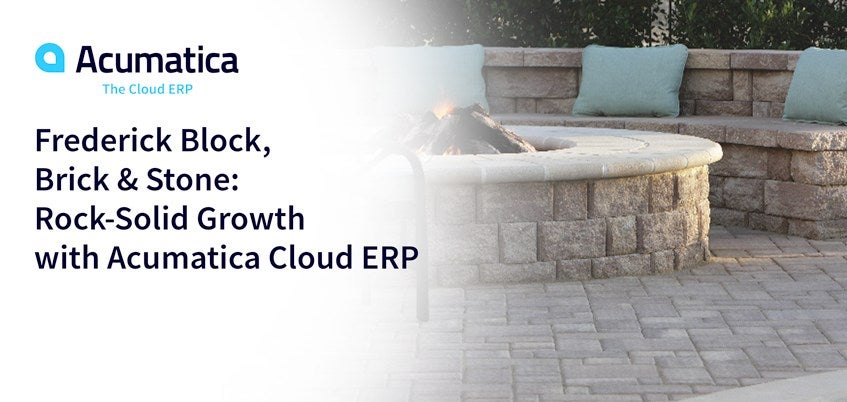 For over two decades, Frederick Block, Brick & Stone (FBBS) struggled with a legacy ERP solution. President and CEO Steve Slaughter says it was not based in the cloud, was difficult to use, had no remote access, couldn't handle financial transactions from multiple locations, caused employees to manually import and export data, could not integrate with other programs, and more.
It was past time for the growing company to find a cloud ERP solution.
From 40 to 1: Why FBBS chose Acumatica cloud ERP
Since 1967, FBBS has taken pride in distributing quality masonry products. They started with cinder blocks and mortar and grew to include brick, natural stone, manufactured stone, hardscaping products, and more, while also striving to always provide a positive customer experience. Their quality products and service resulted in the company growing from one location to three locations.
Their growth, while good for the business, was not good for their business management solution.
"In our old system, we had to download the information into a CSV file and import it into Excel," Steve says in the company's customer success story. "Or we had to run a number of different reports to then take information from each one. It took a lot of time and manual effort to clean things up."
Not a company to do things halfway, an internal team found 40 ERP systems in their online search. They quickly whittled the list down to five, eliminating those that were expensive, inflexible, and made for larger corporations. After demos, two remained. FBBS had to decide between Epicor and Acumatica cloud ERP, and Acumatica was the one.
Why did they choose Acumatica's cloud ERP software? There were multiple reasons, including Acumatica's unique pricing model (doesn't charge for adding users), configurability (not cost-prohibitive customizations), cloud-first native function (built for the cloud and not after the fact), and ease of use (vs. a cobbled together and unfriendly solution).
FBBS, along with Acumatica partner CAL Business Solutions Inc., implemented Acumatica Advanced Distribution with Financials, Customer Management, Inventory and Order Management, and the Acumatica Intercompany Accounting Module.
Moving from a siloed, inaccessible, and inefficient ERP system to an integrated, mobile, and automated cloud-based ERP solution has given FBBS the ability to take their growth to a whole new level, something Epicor and the other ERP solutions they evaluated couldn't do. "There are a lot of features and modules available in Acumatica that we haven't utilized yet. But thinking ahead to where our business may be five years from now, we feel like we have a solution for our business that we can easily add to and grow with over time."
He also says, "With Acumatica, the sky's the limit."
Sky-high benefits
Since implementing Acumatica, they've experienced some sky-high benefits, including:
Making informed decisions through quickly and easily accessing their data from a single source of truth: "On a daily basis, I can see information quickly. I can create a Generic Inquiry and manipulate the view to get to the data that I want to see. We are no longer making guesses but decisions with the data to back it up."
Seamlessly integrating with third-party applications: "Acumatica is much more user friendly than what we had before. The integration with Microsoft Office, especially Outlook and Excel, has been great."
Gaining visibility and insight into their inventory (which includes products from various manufacturers, fabrication requests, and specialty orders): "Acumatica handles inventory so much better than our old system. This is a big-time saving for us to see live inventory availability across our three different locations and not have to resort to various spreadsheets or wander through our yards of products like we did before."
Another huge benefit has been the ability to remotely access their connected, cloud-based business solution at any time, from anywhere. With the advent of the COVID-19 pandemic, the need to work from home became reality, and Acumatica has helped them maintain business continuity during this stressful time.
"Acumatica allowed many of our staff the ability to remain productive when needing to be at home," Steve explains. "This is a huge advantage over our prior system where this would not have been possible. I can't imagine being able to accomplish what our dedicated staff has been able to do if we had not made the jump to Acumatica."
Future growth with Acumatica cloud ERP
To recap, FBBS was able to grow their business even while relying on a disconnected legacy solution, but they knew they couldn't go much further without a modern business management solution. When they researched their many options, Acumatica cloud ERP stood above the rest. Choosing Acumatica cloud ERP and working with their Acumatica partner has been exactly what they needed to bring their business into the future.
"Acumatica certainly makes us a better business. It's been very beneficial to understand and see what's going on in our business, in real time," Steve says. "Acumatica can be configured to do all the things we needed for our industry, but it also has the flexibility to go above and beyond."
There are even more things Steve and his team at FBBS like about Acumatica and being an Acumatica customer. Check out their Acumatica customer success story and their CAL Business Solutions' customer success story to find out what those things are.
And contact our team with any questions or to set up a demonstration to find out how Acumatica's inventory management software, order management software, and distribution management software can help your business grow into the future.