The question of whether it's necessary for your product-centric company to adopt new-generation cloud ERP software or not is best answered by those in the know. Gartner, the world's leading information technology research and advisory company, offers their take on cloud ERP solutions for product-centric organizations, on marketplace trends, and on what you may want to do about it.
Today's product-centric organizations are operating in a time when cloud ERP software is becoming more and more the solution of choice for meeting business application needs. Gartner's newest Market Guide focuses on when and why product-centric companies decide to move to cloud ERP. For CIO and application leaders, it offers a comprehensive cloud ERP vendor comparison. The Market Guide for Cloud ERP for Product-Centric Companies is available to download for free right now – no subscription required!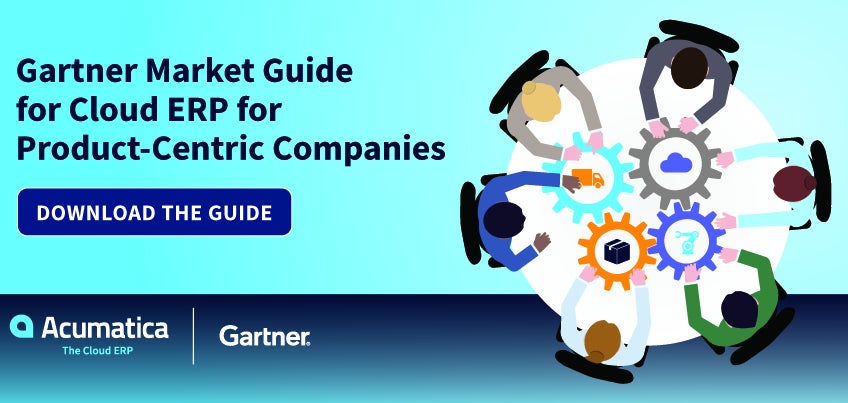 Mid-sized vs. large business: is cloud ERP software for you?
The shift to digital business practices for manufacturing and distribution organizations – those that physically manufacture, sell, and/or distribute products – is happening, and Gartner says how quickly it transpires is affected by the size of the organization. The guide suggests that over the next three years, many midsized organizations will adopt product-centric cloud ERP solutions while only some of their larger counterparts will do so.
Per Gartner, larger companies tend to use a variety of on-premises manufacturing systems (MESs) to manage their manufacturing operations. But 35% of new product-centric ERP deployments in larger enterprises will be software as a service (SaaS) – which includes a loose integration with on-premises manufacturing execution services (MES) – in as little as two years. These larger enterprises, Gartner says, are also starting to use cloud ERP solutions for their more specialized business units, creating a multi-level method of support.
In comparison, the Market Guide for Cloud ERP for Product-Centric Companies says that product-centric SMBs, along with their service-centric counterparts, have less complex business requirements and view cloud ERP software, with the basic MES functionality included, as a long-term value-filled and flexible deployment option.
Benefits of cloud ERP software, Gartner says, include a more customer-centric focus. Also, expenditures on IT and finance to support on-premises core ERP applications are reduced. Other benefits of cloud ERP software include ERP vendor responsibility for upgrades as part of their cloud service; scalable, flexible, and real-time computing resources; configuration capabilities; rapid deployment; new functionality; and more.
How to choose the right cloud ERP software for your product-centric company
At Acumatica, we realize you're knee deep in the daily activities that keep your manufacturing and distributing operations running smoothly. You have little time to research and compile a long list of cloud ERP software options. Gartner's most recent Market Guide is a quick and easy reference guide for comparing a list of representative vendors on the market. Gartner doesn't include all available solution providers; the vendors profiled were used based on informational requests by Gartner clients.
Gartner is quick to point out that a digital business is not formed just by moving to the cloud alone, but it is a move that all sizes of product-centric companies are starting to make. This decision is big. Some would even say necessary. For CIOs and application leaders in charge of this decision, Gartner suggests (among other things) that product-centric organizations should consider the integration capabilities of the cloud ERP solution they choose.
Acumatica provides a full suite of integrated business management applications including our Manufacturing Edition, which provides a complete, multi-site manufacturing control and planning system for your firm. It seamlessly integrates Bill of Material and Routing, Production Management, Material Requirements Planning (MRP), Product Configurator, Estimating, Advanced Planning and Scheduling, Order Management, Sales Order Management, Purchase Order Management, Inventory Management, Project Accounting, and CRM.  Our complete true cloud ERP solution is built to adapt to your needs.
We encourage you to download your free Gartner's Market Guide for Cloud ERP for Product-Centric Companies to help you research your cloud ERP software options as well as to get Gartner's Market Recommendations. In addition, check out our free video highlighting how a modern manufacturing ERP system can work for you.
Finally, don't forget to take advantage of our team of experts. Contact us with any questions you have about our Manufacturing Edition or our complete cloud ERP solution – we're always available!