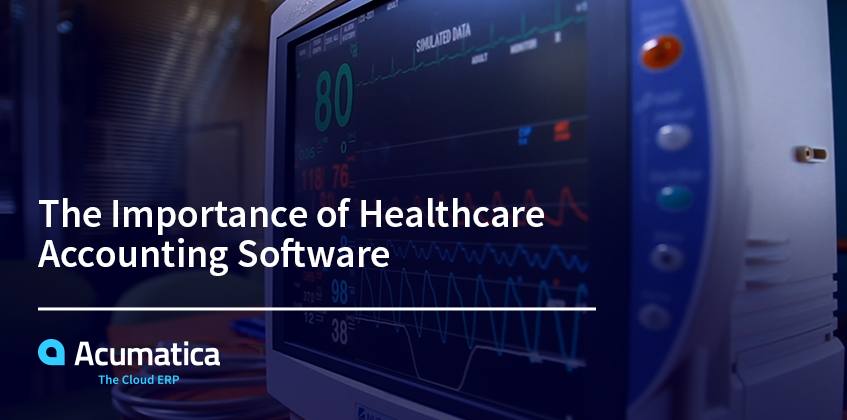 Hospitals, walk-in health clinics, nursing homes, extended care facilities, and medical supply and equipment providers—they are all healthcare institutions, and, whether they're for-profit or nonprofit, they all have accounting responsibilities. Those responsibilities and the regulatory requirements governing them are becoming more and more complex as healthcare needs expand.
Keeping up with these expanding needs requires a specific tool: healthcare accounting software. However, before jumping into what healthcare accounting software is and what it does, let's quickly look at the accounting issues healthcare institutions are facing today.
Common Healthcare Accounting Problems
Some of the most common issues faced in healthcare accounting are:
Provider/insurance challenges due to medical billing and coding complexities.
Lack of communication between staff members.
Inefficient workflows and processes that impede the proper gathering of patient information, including insurance eligibility and co-pay amounts.
A lack of automated reminders to follow up on rejected claims, leading to substantial but preventable financial losses.
Non-compliance with GAAP guidelines, resulting in fines.
On top of all this, some healthcare institutions do not have the financial reporting capabilities needed to easily compare their income and expenses with their budgets. This turns profitability into an elusive goal.
Improving Patient Care and Team Engagement with Healthcare Accounting Software
So, what exactly is healthcare accounting software, and how can it help alleviate these challenges?
Healthcare accounting software helps healthcare institutions manage patient billing, insurance claims, equipment purchases, payroll requirements, vendor payments, and more. It eliminates manual data input, which improves data accuracy and frees staff members to focus on other business-building and patient-friendly tasks. Healthcare accounting software also simplifies payroll/tax filing duties and provides reporting and forecasting capabilities.
The importance of healthcare accounting software can be seen in the accurate and efficient management of daily, monthly, and yearly accounting tasks. Automated and streamlined workflows improve team member engagement and patient care. And, since the software increases visibility into costs per patient and patient financing, healthcare institutions can make better, more data-driven fiscal decisions for patients and their treatment needs.
Healthcare Accounting and ERP
Now, imagine taking the benefits of healthcare accounting software to the next level. That's what happens when healthcare accounting software is built into a comprehensive cloud-based ERP solution.
A cloud ERP solution helps information flow between all departments and systems in an organization. It acts as a central data repository, giving users access to the same accurate, real-time information—anytime, anywhere.
When they choose an ERP solution with integrated accounting software, healthcare institutions have valuable benefits at their fingertips. They can automatically track finances and manage revenue/tax requirements, use connected workflows to standardize business processes across the organization, and enjoy a 360° view of their practice and its overall health.
But, because implementing an ERP system is an expensive, time-consuming process that will impact their teams and patients, healthcare institutions must carefully compare their ERP options. In addition to a comprehensive accounting module that addresses HIPPA and GAAP compliance standards, they should look for an ERP solution that:
Increases efficiency.
Ensures security.
Supports a mobile workforce.
Provides business intelligence.
For an example of this process, take OneMed Healthcare—a medical supply and equipment provider. It researched and evaluated multiple ERP systems before choosing the one that best suited its needs.
Its choice? Acumatica.
How Acumatica Can Help
For years, OneMed Healthcare operated on a custom-built ERP system, which worked well when the company had five offices. But the system became strained when OneMed expanded to 15 offices.
"The program was struggling, and it was not designed to scale," says Louis Hartanto, Co-Owner and Development Manager at OneMed.
The system was never designed to handle more than 150 concurrent users or ensure high-level security, and Hartanto goes on to say that it had a habit of crashing for hours when "too much was happening inside the program." As if these technical issues weren't enough, the software didn't provide financial reports, dashboards, or a sales order process—which are vital to the operations of an expanding company. All in all, it was a complicated, unproductive ERP solution, and Hartanto turned to Acumatica for help.
Now, OneMed relies on Acumatica's affordable, mobile, and flexible cloud-based system, which provides full visibility into the company's financials. OneMed also enjoys:
Growing without being penalized for adding users to the ERP system.
Easily managing its 2000+ SKUs and adding new products each year.
Creating sales orders before invoicing.
Staying connected through Acumatica's mobile app.
Tailoring the Acumatica system to its unique needs.
"We have had no problems; everything is running smoothly. Our staff spends less time inputting data now, keeping our people happy," says Hartanto. He adds that OneMed is growing, and he believes "Acumatica will speed up our business process and make us more efficient, benefitting our business as well as the clients we serve."
For any growing healthcare institution relying on manual accounting processes and multiple, aging systems for financial, sales, human resources, and inventory needs (and more), the importance of healthcare accounting software built into a cloud ERP solution cannot be understated.
To learn more, contact Acumatica's experts today.