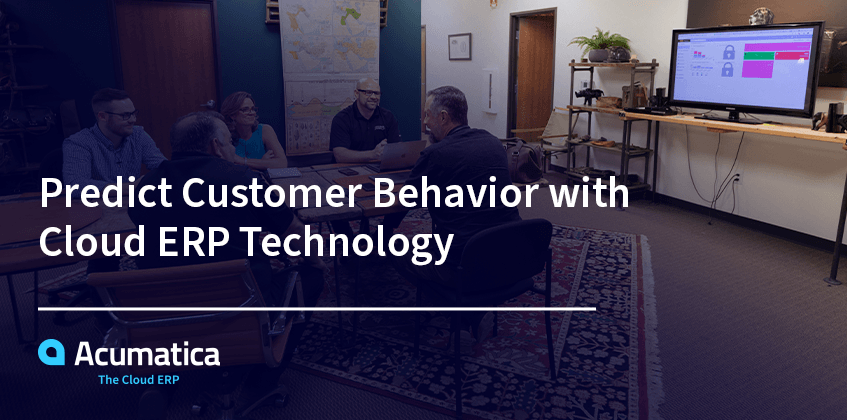 Using a Cloud ERP Solution to Predict Customer Behavior
Predicting customer behavior has been an elusive wish among retailers for centuries. According to a Forbes article by Cognitiv CEO Jeremy Fain, understanding what customers are going to do and why has been an almost impossible task because we've lacked the technology needed to track and analyze people's decision-making processes. But Fain says this is no longer the case.
"Now, with sophisticated computer systems, deep learning and the ability to store vast amounts of data, we can begin to parse that information to find patterns in the ways people operate," Fain writes.
The fact that we now have this capability leads to an important question. Which sophisticated computer system provides the best customer behavior analytics for today's retailers? Varying opinions abound, but many retailers believe the answer is a modern, cloud-based Enterprise Resource Planning (ERP) solution with embedded Customer Relationship Management (CRM) capabilities.
Retailers who have implemented cloud ERP software with an embedded CRM module have discovered they can:
Uncover customer preferences.
Deliver instant access to customer history and updated contact information.
Provide a personalized customer experience.
Expand their CRM capabilities.
Today, we'll examine each of these benefits, and, in the process, we'll reveal how cloud ERP can help you predict customer behavior, drive sales, and boost revenue.
Complete Visibility into Your Buyer's Journey and Customer Preferences
Simply put, a cloud ERP solution connects an organization from end-to-end, streamlining workflows and automating business processes companywide. Such an ERP solution also acts as a central database—gathering, storing, synchronizing, and analyzing data from every team in the company (accounting, finance, sales, inventory, human resources, etc.). Team members have real-time access to the accurate information they need to do their jobs, anytime, from anywhere.
For retailers, a cloud ERP and unified CRM solution provides visibility into every stage of the customer journey, from initial interactions with the company to ultimate purchase decisions. Such complete visibility reveals purchasing patterns, including:
What products a customer is buying.
How much/many of those products they are buying.
How often they buy those products.
In addition to purchasing patterns, cloud ERP with CRM data also reveals customer preferences, such as:
How a customer likes to interact with the retailer—shopping online, in person, or both.
How a customer prefers to pay—cash, check, credit card, bank draft, etc.
Taken together, this and other customer information can help you personalize how you engage with each customer and fix pain points that may deter people from pushing the "complete purchase" button.
Provide a Personalized Customer Experience
Providing a personalized customer experience (CX) is paramount to your success. The fact is, consumers in today's very competitive marketplace have plenty of shopping options at their disposal, which means they can quickly switch from one retailer to the next if they don't have a seamless, hassle-free experience. Emplifi, a customer experience platform, released a report on the 11 key things consumers expect from their brand experiences. It found that more than 4 out of 5 survey respondents would leave a brand after three or fewer instances of poor CX, and about 1 in 5 would leave after only one instance.
Most retailers know how critical CX is and work hard to provide a satisfying experience. But, to truly stand out from the competition, you must personalize the shopping experience for each customer. This sounds like a daunting feat, but it is easily accomplished with the information from a cloud ERP solution. The system will give every team member access to the same version of each customer's data (e.g., personal information, open cases, returns, etc.), empowering your business to provide:
A convenient and fast shopping experience based on precise data and personal preferences.
Excellent customer service with team members answering questions and resolving concerns quickly and easily.
The exact products customers want, at the prices they want, delivered at the time they request.
Customized emails and recommendations based on past searches.
These customer-centric benefits go a long way toward ensuring a positive CX and retail success. As Sam Walton, founder of Walmart and Sam's Club, is quoted as saying, "There is only one boss: the customer. And he can fire everybody in the company from the chairman on down, simply by spending his money somewhere else."
Expand the Reach of Your CRM
Comprehensive cloud ERP solutions provide significant, business-enhancing benefits, but, if you're already using a specialized customer relationship management (CRM) system, you may be questioning whether you need cloud ERP software at all. The answer is: "Yes. You do."
A standalone CRM system only reaches a portion of the customer pipeline. It helps you identify prospects, generate marketing campaigns, and document the interactions a lead has with your business, but it doesn't provide insight into the financial and accounting sides of purchases.
With a unified ERP and CRM system, you can track your customers' purchasing decisions and assess the profitability of different products. You'll be able to determine which products make money and which lose it, and you'll have both the customer behavior analytics and the tools to report on them at your fingertips.
The bottom line? An ERP system with embedded CRM software drives personalized customer service, improves sales, and boosts revenue.
How Acumatica Can Help
Acumatica Cloud ERP is an advanced, innovative business management solution for retailers seeking to grow their businesses by attracting—and retaining—customers.  Acumatica's ERP solution includes CRM capabilities that retailers need to better predict customer behavior, anticipate their needs and respond to their evolving preferences. In a previous article on unified CRM-ERP, I explained:
Acumatica Cloud ERP and our fully embedded CRM module provides businesses with a complete solution that ensures teams are not working separately. They have a single database in a single user interface; the open APIs and low-code/no-code tools allow for easy integration with third-party applications; and the mobility capabilities guarantee that real-time data is available 24/7, which includes automatic syncing of changes and updates throughout the system. Acumatica also offers native connectors to HubSpot and SendGrid to enable companies to integrate both solutions right out of the box.
With Acumatica, you have everything you need to serve and support your current and future customers. If you're interested in learning more or in scheduling a demonstration, contact our team today.