Why should medical supplies companies implement distribution management and inventory management software? NexTec Group discusses the reasons—and benefits—today.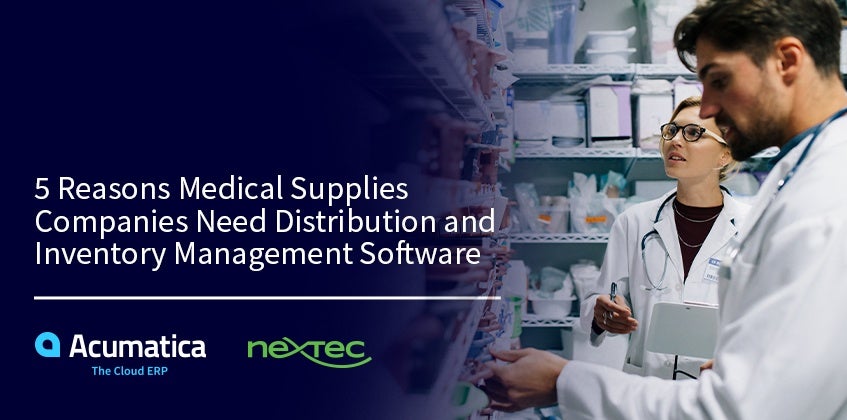 Medical supplies and devices companies are much in demand. They always have been, but the arrival of the pandemic and an aging population have driven the need for their products to even higher levels. According to Fortune Business Insights, there was a dip in the industry's global market in 2020 (a decline of 3.7% compared to average year-on-year growth during 2017-2019), but the projection is for growth, with USD 455.34 billion in 2021 to USD 657.98 billion in 2028. Healthcare trends also point to providers continuing to invest in new equipment and the Patient Protection & Affordable Care Act (PPACA) continuing to increase consumer access to healthcare.
Keeping up with this demand is essential for medical supplies companies to succeed. Unfortunately, their operational efficiency has been hampered by legacy business management solutions. To 'unhamper' themselves, organizations within the medical supplies and devices industry need to invest in Cloud ERP solutions with modern distribution management and inventory management software.
Here's why.
Challenges medical supplies companies face without distribution and inventory management software
The healthcare needs of the population evolve, and medical supplies companies evolve with them. They create innovative supplies and devices that diagnose, treat, alleviate or prevent diseases. However, their outdated, disconnected technology for managing, inventorying and distributing their products have not evolved as much. As a result, these organizations have faced some significant medical supplies challenges.
For example, information from separate departments (accounting, inventory and operations) doesn't flow smoothly or quickly between the departments. This is what is known as data silos, which means employees are working with different and inaccurate data. The same goes for external systems where information doesn't make its way to those who need it, plus they require manual data entry, causing delays and potential errors.
Another medical supplies challenge is complying with government regulations. Strict adherence is necessary, and many legacy solutions do not ensure updates for compliance, such as GDPR, SOC Type 1& 2, PCI DSS, etc.
Accurately tracking inventory—or the inability to do so—is one more challenge. With a myriad of products made up of many components (for medical supplies and devices kits), inventory tracking must be exacting, and the information must be available to all departments. Sadly, older, disparate systems are not able to drill down into the details nor communicate information expediently. This often pushes businesses to rely on manual methods, such as Excel spreadsheets.
Taken together, these challenges appear overwhelming, but integrated distribution management and inventory management software within a cloud-based ERP solution solves them all.
5 reasons distribution management and inventory management software alleviate medical supplies challenges
There are at least five reasons the right cloud ERP solution with distribution management and inventory management software is able to alleviate medical supplies challenges. They include:
Real-time visibility and data sharing: Dashboards provide updated and customized views of data, configurable workflows, alerts keep tasks on track and reports can be emailed within the software.
Single source solution: All aspects of an operation are integrated, including distribution, inventory, manufacturing, field services, CRM, etc. within a single solution.
Easy connection to other apps: Built-in API automation simplifies integration with third-party applications, such as Shopify (eCommerce) or Avalara (sales tax software).
Grows with the business: Modern cloud ERP solutions are scalable, adapting to a company's changing needs and able to grow with them.
Tailored to each industry: Industry-specific ERP solutions tackle each company's unique needs with product editions for Distribution, Construction, Professional Services and more.
Though there are even more reasons, the fifth reason is particularly important. An ERP solution's features are tailored to specific industries and for the medical supplies and devices industry, this means successfully addressing the communication, compliance and kitting/lot tracking challenges. Let's look at two medical supplies companies that found success by turning to a modern cloud ERP solution.
Turning to Acumatica Cloud ERP's distribution management and inventory management software for success
DAS Medical Holdings, LLC and InBios International are two medical supplies and devices companies that chose Acumatica's medical supplies cloud ERP software to handle their complex requirements.
DAS Medical experienced more than a few benefits from implementing Acumatica, including unlimited users without additional user licenses, automated workflows, trustworthy inventory, robust financial controls and easy access to metrics/analytics for strategic business decisions. Says CFO Houston Lee, "Thanks to automated workflows in Acumatica, we've increased efficiency and cut the time it takes to report on production activity by over 50%."
He also says, "We have a small accounting department, so we value efficiency, but we also need robust financial controls including a solid audit trail. Acumatica provides that."
InBios International's benefits were similar and also include streamlined FDA compliance procedures, improved forecasting, real-time inventory numbers and accurate lot tracking. Because the company designs, develops and manufactures immunodiagnostic devices for infectious diseases and biothreats, including testing kits for Zika, dengue and West Nile (they've now added COVID-19 tests, as well), the inventory and raw material tracking was very important.
With Acumatica, they can now track each kit with a tracking number and track components within each kit with their own lot tracking number. Expiration dates are also item specific. Items that need to be replaced or moved faster are easily located and managed.
Bryan Deszell, Manufacturing Manager, says, "We believe in technology's power to transform, and we selected NexTec and Acumatica to lead the effort. It's our platform to build the business on going forward."
Real reasons and benefits to implement Acumatica's cloud-based ERP solution
In addition to the distribution management and inventory management benefits already noted, medical supplies and devices companies that implement a cloud ERP solution have access to warehouse management software. The pick-pack-ship process is automated and streamlined; personalized dashboards provide warehouse and shipping information in one place and allows users to drill down into inventory details.
In addition, utilizing cloud ERP software affords companies remote access to the solution. Business information is available 24/7. The status of shipments, customer information, employee schedules, financial reports—all can be viewed from any location and at any time from internet-connected devices.
The reasons to implement cloud-based ERP solution with distribution, inventory and warehouse management software and the resulting benefits are real for medical supplies and devices companies, and NexTec Group is here to help. As an award-winning software consulting firm, we specialize in implementing ERP, CRM, BI, Cloud and On-premise solutions. To learn more, check out our recent webcast, The Future of Medical Supplies Software: How to Succeed with Cloud ERP, and contact our NexTec experts with any questions today. We'd love to chat.