What happens when you rely on slow, overcomplicated, and disparate legacy ERP like Macola™ to handle your manufacturing needs? It takes your business down with it.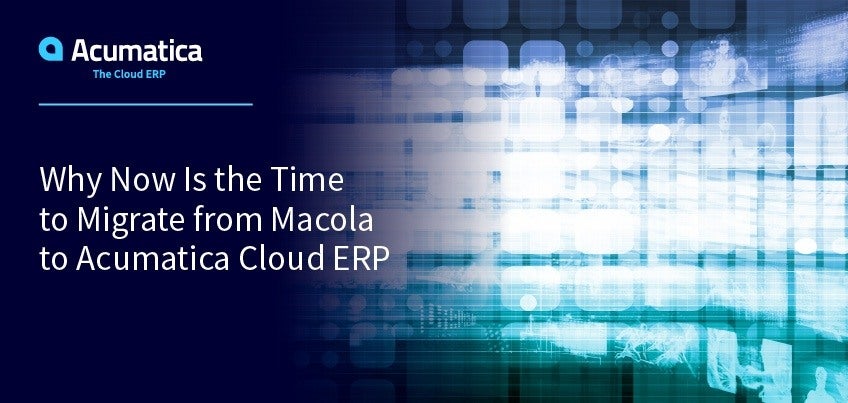 Remember the great battle between Pepsi and Coke in the 70s and 80s? What started with the Pepsi Challenge in 1975 quickly evolved into an ad war between Pepsi and Coke that lasted 15 years. The Cola Wars, as they were called, gave the world some of the best ads and the worst brand fails of all time. Now what does this have to do with technology, specifically legacy ERP and manufacturing software?
Around the same time as the Cola Wars, manufacturers across the US began to realize that traditional material requirements planning (MRP) software was not enough for their needs. Many companies popped up to serve this market in the 80s, and MRP evolved to become manufacturing requirements planning, or MRP II.
These products were innovative for their time, incorporating new functionality and serving new needs. Companies could now turn to these solutions not just for the simple planning functions but also for broader business planning.
MRP II became enterprise resource planning (ERP), and during this time, the products became more accessible for midmarket manufacturers. One of these options was a manufacturing ERP product that fits into our "Cola Wars" theme–Macola™. Released over 40 years ago, this solution became a mainstay in the market.
At The Donas Group, we help businesses migrate from Macola to Acumatica and would like to share with you the top reasons why it's time to make the switch.
Times change, more information becomes available
The thing that killed the Cola Wars wasn't what one would assume. New information became available. Worried about obesity, the FDA began to warn consumers about the dangers of sugar. Naturally, a couple of the biggest contributors to the Cola Wars were also the ones in the FDA crosshairs.
Similarly, the ERP market evolved. Companies began to have lighter, faster, more agile options. Unlike PepsiCo and Coca-Cola, who were able to adapt with the times to meet market demand, Macola took an opposite approach in the manufacturing ERP software category.
Is legacy ERP hurting your agility?
Rather than getting lighter, Macola got heavier. Acquisition, merger, acquisition, merger, spin-off, acquisition; rinse, repeat. It's a tangled web of alliances more complicated and volatile than Game of Thrones.
Today, it's darn near impossible to find out how everything works together. The parent company ECi has at least four ERP options available for manufacturers, as well as dozens of other products that can be bolted on.
Like many other legacy ERP products, Macola was once a well-loved, comprehensive, and reliable product. At a time when upgrades happened once or twice over the course of a decade, they were consistent. At a time when web services were all that was needed, they delivered. At a time when integration was hard to come by, they had a seemingly endless solution of add-ons that could help.
These were all great as little as a decade ago. However, being a 'better legacy ERP' doesn't stand up in today's landscape. The little things that made it better a decade ago were great then—but it pays to ask, "What have you done for me lately?"
Challenges of overcomplicated, brittle legacy ERP
Whether you're considering this legacy product or looking to move away from it, it pays to recognize some of the things that you should watch out for when looking at this legacy solution.
1. Overcomplication: you're probably going to need an add-on…or five
Yes, they offer the core functionality you'd expect, built around seven areas. Yes, they connect these applications, and they even deliver customized workspaces. For a modern ERP, that's table stakes.
However, that endless series of add-ons? It's still an endless series of add-ons.
2. Will you need an add-on to complete a basic task? Probably.
Whether it's built by one of the limited technology partners or passed down by the parent company, it's still just an add-on.
Sales Tax? Add-on. Warehouse Management? Add-on. Demand Forecasting? Add-on. Financial Reporting and Consolidation? Another Add-on. Manufacturing Operations Management, CPQ, Field Service Management, or "Forms" are all add-ons.
For most companies, many of these things aren't exactly optional.
With a modern, true cloud ERP solution, you're not relying on a series of different interfaces or experiences to do a basic task. Most of the things considered add-ons by legacy vendors are built into cloud solutions and configured by a trusted provider. Integration is assumed in the cloud—it's a luxury for legacy products.
3. Brittleness: 'Expanding API' doesn't mean Open API
But the legacy vendor may argue that they have an "expanding API." What exactly does this mean? For starters, this implies exclusivity—they're letting a few more people into the club.
Here's the problem. Expanding an API requires someone who already knows what they're doing to build for that API, requiring an in-depth understanding of how two solutions could work together and an understanding of the language used by both products. Added to this, if a solution wasn't built for today, neither was the API.
Long ago, the idea of getting multiple solutions to work together was a dream. This is how APIs came to be in the first place—permitting access inside the product in order to interface with it. Unfortunately, the initial iteration of APIs was brittle, requiring 50+ IT guys to maintain their carefully-constructed-but-constantly-breaking system.
While yes, this 90s version of APIs was great for that time, it doesn't reflect the realities of the modern technology landscape.
Businesses are moving their applications to 'the cloud'. While the word is singular, the idea is not. There are multiple clouds, and businesses are running multiple applications. Pair the brittleness of legacy APIs with the update frequency of the modern cloud, and those IT folks are constantly struggling to keep the API up to date.
How modern cloud delivers API resilience
Modern businesses function in a landscape where consumers expect fast, efficient service and instant gratification. Competition within every industry is high, and customer loyalty increasingly hard to earn. To match the demands, updates take place at least twice annually. APIs need to be resilient to keep up with these updates—even more so for multi-cloud users. Enter Open APIs.
Open APIs use a universal language allowing unparalleled access to multiple software services and data. The data and information silos of both the past and the present no longer exist, and developer workloads are significantly decreased. Integrations just work—and your IT staff doesn't need to remain on the defensive.
Workspaces? Great. Reporting? Inaccurate.
Personalized workspaces are great. They allow you to see the specific tasks tailored to your role. An accounting person needs to close the books? A shop floor manager needs to see how the facility is moving? Information is presented to you the way you want and need.
But why stop there? Why not give each of these workspaces access to mission-critical, real-time reports? Why not give them access to pertinent key performance indicators? Well, because reporting in legacy ERP is either an add-on or is completed using something like Crystal Reports.
Essentially, this means you're not getting real-time information and you have to find someone who can use outdated reporting software.
With a configured solution in the modern (real) cloud, all of that is available. Not only do you get workspaces to make your job easier, you also get customized dashboards—able to provide the real time information you need.
Pair this with true integration (not add-ons), and business leaders can get a clear picture of what they need to know—when they need to know it. Better yet, with business intelligence integration, you can go even further in understanding numbers.
Advance with Acumatica, do more with Donas
For more than 20 years, The Donas Group has been honing our service offerings to align our customers' needs. As students of the ever-changing business process and subsequent management solution landscape as well as being numbered as one of Acumatica VARs (which gives us access to their award-winning Acumatica Partner Program), we succeed by simplifying the solution to meet our customers' needs today with a plan for tomorrow's growth.
With The Donas Group, Macola users can leverage our experience in both Macola and Acumatica for a seamless, and effective migration, utilizing the modern, cloud-based Acumatica Manufacturing Edition.