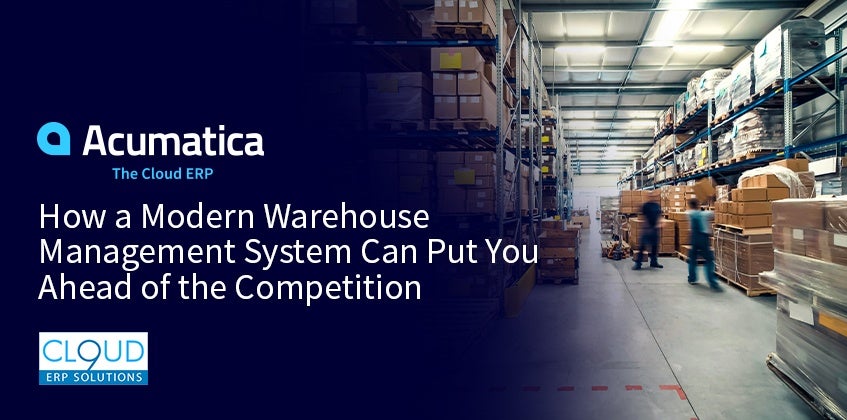 Fierce competition. Labor shortages. Supply chain issues. Disconnected technology. The list of challenges faced by distributors in their warehousing operations is long and growing. However, their warehouse management woes are easily vanquished with a modern warehouse management system (WMS) within a comprehensive cloud ERP solution.
Here's how it works.
WMS and Cloud ERP at Work
A Warehouse Management System allows companies to optimally manage their inventory and supply chain needs, from labor and space requirements to equipment and fulfillment. It supplies the inventory management, order management, and warehouse automation capabilities every distributor needs to successfully fulfill orders.
An enterprise resource planning (ERP) solution is the hub of an organization. It's where data from every department flows into and out of after being organized, synchronized, and analyzed. A cloud-based ERP solution is accessible by users 24/7 from any location whenever they need.
It's critically important that these two systems are inextricably linked with efficiency the name of the game in warehousing. But efficiency can be hard to come by. Getting products from suppliers, storing the products, and shipping the products to customers—correctly and on time—sounds simple but is, instead, a complex process with many moving parts. Add in manual processes, evolving customer expectations, unexpected crises (pandemic, anyone?), and a business operating without a modern WMS and ERP solution is up to its ears in inefficiencies and inaccuracies, including overstocks, incomplete sales data, incorrect shipments, and more.
Technology in the form of an integrated WMS and ERP solution is key to overcoming these obstacles and becoming a major competitor. In a recent Cloud 9 ERP Solutions  article, Six Features to Look for in a Modern Warehouse Management and Distribution ERP, the author writes, "Warehouse management systems, when built into ERP, can do a lot for your distribution firm. Rather than investing in a costly product with limited scope, you get a truly connected solution and a 360-degree view of your business. Finance and warehouse staff align. Sales and operations don't need to get buried in email chains. Products flow like they once did—and you can see the whole picture from purchasing to sales."
Choose the Right WMS and ERP Solution
Distributing products becomes a seamless operation by connecting teams and automating manual processes. Distribution ERP systems give distributors a competitive edge. Investing in an integrated WMS and ERP solution is not a "good idea," it's a necessity. As such, distributors need start the process researching their options.
Here are six features the solution should possess:
A strong technological backbone
Robust and intelligent inventory management
Accurate and real-time order management
Transaction management and warehouse operations
Automated processes and workflows
Compliance and accurate reporting
In The Technologies Driving Warehouse Modernization, the increased efficiency provided by WMS and ERP is highlighted:
"[T]ake two identical warehouses with 50 employees paid at a competitive wage of $15/hour. Company A invests $50,000 in a warehouse management and ERP solution that saves each employee 5 minutes each hour. Company B sticks with the status quo. 5 minutes an hour saved doesn't sound like a lot, but it adds up. Spread the five minutes across 50 employees and that $50,000 investment saves about 12,000 hours and nearly $200,000 per year. After the first year, the $50,000 drops to $10,000 annually and Company A now has roughly $190,000 to play with—just on warehouse staff savings."
A Company Embraces and Finds Success with Integrated WMS and ERP
Every team, from the warehouse to the front office, benefits from an integrated WMS and ERP solution. Managing inventory, orders, sales, customers, and more through a comprehensive cloud-based ERP solution enables employees to work with the same information at the same time. Updated, accurate data flows easily between every system. The WMS solution also provides a single platform to manage the automation technologies a business utilizes, such as barcoding, RFID, robotics, carousels, and automated guided vehicles, just to name a few.
Caswell, Inc., an online retail company that sells electroplating kits, automotive accessories, British-sized tools (and much more), modernized their business management solution with an integrated ERP and WMS. Their teams have benefitted greatly from the decision.
President Lance Caswell says the business began with his dad in the family's living room and quickly grew into a successful endeavor—no thanks to their legacy software, Everest. They resorted to QuickBooks for several months, but it, too, was not the right solution.
Lance found Acumatica via an email campaign. He decided it was a good fit and worked with Cloud 9 ERP Solutions to undergo their ten-day implementation. "Acumatica is incredibly simple to use, and it's faster as well."
Automating their processes helped them save time, improved customer communications, eliminated IT headaches, and provided remote access. "Even though we were running Everest on premises, Acumatica is faster. The automation, the data import features, even batch changes processes take minutes. Acumatica is reliable, and there's no IT overhead."
Acumatica WMS: A Comprehensive Warehouse Management System
Acumatica WMS is a complete solution and streamlines warehouse operations. Barcode scanning and verification of picked items, automated data capture, customized workflows, lot and serial tracking, and hands-free operation are a few of the benefits users can expect. And because Acumatica Cloud ERP provides two major updates per year, users can also expect constant enhancements.
Their latest release, Acumatica 2021 R2, introduced directed paperless picking. It provides Manage Picking Queue Screen for prioritizing pick lists, determining which picker will pick which list, setting up wave and batch picking options, viewing open picking jobs (based on priority and current status), and operating in paperless mode. This paperless picking video provides further details.
To learn more about Acumatica and Acumatica WMS, contact our experts at Cloud 9 ERP Solutions. As a Gold Certified Acumatica partner and having nearly three decades of experience, we're confident that Acumatica can handle your financial, inventory, and warehousing needs and put you ahead of the competition.