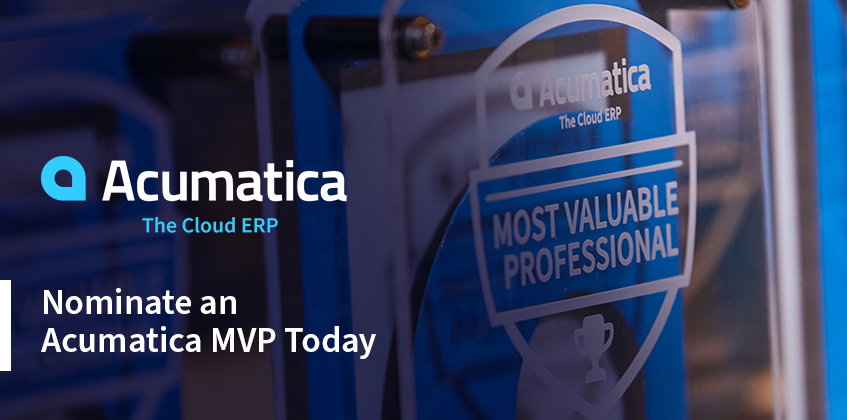 At Acumatica, we understand that the passion, innovation, and dedication of our partners, users, and developers contribute greatly to our continued reign as the world's fastest growing cloud ERP company. These same community members have also helped us earn numerous awards, including our most recent, G2's Best Usability and Best Relationship Badge for Summer 2022.
As with any community, there are members who go above and beyond, so we created the Acumatica MVP Program as a way to publicly recognize their efforts. We're excited to announce that it's time once again to nominate someone you think deserves to be an Acumatica MVP.
Acumatica MVP Program Details
Acumatica MVP nominations will be accepted through November 30, 2022. The winners (check out our winners from 2022) will be announced prior to Acumatica Summit 2023, which is taking place January 29 – February 3, 2022, at the Wynn Las Vegas.
As we've done in years past, we will have a separate Developer MVP award to distinguish the developer program participants from the Acumatica MVP award that is bestowed upon individuals (partners & customers) who contribute to community growth by participating in the Acumatica Community Forums as well as Stackoverflow, LinkedIn, and GitHub, attending our annual Summit and Launch Day/Roadshow events, and offering feedback—good and bad—on our cloud ERP software. Stéphane Bélanger, CEO/Developer, Asgard Alliance Software, is a perfect example.
Stéphane was Acumatica's Developer of the Year for 2022 and one of our esteemed Developer MVP honorees in 2022. He's written a number of blogs, was a guest speaker during a developer track at Summit, and has contributed to our community open-source project, Acumatica Surveys. In fact, because of his new Acumatica Surveys' features, we anticipate a broader adoption of our employee wellness tracker moving forward.
We can't thank community members like Stéphane enough, and though they appreciate being acknowledged, we believe they deserve just a bit more. This "more" includes being able to display their Acumatica MVP Badge or Acumatica MVP Developer Badge on profile pages, social media, resumes, and third-party forums. Additionally, they are given a plaque in a recognition ceremony during Acumatica Summit 2023's Welcome Reception.
Developer MVPs also have opportunities to write guest blogs for Acumatica as well as attend quarterly synchronization meetings and participate in our forums by answering questions and submitting sample code (recognizing Developer MVP contributions in a leader board format with the leaders acknowledged quarterly).
Nomination & Award Criteria
Keep in mind that we're looking to award individuals that have gone above and beyond our expectations during a calendar year. For example, nominees have demonstrated significant additional product or brand value and leadership and driven market or industry recognition. They've ensured superior customer and partner satisfaction and provided superior support and assistance within the Acumatica Community site. And they have also closed several significant and strategic Acumatica business deals.
There are further actions that individuals can take and milestones they can achieve that will greatly contribute to their being chosen as an MVP.
Acumatica MVP Award
Become a top contributor in the discussion forums including replies, helpful topics and answers provided.
Accumulate a high number of ''likes'' and ''helpfuls'' in the discussion forums.
Be in the top ten for at least 3 months in the fiscal year.
Provide attributable contributions that lead to either an increase in customer satisfaction, customer loyalty, customer ASP, etc.
Acumatica Developer MVP Award
Publish at least 2 blog post per year.
Answer at least 18 questions in either Stackoverflow or the Acumatica Developer Community Forums.
Attend Acumatica Summit and participated in the Hackathon.
Regularly attend the DevMVP bi-monthly meetings.
Don't Delay—Nominate Today
While it may feel like there's plenty of time to get nominations in, November will be here before we know it. If you know someone who has tirelessly encouraged community members, participated in community events, and provided invaluable cloud ERP feedback, nominate them today (reminder: Nominations will be accepted through November 30, 2022). Nominating multiple people is encouraged, as is submitting a nomination for yourself.
If you have any questions or would like to learn more about the nomination process, our Developer Community, or about our cloud-based ERP solution, please contact our team today. It's also an excellent time to register for Acumatica Summit 2023 where you'll get to see the MVPs honored for their amazing support for Acumatica and its community. Any questions about the Summit can be directed to support@acumaticaevents.com.