Acumatica's comprehensive cloud ERP solution was exactly what Nothing Bundt Cakes needed to connect their multiple businesses, gain insight for better decision making, and increase efficiency. Here's their story.
Nothing Bundt Cakes, a growing franchise company that brings joy to guests with their handcrafted cakes nationwide, turned to Acumatica's integrated cloud ERP solution to help them automate and connect their business. And like customers Superprem, Specified Technologies Inc., Ray Allen Manufacturing, Berthold Technologies, Shoebacca, Tayse Rugs and MiiR, they want other companies to hear about their Acumatica experience and enjoy the same success.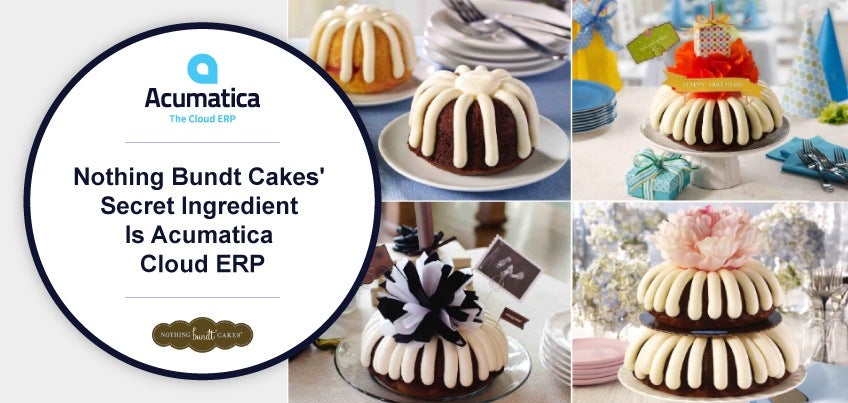 Why Nothing Bundt Cakes added Acumatica cloud ERP to their recipe
Dena Tripp and Debbie Shwetz were friends before they were business partners. They enjoyed entertaining, and their combined baking expertise produced cakes better than any their friends or family had ever tasted. There was a gap in the world for readily available, delicious cakes that didn't compromise on their ingredients. In 1997, Dena and Debbie opened their first Nothing Bundt Cakes bakery in Las Vegas. Today, the company has over 290 franchise bakeries across the U.S. and continues to grow.
CFO Bill Schaffler, one of the customers who joined Acumatica CEO Jon Roskill during Day One of Acumatica Summit 2019 to talk about their Acumatica cloud ERP success (you can check out the Summit Day One on-demand keynote and watch as each member of the audience enjoyed a delicious Nothing Bundt Cakes "Bundtlet"), says the company operates as three separate entities, consisting of their franchise bakeries, a manufacturing arm for making ingredients, and a distribution center for purchasing, shipping, and inventory management. Not surprisingly, they carry a lot of inventory at one time.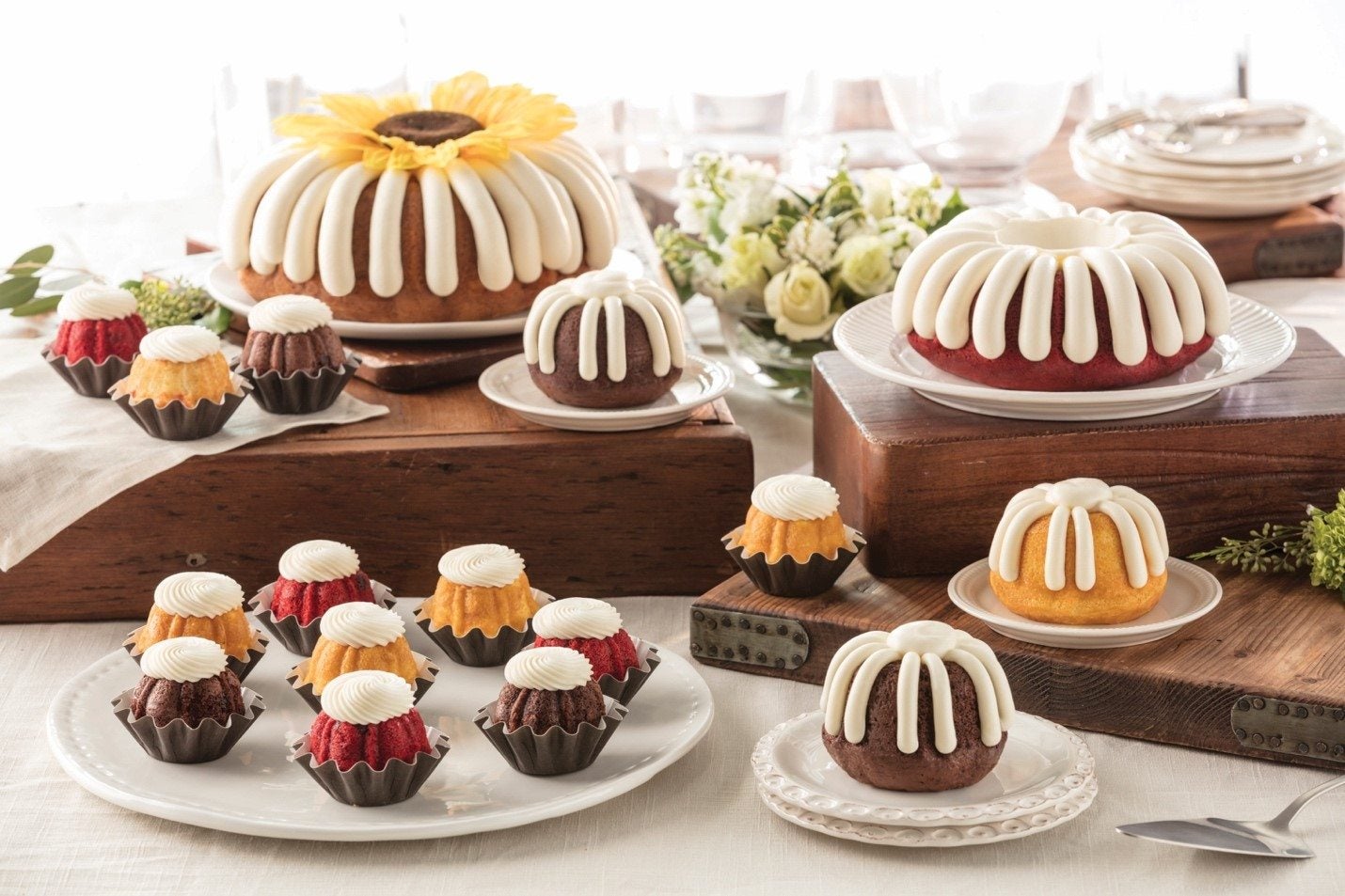 Bill found managing multiple businesses with high inventory levels to be a challenge. He, along with a panel of experts, discussed the challenges of being a modern CFO (such as setting and meeting KPIs, protecting business data, and the importance of sharing financial information business-wide) and how modern, cloud-based ERP software can overcome them in an on-demand webinar.
He says there were a few other challenges, including connecting the separate entities so they could access their data from any of the businesses at any time and automating their inventory management process. "What we were doing before Acumatica was a lot of manual forecasting."
This means they had little or no insight into the "ebbs and flows" of pricing for their products, which they purchase in mass quantities. With 500 SKUs, they couldn't adequately track changes in pricing and found themselves making decisions after results came in.
It was time for the quickly expanding company to find cloud-based financial management software and distribution software that could connect their different businesses, provide the insights they needed to make better decisions, and automate their processes. So, they did their homework.
"You have to do lots of homework, both in terms of understanding your business and understanding the options that you have when it comes to selecting an ERP," Bill says.
They brought in experts, who gave them confidence that they had done "the right amount of research, the right amount of vetting, the right amount of demonstrations" before they made their choice: Acumatica cloud ERP.
"One of the reasons we were very much intrigued with the Acumatica system was due to the fact that we're actually investing in technology right now in many, many different ways across the company," Bill explains. "We have what we call four quadrants that we have to accomplish over the next couple of years to really get our organization where it needs to be."
He goes on, "We've been focused on getting the first quadrant piece which is getting an ERP in place which Acumatica certainly has accomplished for us."
Their second quadrant revolves around putting in a new point of sale system next year across all 290 bakeries. Bill says they needed an ERP system that could "communicate with that POS system in a way that we can actually mine and use that data that the POS will produce." And the third quadrant is customer relationship management software to collect information from the POS about their guests, including their buying habits, where they live, and what their demographic is.
Acumatica cloud ERP will help them do all this and more.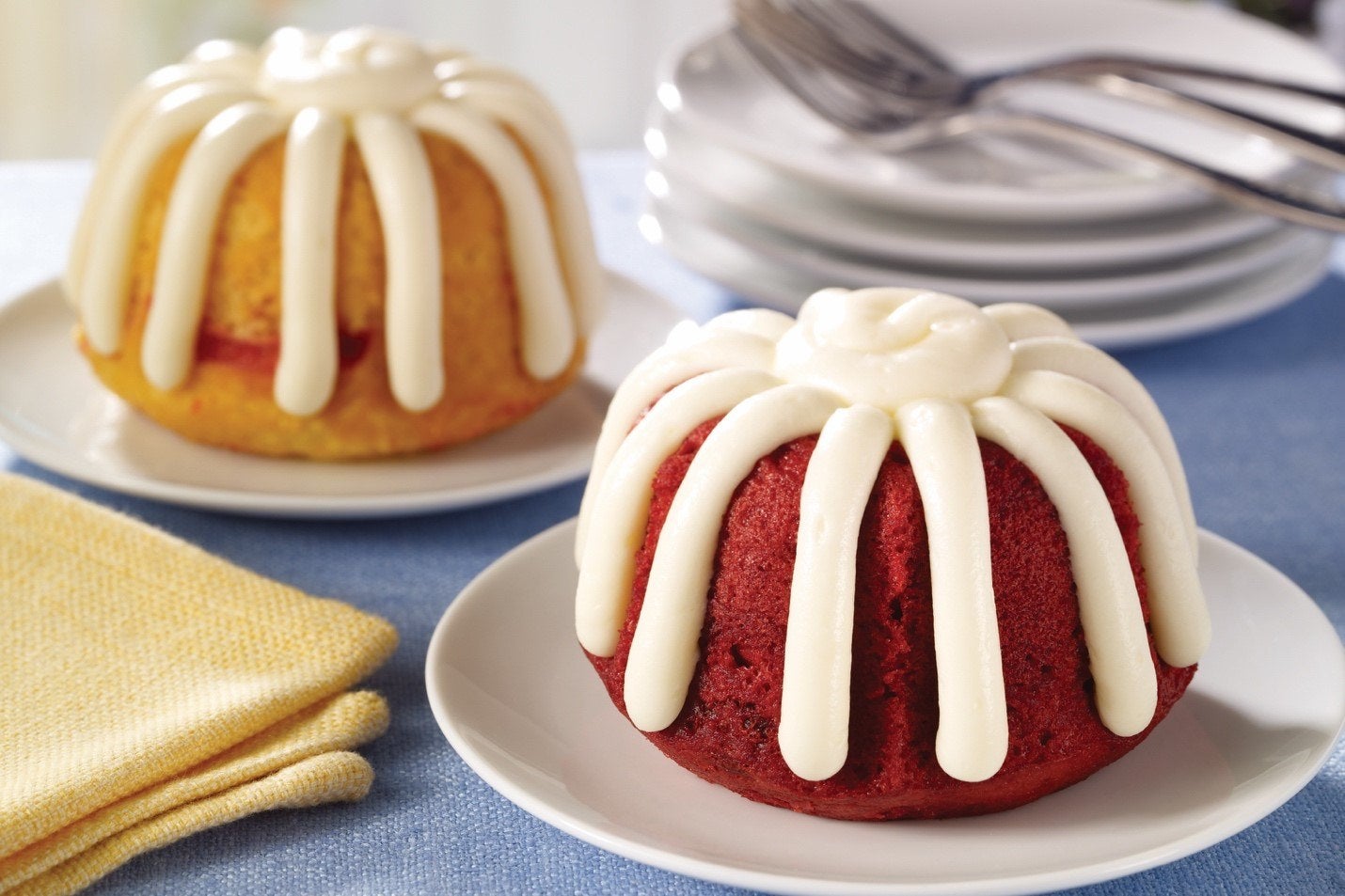 The results of implementing Acumatica cloud ERP
Nothing Bundt Cakes implemented Acumatica Distribution Edition and Acumatica's Financial Management module with the help of Acumatica partner Crestwood Associates. Bill credits picking a "great implementation partner" as one of the main reasons for their quick and easy implementation.
"We had a really great partner in the process and have been really, really pleased. We didn't experience too many issues because we followed the game plan that was laid out," Bill explains. "They helped us build a very detailed statement of work on the front end, they built the playbook, and they helped us follow it."
As Bill advises, selecting the right partner, ensuring every person in the organization is on board with the implementation, and doing the homework will support a successful cloud ERP implementation. Nothing Bundt Cakes had all these ingredients in place, and their choice of Acumatica cloud ERP has resulted in:
A fully connected business with access to real-time data across all entities at any time, increasing efficiency and accuracy
Automated inventory management processes that allowed them to forecast their inventory needs, as well as manage the profitability and margins on their 500 SKUs
The ability to shape their marketing strategy and increase their social media presence
Using Acumatica's BI tool versus purchasing a separate data warehouse
In addition, Bill shares that Acumatica's extensive catalogue of third-party applications gave them the ability to extend their capabilities. "The light bulb went on when we were able to understand the type of tools that we can use with Acumatica."
The company has integrated with several third-party solutions, including NetStock for inventory management, Avalara for their sales tax processing and reporting, MaxQ for calculating and billing their royalties as well as billing their customers at their distribution center, and Fusion, which allows them to use barcode scanners and eliminate manual inventory entry.
Ready to learn more about Acumatica cloud ERP?
Bill and the Nothing Bundt Cakes team are very pleased they chose Acumatica cloud ERP. "It's all about serving our team, giving them the tools that they need. Acumatica has enough capabilities to serve each department uniquely and very quickly," Bill says.
And like Nothing Bundt Cakes, Acumatica wants to provide the best cloud ERP solution with the highest in usability and user satisfaction possible. If you're interested in learning more about Acumatica's financial management software or distribution software, contact our team today.