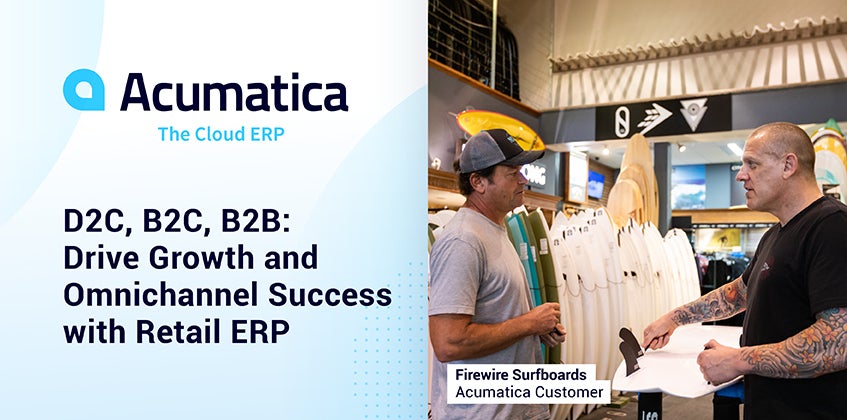 The retail industry is changing and has been for years. As consumers, we're no longer required to physically visit brick-and-mortar stores but can instead scroll through our digital device of choice, researching and buying almost everything we need from anywhere we want and expect to receive our purchases that day, the next day, or the day after that.
We can thank direct-to-consumer (D2C) sales (which is the practice of bypassing retailers or wholesalers to reach consumers directly through a digital channel) and omnichannel commerce (which is the ability to seamlessly interact with a business online, in-store, in-app, or by phone) for this convenient shopping experience. And when the pandemic forced many physical stores to shut down and consumers to rely on online commerce, this same D2C and omnichannel commerce model became an expectation for every business, including business-to-consumer (B2C) legacy retail brands and business-to-business (B2B) organizations.
For these B2C legacy retailers and B2B businesses to compete with their savvy, consumer centric D2C competitors, they need to adopt aspects of the D2C sales model, including serving their customers—whether they're individuals or other businesses—better with faster, more personalized service. But how can B2C and B2B businesses shift to a more D2C business model?
Modern retail technology, such as an Enterprise Resource Planning (ERP) solution built to meet their inventory, order, sales, and customer needs, is a great place to start.
Retail ERP for D2C, B2C, and B2B Businesses
Before highlighting the functionalities and capabilities of a retail ERP solution, let's quickly define B2C legacy retailers and B2B businesses.
B2C legacy retail businesses can come in two forms. They either act as a middleman, connecting manufacturers and their individual consumers by ensuring that the products the manufacturers make reaches the consumer correctly, or they act like a D2C business, fulfilling an order directly from its own inventory.
B2B businesses, on the other hand, sell to other businesses. In some cases, a business sells raw materials to a manufacturer, typically referred to as procurement. The manufacturer uses those materials to produce goods. In other cases, the manufacturer produces and sells finished goods. Some manufacturers sell those goods to wholesalers or directly to retailers. More modern manufacturers are finding they can sell their finished goods directly to the consumer (D2C) which increases their profit margin and their end customer engagement.
With a powerful retail ERP solution, all three types of business have the one tool they can use to manage their operations efficiently and effectively as well as promote direct-to-consumer activities, such as offering an online buying option. A retail ERP solution supplies businesses with a single interface that seamlessly connects every department within an organization while automating business processes and streamlining front-and-back-office workflows. It also provides updated, real-time data from a centralized repository and embedded business intelligence and analytics that help businesses manage their inventory, sales, warehouse, customer, and financial responsibilities wisely.
And the right retail ERP solution has the ability to integrate with an eCommerce solution, connecting financing, purchasing, and inventory data with its revenue system and customer-facing website.
Altogether, the right retail ERP solution enables D2C, B2B, and B2C legacy retail businesses to provide the smooth, simple, stress-free online shopping experience that consumers expect by:
Centralizing order management with real-time inventory and customer data and offering online or self-checkout capabilities.
Streamlining order fulfillment with pick-pack-ship support, delivery flexibility, and document management.
Personalizing customer relationship management with a robust CRM system that collates customer data in one, easy-to-access location to help employees track customer requests, concerns, and behavior.
Choosing the Right Retail ERP Solution
So, once these businesses recognize the business-growing benefits of implementing a modern retail ERP solution, how do they go about finding the "right" one?
The process starts with research, focusing on solutions that supply the appropriate, retail-specific features that include omnichannel commerce capabilities, embedded CRM, order management, eCommerce connectors, financial management, and reports and inquiries, to name a few. That same solution must have various modules and editions that allow any business (e.g., manufacturer, distributor, retailer, etc.) to use them together or separately as needed.
In addition to their research homework, businesses should also seek input from other businesses that have already implemented a retail ERP solution and are extolling its virtues—a company like Kill Cliff.
Based in Atlanta, Kill Cliff sells clean energy drinks, and since its inception in 2011, has seen impressive growth. But Kill Cliff's success was being hampered by its complicated organizational structure, which includes four contract manufacturers and 3PLs for distribution, and its multi-level sells model that involves selling via its website, retailers, resellers, and military commissaries. Add in the company's multiple, disconnected business management solutions, including QuickBooks, three Shopify sites, SPS Commerce, Cadence (a 3PL site), HubSpot, ShipStation, and an Order Management System that handled inventory, and Kill Cliff was working harder than they should.
"Everything was manual: sales, reporting, inventory," says Kill Cliff's CFO, Andrew Schutt. "It really was a lot of work to understand what inventory values were at different locations, at manufacturers, and 3PL providers. We had to call people up to get data from here, get from there, and it was a herculean effort."
After hiring outside consultants to help him select a user-friend, cloud-based, and automated ERP system that was affordable as well as able to connect third-party applications and scale for rapid growth, Schutt was left with two choices: Oracle NetSuite and Acumatica.
"Acumatica was a better price point. I knew after a year or two with NetSuite that they would jack up the price. I also felt Acumatica was more user-friendly and intuitive, which would help in training, and it offered more flexibility, which would better serve our needs in the future," Schutt says. "With NetSuite, we would have had to make it work within their (business) system, which doesn't have much give and take."
With the help of Acumatica Gold partner SWK Technologies, Kill Cliff now has:
An open platform that connects all of its systems, streamlines operations, and closes a month 50% faster. "I have more confidence in numbers from a reporting standpoint. Everything is now in one system and Acumatica became the source for all data."
Full inventory transparency across its growing channels. "Now we know where inventory is, and when it's in transit, which helps us build out our aging reports and do some analysis to figure out what aged inventory we might have to mitigate, which has been a big help."
Streamlined eCommerce sales with seamless connection to Shopify. "The data comes in real time, and we can see what's gone out and what has not."
With Acumatica, Kill Cliff is poised for record growth. Says Schutt, "Having all the data in one place allows you to grow right, understand different sales channels and customers, and see what our margins are and model opportunities as they come up."
He adds, "The better your system, the more timely the data, the more time you have to analyze it, allows you to ultimately make better decisions."
Learn More about Acumatica's Retail ERP Solution
Acumatica's Retail Management Software is an omnichannel solution that helps businesses—regardless of industry and sales model—create loyal, lifelong customers, drive growth, and ensure omnichannel sales success in today's digital economy. And because Acumatica's cloud ERP software rests on a scalable, open platform, it offers integrated features, editions, and resources that can be utilized easily and affordably based on each business's unique and changing needs.
To learn more, read about "The State of Retail in 2023"and contact our experts with any questions and/or to schedule a demonstration.