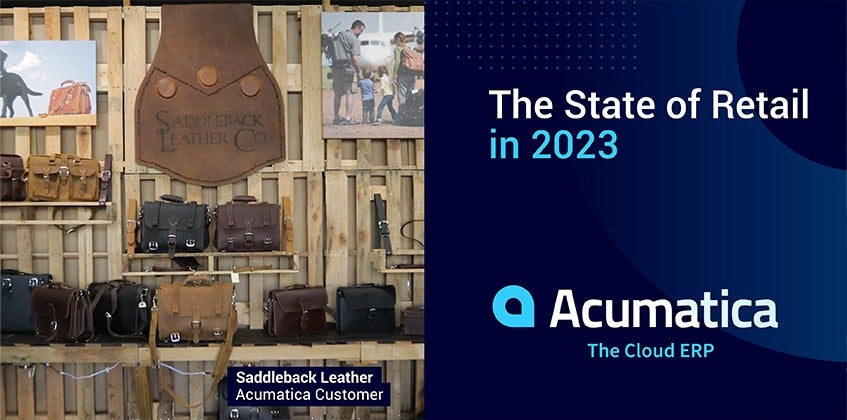 If one word can define the retail industry in the last 20 years, it's "disruption." How, when, and where we shop has been completely transformed, yet it seems we've taken this transformation for granted. We don't bat an eye at ordering groceries online and picking them up in the store parking lot—without even stepping out of our vehicles. We don't find it amazing that we can shop for anything from the comfort of our sofas.
This convenience has become the norm, and it's shaped a generation of consumers that expect to quickly and effortlessly research, buy, receive, and return products anywhere—online or in a physical store. They expect seamless omnichannel commerce.
It's a brave new world in the retail industry, and we're seeing how these changes are reflected in this year's top retail trends.
Retail Trends to Watch
The Pandemic Spotlights a Growing Industry
There can be no discussion about the state of the retail industry without recognizing the impact of the pandemic. COVID-19 caused worldwide lockdowns, forcing us to adjust how we purchased our goods and services. Many brick-and-mortar stores closed their doors while online retailers flourished.
This sudden eCommerce acceleration catapulted an existing industry into the limelight—an industry that can be called the "digital native brand market." This market is made up of brands, creators, inventors, and curators of quality products that make sales and engage with customers solely online. The direct-to-consumer (D2C) sales of the early 2010s set digital native brands in motion, but the pandemic's flood of eCommerce demand gave them room to become expected necessities.
Pop-Ups and the Evolution (Devolution) of Retail
Like Amazon, these web-only, D2C businesses are virtual department stores, competing with other in-store and online brands, like JCPenney, Kohl's, and Target. But, unlike Amazon, many web-only businesses target customers by curating products for a specific audience or by creating their own products to align with the needs and wants of that audience.
Product Creators
A good example of a product creator is body care retailer Native. In 2015, Native founder Moiz Ali went to market with a clean, aluminum-free deodorant, which was sold 100% online. Using digital marketing tactics to drive health-conscious consumers to its site, Native had scaled to $100 million in revenue in two years and was acquired by Proctor & Gamble in 2017.
Wanting to follow a similar path, other digital native brands have adopted a new strategy for attracting and engaging customers—a strategy that, according to TechTarget's Ben Lutkevich, fills the "desire for convenience and exciting experiences on both the customer and retailer's part [and] the property owners' need to fill emptying spaces with new business." Digital native brands are opening physical stores—with a twist.
Instead of renting or building storefronts, they're creating temporary pop-up shops and markets in empty department stores, malls, and even schools and churches. Lutkevich goes on to explain why pop-ups are so unique in omnichannel commerce: "Retailers use pop-up shops to combine the flexibility of online retail with the increased customer engagement that physical retail offers. Like online retail, pop-ups are cheaper to implement and maintain than a permanent retail space. However, they also offer customers a place to physically interact with a brand in a way that's not possible online."
Consumers can browse different booths, examining and sampling products in person. Should they decide to make a purchase, they don't just take the items with them. They have them shipped to their homes—just as if the purchase had been made online. It is a unique, exciting trend for digital native brands, and product curation sites have taken notice.
Product Curators
Take, for instance, the restaurant store: a restaurant within a retail space. Diners can enjoy a good meal in a place where everything they use (utensils, plates, wine glasses, and more) is for sale. These restaurant stores don't make their own products. They curate them. Their buyers hunt for products they know their audiences will appreciate. If a diner decides to purchase the wine glasses they used during a meal, it is treated like an eCommerce order. The price of the glasses is added to the dinner bill, and the order will later be shipped to the customer's home.
La Mercerie, in the SoHo neighborhood of Lower Manhattan, New York City, is a perfect example. It specializes in French cuisine and is open for lunch and dinner. But, unlike a "regular" restaurant, it operates out of Roman and Williams Guild, a home goods store. Diners have the option to "Shop the Table"—purchasing the La Mercerie tableware from Roman and Williams Guild. It's a seamless blending of the dining and retail experiences.
Ultimately, these digital native brands are wiping the retail slate clean, creating a distinctive, "no rules" customer experience they anticipate will become a growing trend.
Retailers and Techies
As eCommerce businesses continue to redefine the industry, retailers are recognizing the need to become tech savvy. According to McKinsey & Company, digital transformation is imperative:
A coordinated, ambitious tech transformation can have a wide-ranging impact. Our Digital Quotient Survey in the consumer and retail industries found that digital leaders generated 3.3 times the TSR [total shareholder return] of digital laggards between 2016 and 2020. This finding upholds the idea that technology will be a core driver of next-generation retail growth…
B2B Companies in the Disrupted Retail Industry
Today's rapidly changing retail industry isn't just affecting the everyday consumer. Manufacturers, wholesalers, and service-based professionals are now in the unique position of being both a consumer and a seller.
As consumers, they expect their businesses to have the same fast, efficient, online buying experiences they enjoy in their personal lives. But it isn't quite so simple, and this is particularly frustrating for younger workers, who have grown up in the digital world. As sellers, they serve customers with the same expectations.
According to Zippia, "63% of all shopping journeys begin online." . If they have to resort to phone calls, meetings, or physically visiting a manufacturer, distributor, or wholesaler, they'll reject the process as time-consuming, expensive, and inefficient and seek out another partner that offers a convenient, personalized buying experience.
So, how can B2B companies become more consumer friendly in today's digital marketplace? They must acknowledge that their customers view every business as a "retail-esque" business. They want every business to mimic retailers' fast, easy, omnichannel capabilities.
Thankfully, B2B companies can meet these retail-centric demands by implementing retail-friendly technology. Acumatica's Omnichannel Sales Retail & eCommerce Industry Brief explains what that technology is:
Core omnichannel capabilities are supported by robust ERP systems. The tenets of allowing customers to "buy anywhere, receive goods anywhere, and return/exchange anywhere" are fostered via a unified back-end platform that centralizes order management, efficient fulfillment, and customer behavior insights.
To learn more about how an ERP solution, like Acumatica, can transform businesses, regardless of size or industry, into competitive, lean operators in the disrupted retail industry, download the free Industry Brief and stay tuned for our next blog in this series on the retail industry.
Until then, contact our experts with any questions about Acumatica's Retail Management Software and/or to set up a demonstration.