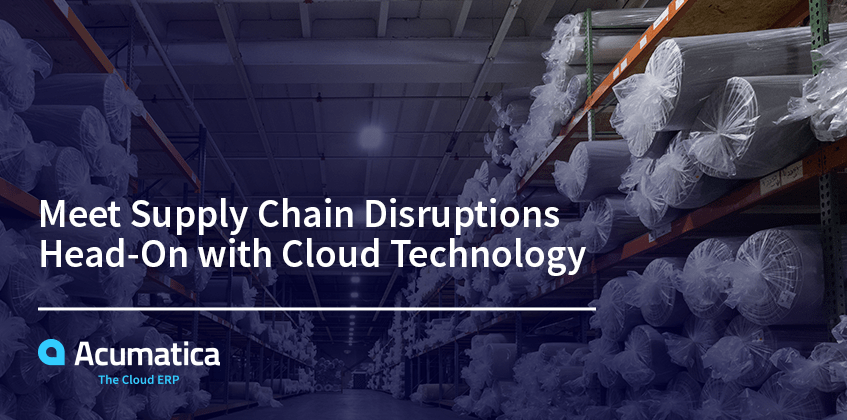 As we head into the final quarter of 2022, there are signs that the "great supply chain disruption" may be losing steam. "[S]upply chains, while still afflicting many consumers and businesses, are becoming more mundane than menacing like they were six months ago, especially in the US," a Bloomberg article notes. But, as the article's author correctly indicates, the supply chain disruption is still an affliction, and it's affecting businesses across every industry.
If your small or midsize business (SMB) has experienced this supply chain pain, you're well aware that improving your supply chain resilience is a must when competing with larger, better-equipped businesses in today's volatile economy. Fortunately, there are a number of strategies you can employ in order to handle supply chain challenges.
Of those many strategies, Acumatica's new guide, "Mitigate Supply Chain Disruption with Acumatica Cloud ERP," says the most important one is investing in modern cloud ERP technology.
Understanding Supply and Demand
Understanding how cloud ERP solutions can help SMBs overcome the supply chain disruption and its consequences (e.g., lost revenue, market share erosion, and increased costs) begins with first understanding supply chain fundamentals. According to the guide, "Effective supply chains start with demand planning. Without it, businesses cannot develop supply-side strategies."
Demand comes in two forms: demand produced by orders and demand forecasted through sales projections and statistical forecast models. In order to meet demand, you must carry enough inventory to cover real and projected demand—thereby accruing possible carrying costs and maxing out warehouse space—or order stock based on what you need, when you need it or Just-In-Time or JIT inventory management.
Whichever demand planning model you choose, you're dependent on suppliers and the supply chain to get the materials you need. The last few years have exposed how fragile the relationships you've established with your preferred vendor or vendors are as well as the fragility of the supply chain itself. But do you really know how vulnerable your supply chain really is? If not, the guide provides a self-assessment survey with 15 true/false statements.
Following are a few sample statements:
You source any of your top ten items or materials from a single supplier.
You have limited visibility into supplier inventories, orders, and shipments.
Vendor onboarding and new item requisition processes are manual.
If you answered "true" to these statements—and if you're struggling with demand planning and the supply chain disruption—then it may be time to implement a cloud ERP solution, like Acumatica.
Supply Chain Disruption No Match for Acumatica's Cloud Technology
With Acumatica, you have a reliable, affordable, and flexible system equipped with the features and functionality required to alleviate the negative impact of supply chain disruption. For example, Acumatica's Inventory Management module supplies you with the capabilities needed for demand planning success, such as:
Connected purchasing, sales, production, service, project accounting, construction, and financial applications and a physical inventory app to ensure stock accuracy.
Automated warehouse transactions with warehouse management.
Replenishment functionality that supports lead times, safety stock, economic order quantities, min/max, moving average forecasts, seasonality, and more.
Knowing what you have in stock, where it's located, which vendors provide what (and how they're performing) helps you determine what you need to order, when, and from whom, which helps simplify supply chain requirements. As the guide notes:
Acumatica provides a holistic and modern ERP platform for small and growing inventory-centric businesses to mitigate supply chain disruption. The robust distribution suite includes embedded warehouse management capabilities, flexible replenishment features, and powerful purchasing tools like purchase order requisitions with vendor bidding that are uncommon in midmarket ERP applications.
Mitigate Supply Chain Disruption with Acumatica
The guide provides further ways Acumatica's cloud technology minimizes supply disruptions, such as improving and automating sales processes, connecting point of sale and commerce applications, and providing a 360-degree view of demand. Also provided are 13 other advanced supply chain strategies.
To learn more about mitigating supply chain disruption with Acumatica, download the complimentary guide today. You can also contact our experts to ask questions about Acumatica's cloud ERP software and how it helps businesses overcome supply chain challenges, just like it did for Eagle Fence Distributing.
Eagle Fence Distributing President Keith Ford says, "When global supply chain problems caused prices on every widget that we sell to flux, we had to be nimble and quickly get replacement costs into the system overnight. Acumatica was able to handle that. There would have been no way to have the control and flexibility we have today with customer pricing and an accurate view of our costs without Acumatica."