From a family business to a sophisticated, eCommerce powerhouse, Premier 1 Supplies found success with Acumatica cloud ERP. Here's their story.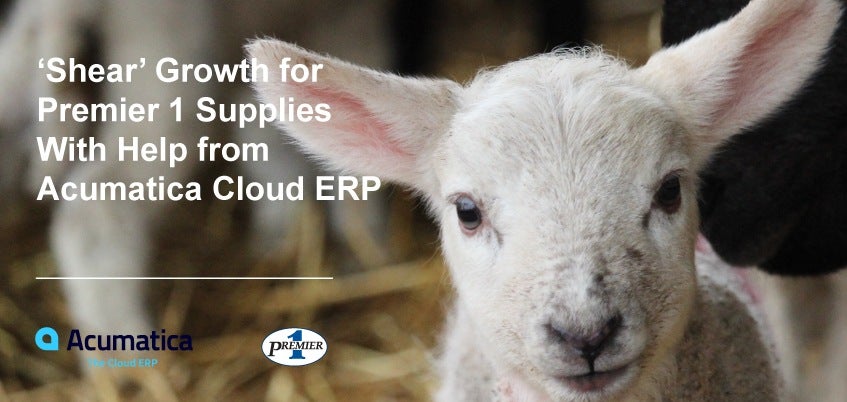 Ben Rothe, co-owner and CEO of Premier 1 Supplies, searched for a business-to-customer (B2C) cloud ERP system could meet their needs, but none existed. "We're a high volume B2C company and were finding that a lot of companies like us resort to heavy customization since it can prove to be difficult to find everything needed. I did feel like we were in this mid-sized wasteland where there's not a B2C ERP out there."
The answer? Acumatica.
"When taken as a whole, Acumatica has functions that made B2C easier," Ben says.
Premier 1 Supplies before and after Acumatica cloud ERP
Stan Potratz and his wife Jean founded Premier 1 Supplies in 1977 when Stan returned to Iowa and the family farm after a 10-year stretch away working in the UK as a farm manager. He was surprised to find that much of the equipment he had been using wasn't available in the USA. Premier 1 has been providing electric fencing and netting, sheep and goat supplies, clippers and shearers, ear tags, poultry products and expert advice to livestock farmers for more than 40 years via traditional mail order catalog and their website.
By 2008, their product line up included several thousand items, and they were tracking hundreds of orders. They required a more robust system. On the advice of consultants, Premier 1 decided to implement Sage MAS500 and an add-on called Direct500, which provided some basic e-commerce functionality.
Ben, a software developer by trade, joined the company in 2015. He says in Premier 1's customer success story that the software transition was painful and still fresh in employees' minds even 10 years later. "Everybody remembers the time when (MAS500) rolled out. It was torture for three months. Sales fell, Sage's VAR was unresponsive, and it was just awful."
Their legacy software was being left in the dark ages and couldn't maintain PCI compliance without an upgrade, a problem they needed to fix, according to their payment card processor. Ben's search for a cloud-based SaaS software solution led him to Oracle NetSuite and Acumatica.
"We were closer aligned with Acumatica and I felt its open API would allow us to make in-house customizations. Acumatica offered us a larger head-start than we would have with Oracle NetSuite," he explains.
He also appreciates Acumatica's open, robust API framework.
Modernizing with cloud ERP results in happy employees and customers
Working with Acumatica VAR Crestwood Associates (past winner of Acumatica's Cloud Adoption Partner of the Year), Premier 1 was able to implement Acumatica Financial Management, Order Management, and Inventory Control without a hitch—to the relief of every employee.
"Many wondered whether we were going to go through three months of hell again to just get a new solution in place," Ben says. "Within a few weeks of go live, there was a big sigh of relief. Our roll out went very well. We didn't miss a beat; we cut over and processed just as many orders. It was a big success."
They've:
Improved operations through access to real-time data and a single source of truth
Cut costs by eliminating servers and technology needed on-premises
Reduced time spent on troubleshooting technology problems
Executed cutting-edge marketing they could only dream of
Utilized Acumatica's open platform to perform internal coding of new reports and workflows
And more
The Premier 1 team has been able to integrate with crucial third-party applications, such as Avalara. They've also been able to connect the company's website with Acumatica, which has increased order margins and improved customer satisfaction because of real-time communication between systems.
With 65% of their business from online sales, 10% from Amazon and other third-party marketplaces, and the remaining via phone orders, Acumatica's financial management software, order management software, and inventory management software has streamlined their B2C service and increased efficiency.
"I was looking for something that would be easy to use for our sales staff, who are on the phone with customers. I didn't want them to have to click between seven different screens to get customer information and get shipping terms and to add products or to look at what they had ordered in the past, which our customers will ask often," Cheyenne Miller, Merchandising & Product Development at Premier 1, notes in the company's video testimonial.
Catalog sales to eCommerce success with Acumatica cloud ERP
From its humble roots as a catalog business to their incredible success as an eCommerce agricultural business, Premier 1 is thankful they found Acumatica's cloud ERP software.
"Acumatica allows us to do what we want to do, the way we want to do it, on our terms," Ben says. "Our success is ultimately tied to Acumatica's success, and they are building a strong and healthy product. They have a vibrant customer and development community and a product that's growing, not stagnant. We are excited that we can craft Acumatica to do what we need it to do."
Have you been inspired by Premier 1's story to let go of a legacy ERP? Check out Acumatica's cloud ERP solution. Our team is happy to answer any questions or to schedule a demonstration.