Acumatica's 2021 R2 Virtual Launch Event is here! Register today to learn the details about Acumatica's latest release.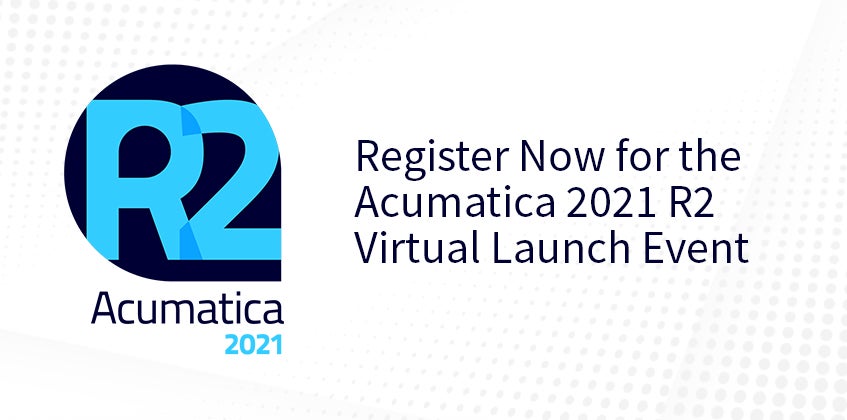 During the Acumatica Summit 2021 Keynotes, various members of the Acumatica team previewed the fantastic improvements, enhancements, and updates Acumatica 2021 R2 has in store for the community. The Acumatica 2021 R2 Virtual Launch Event, slated to take place on Wednesday, September 22, 2021 at 10 AM PST, will provide even more exciting details.
What to expect at the Acumatica 2021 R2 Virtual Launch Event
Like the Acumatica 2020 R2 Virtual Launch Event, this event will be a quick and informative two hours. Acumatica 2021 R2 features include advances in personalization, core business functions, and industry editions. These significant advances were directed by feedback from our community. As our frontline advocates, you know what works and what needs improvement.
With said feedback in hand, the Acumatica team set about making the Acumatica 2021 R2 product features specific to your needs. Some of the features include:
A consolidated toolbar to streamline functionality
Automated updates without needing programming
Simplified transaction with international currencies
Streamlined activity with the Microsoft Teams integrations
And you can expect Acumatica's industry editions, including Financials and CRM, Distribution and Retail-Commerce, Construction and Field Service, and Manufacturing, to receive new, improved, and simplified features that increase Acumatica's overall functionality and usability.
In the Acumatica Summit 2021 Day 2 press release, CEO Jon Roskill addresses our stance on innovation and customer service. "We innovate our business and industry functionality at remarkable speeds, enabling us to deliver a future-proof platform that elevates our customers to be successful in the modern landscape. Moreover, we have a foundation of unparalleled ethical business practices that put the needs and interests of our customers first."
According to SoftwareReviews' 2021 ERP Data Quadrant, which compares 22 ERP vendors, our efforts are paying off. Users declared Acumatica Cloud ERP a Leader and Gold Medalist with a Composite Satisfaction Score of 8.1 (vs. average score of 7.4); an Emotional Footprint rating of +84 (vs. average score of +70); a Likeliness to Recommend rating of 81% (vs. average score of 77%); and a CX Score of 8.5. We were also rated a Champion in Customer Experience and in Services Experience.
Resilience and success with Acumatica Cloud ERP
The themes of Acumatica Summit 2021 were resiliency and success. The keynotes, which are available on-demand, highlighted the remarkable ways Acumatica and the Acumatica community has worked together to navigate the unprecedented events of the last year and a half.
Acumatica 2021 R2 was born during these tough times and offers the community further features and functionalities that will help them continue to prosper. As Jon noted during the Day One keynote, "I'm very proud of what everyone has done. We are a very resilient group of people."
Register today for the Acumatica 2021 R2 Virtual Launch Event. It's a convenient and safe way to learn everything you need to know about our latest release. For any questions about the event or about Acumatica's award-winning cloud ERP software, please contact our team.