The new owners of Roberts Glass inherited a sterling reputation and aging financial software. To gain company-wide transparency, they implemented Acumatica Construction Edition, gaining even more benefits in the bargain.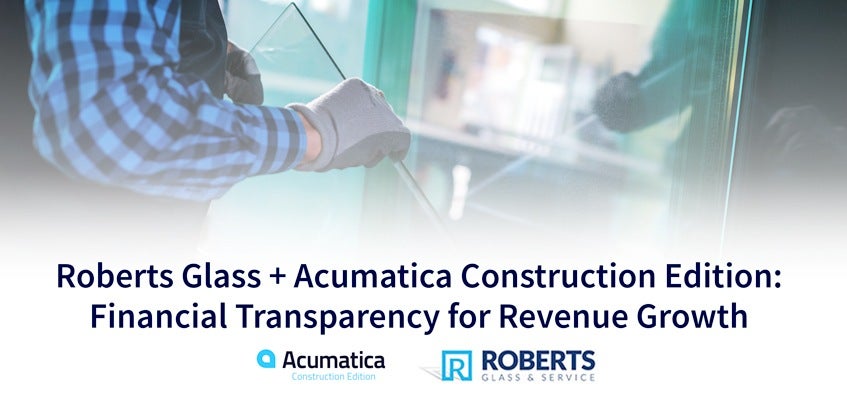 Though Roberts Glass & Service has been a successful, well-respected business for over 25 years, their financial software was becoming a major liability. Three years ago, Jeff Hamilton and Matt Dodson bought the company, well aware that they would need to upgrade or replace the aging solution. Ultimately, they decided to replace it, and they chose Acumatica Construction Edition.
Here's why.
Roberts Glass "un-siloes" with Acumatica Construction Edition
When the pandemic hit, Jeff says Roberts & Glass was considered an essential business. The company, founded in 1990 and located in Indianapolis, Indiana, designs, manufactures, and installs glass curtain wall, storefront, and entrance systems as well as provides interior glazing. "We've been working full force, have seen no adverse effects, and actually, the first half of 2020 was a record first half."
That is certainly the scenario every company would hope for during a crisis, but their financial software situation was a glitch in the otherwise perfect picture. Though they were able to double revenues and maintain profit margins during their three-year tenure, running Sage 50 and having their data stored locally on desktop computers was not a recipe for success.
"Data was very siloed. We also had paper spreadsheets scattered throughout the office," Jeff explains. "We knew operating on Excel and siloes wasn't going to allow us to grow or be more profitable or be more efficient and get information out to the field."
After looking at upgrading Sage as well as checking out what Salesforce had to offer, Jeff, who has an IT background, decided Acumatica cloud ERP and Acumatica's construction and accounting software fit their needs. With their accounting firm, Somerset CPAs, behind their decision, the Roberts Glass team worked with Acumatica partner Aktion Associates to implement Acumatica's cloud construction software. They also seamlessly integrated with third-party application ExakTime.
"We've torn down the silos we had with the client-server solution, so now we have access in one view of the data," Jeff says in the company's customer success story. "We're now able to see where we are cost-wise with our existing construction projects; we're able to look at the profitability of each project, look at the customer base and understand where we are most successful."
Roberts Glass goes mobile, sees clearly, and nixes manual input with Acumatica Construction Edition
In addition to eliminating their siloes, Jeff says a key benefit of implementing Acumatica Construction Edition is his team's ability to receive and submit data through Acumatica's mobile applications. The majority of Jeff's team is deployed in the field, and they no longer rely on communicating pertinent jobsite information by phone—something that led to errors and miscommunication. They also have access to architectural drawings, other project-related attachments, and financial information, which is available to the right people at the right time with set levels of access and security.
Jeff says, "We have dashboards, and some have their own personal dashboards where they can look at KPIs, revenue, projects we've bid on—all the information our controller no longer has to pull for them."
The benefits don't end there. With Acumatica's ERP system for construction companies, Roberts & Glass is able to:
Automatically pull time and rates from ExakTime into Acumatica Construction Edition, eliminating manual input and giving them real-time visibility into project labor costs
See how profitable a project is instantly, not six months down the road
Save time and increase efficiency by making data-driven decisions in the office and at job sites
"Acumatica Construction Edition has helped us grow in terms of revenue because we're much more efficient at managing projects," Jeff says.
What a difference Acumatica Construction Edition makes
Roberts Glass is a business transformed by cloud construction software. The informational and visibility delays they experienced with Sage are in the past. Now, Jeff can see every project's status, each project's profitability, and the health of the business whenever he signs in and from wherever he is.
"With Acumatica Construction, all of us have that data in real-time," Jeff says.
To learn more about Roberts Glass and their journey with Acumatica's ERP for construction industry professionals, check out their customer success story. You can also contact our team to discuss our cloud ERP software in more detail and find out how it compares to other construction ERP solutions.