If you're in the mood for a fun, feel-good story, then this is for you. And you'll also learn how Acumatica cloud ERP helped Saddleback Leather save millions of dollars.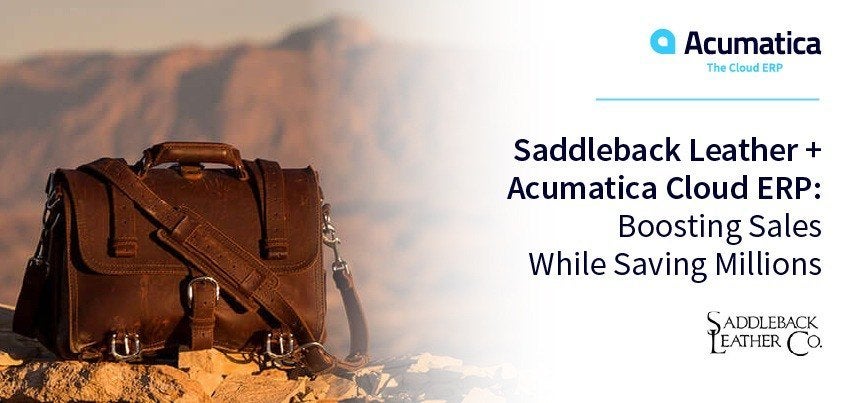 Saddleback Leather sells quality leather products, including duffle bags, briefcases, backpacks, wallets, belts, and more. When I say quality, I mean they use Full Grain Leather (not Top Grain Leather, Split Leather, or Suede, and if you don't know the difference, check out their Leather Buyer's guide for 5th Graders to learn more). How the company came about is extraordinary, and it involves bullfighting, traveling the world, and Acumatica cloud ERP.
Saddleback's story (and how Acumatica cloud ERP fits in)
Saddleback's founder and CEO, Dave Munson, has lived an exciting life. According to Saddleback's story, he was a bullfighter for all of 15 minutes and lived to tell about it. He spent a few years working for a Mexican family (that Dave and his brother thought might be mafia), hitchhiking southern Mexico, taking surf trips, and experiencing car crashes and jungle treks.
Somewhere in his life of adventure, he became a volunteer English teacher in Southern Mexico. As a teacher, he needed a bag to carry his schoolbooks, but unlike most people, he didn't walk into a store, pick one out, and purchase it. No, he prayed to God that he would help him find "the greatest bag ever." His prayer was answered in the form of a leather worker in a little leather shop who agreed to make Dave a bag, a bag Dave had designed after Indiana Jones' bag (FYI, the Indiana Weatherproof Canvas Satchel is very popular).
The leather bag was exactly what he wanted, and when he returned to the United States, he says he received multiple compliments a day on it. He decided to return to Mexico, have eight more made, and sell them from his old Land Cruiser in Portland, Oregon with his faithful dog, Blue, at his side.
They sold out in about three hours.
Dave went back to Mexico to a town called Leon where he met Don David, who comes from a long line of leather craftsman. David says he "transformed my basic but great looking bag into an amazingly durable and highly functional work of art."
Though there's much more to the story, Dave, with the help of his dad, successfully sold their high-end bags on eBay. The company has grown tremendously with a factory in Leon, Guanajuato, Mexico employing more than 250 employees and headquarters in Fort Worth, TX, which employs 55. They've created a thriving company…with one small glitch.
They had chosen Oracle NetSuite to replace their custom-made financial system, and it resulted in six years of frustration.
"Nothing worked fresh out of the box," Dave says in the company's customer success story. "It took 14 developers and systems staff just to make it work. It was proprietary, so anything you wanted changed took 10 times longer than necessary to implement."
NetSuite: "always a downgrade"
The frustrations with NetSuite continued to pile up:
Saddleback tried using NetSuite's front end as its first online store with the plan of connecting seamlessly to their financials—to no avail
It was difficult to do SEO on their website, which hindered their growth of organic traffic and put their load times between 9 and 12 seconds (resulting in penalizations by Google)
Saddleback had to have a programmer assist them to create new product landing pages
They had to make repeated requests for NetSuite to enable customer reviews on their website, which took three months, did not include numbers next to the ratings, and would cost them extra if they wanted them (plus they were told the addition of the numbers would slow down their page loads even further)
He decided to switch from NetSuite's online store to Magento, but their internal, 14-person development team and systems staff couldn't get them to connect. They suffered through a month without sales. And though his IT developer repeatedly told him the next upgrade would solve their challenges, Dave says "it was always a downgrade with NetSuite."
It was time to find a new ERP system.
Though many eCommerce software solutions and financial management software options abounded, Dave wanted an ERP solution that could easily connect to Magento, included efficient inventory management, and was based in the cloud to avoid onsite technology infrastructure.
"Everyone kept pointing us to Acumatica because of its pricing, aggressive development, and how user friendly it was," he says.
Acumatica partner Kensium Solutions helped Saddleback implement Acumatica Commerce Edition; Acumatica Financial Management; Kensium Solutions – Magento/Acumatica Connector; NETSTOCK – Inventory Optimization Solution; and ShipStation.
"Our organic traffic…is our best source of sales, and it's really paying off. Just that alone has covered the cost of all of Acumatica for the next ten years…and it's only because of leaving NetSuite," Dave says. "It's incredible."
"Sleep, dream, and hope" with Acumatica cloud ERP
Saddleback is getting more done with Acumatica in a few months than in the past 10 years with NetSuite. "I had a million ideas but all of them were impossible with Oracle NetSuite. Now, I sleep, dream, and hope—three things I was not able to do with NetSuite."
Their Acumatica cloud ERP benefits include:
Technology costs down by 33%
Ten times the functionality
Organic traffic up 45%
Accurate inventory
One version of their financial truth in real time
Faster decision making
Employees are using Acumatica instead of workarounds
Lower operating costs
Seamless connection to third-party applications
Effective marketing
Additionally, Dave estimates Saddleback was paying $230,000/annually for NetSuite along with another $4 million (over six years) to keep it running. He also notes in the customer success story that NetSuite's inefficiencies cost them millions due to lost online traffic and sales.
It's safe to say that Acumatica's cloud ERP software (vs Oracle NetSuite) has made a tremendous impact on Saddleback and their future, which Dave speaks about in a recent digonomica article and in a Computer Economics article. Watch their video testimonial below for even more amazing details.
And in case you were wanting to hear more about his adventurous life, Dave says after meeting his wife and starting their family, they traveled around the world. They've visited Bora Bora, Kenya, Gabon, Uganda, Australia, Scotland, Cayman Islands, Canada, Jamaica, Spain, Seychelles, Tanzania, Rwanda, Ireland, France, England, Holland, Belgium, Italy, New Zealand, and all over Mexico. In that time, they've adopted (unofficially) 14 Rwandan children and have worked hard to fulfill their mission of raising the bar on quality, making high quality leather goods attainable to the average person, loving people, and sharing their love for God in the midst of it all.
Acumatica loves being a part of such an exciting story, and we'd like to be a part of yours. Contact our team today to ask any questions about our cloud-based ERP solution or to set up a demonstration.
"Our culture and atmosphere are so much more positive, and people are in a good mood. Everything is coming together, and our company is growing at a fast rate," Dave says. "It's fantastic."