Safety Management Group chose Acumatica cloud ERP to replace their seven disconnected operating systems. They were glad they did, especially when the pandemic hit.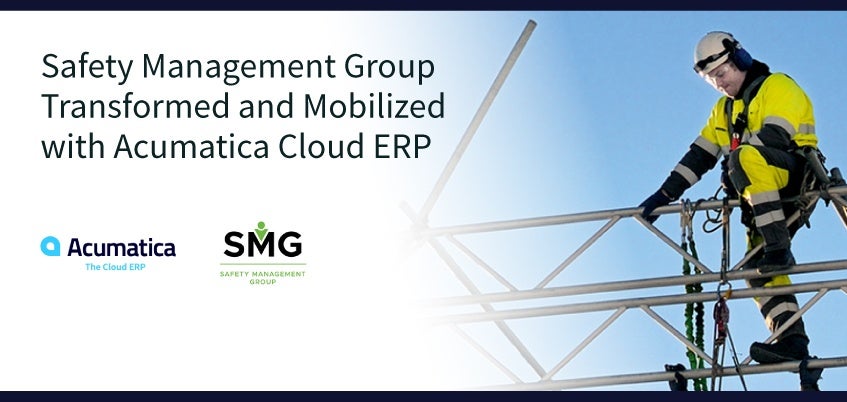 For many employers, shifting their office staff to working remotely during the COVID-19 crisis has been anything but easy. Not so for Rebecca Ogle, CFO of Safety Management Group (SMG). In fact, she describes it as "miraculously easy." Why? Because SMG had already implemented Acumatica's cloud ERP solution.
"In a day's time, we confirmed everyone had what they needed," she says. "They took their office work home that night and started working from home the next day. I shudder to think about the amount of time and coordination it would have taken with our prior system."
SMG's story
SMG provides workplace safety consulting, safety training, safety staffing, and safety program planning and implementation for construction firms, automotive, utilities, and healthcare facilities across the nation. More than 200 of their associates work from mobile devices as they travel to job sites, while the executive and finance teams work at their Indianapolis, Indiana headquarters.
For over 10 of their almost 30-year history, SMG had been using a number of solutions to manage their operations, including Sage for GL and payables, BQE Software for time and AR, Concur for expenses, F9 Software for financial reporting, Access database for conversion files, and multiple spreadsheets for various items. They also used Salesforce for CRM but stopped because of maintenance and integration issues.
Their seven systems proved to be manually intensive and error prone, and Rebecca struggled with cut off issues. It was not a sustainable situation for growing their business, and after joining SMG in 2018, one of her first decisions as CFO was finding and converting the organization to a single, modern solution. She wanted a cloud-and-app based ERP that could sustain growth, integrate their needs from CRM to invoicing, handle job costing, and provide visibility to key personnel.
At the recommendation of SMG's long-time technology partner SomersetCloud ERP, Rebecca, along with President Randy Gieseking and Vice President Ron Hanson, with buy-in from all the key stakeholders, selected Acumatica's cloud-based ERP solution (which incorporates the financial management software with project accounting, field services software, and customer management software they required) over Sage Intacct.
"[Acumatica] offered everything we were looking for," Rebecca says.
Transforming with Acumatica cloud ERP
SMG's Acumatica go-live date was October 1, 2019, and the implementation—which they dubbed "Project 7 to 1"—went as planned. With Acumatica Financial Management, Acumatica Field Services Edition, and Acumatica Customer Management, Rebecca says "Acumatica now serves as the single source of truth for our business ensuring we are making the right decisions during this time."
Hear from SMG on how the company can now:
Use the Acumatica mobile app to see detailed, actionable data across all areas of the business
Manage projects with greater visibility
Generate reports and look at profitability with the click of a button
Consolidate time and expense reporting
Estimate and bid work more efficiently
Integrate seamlessly with third-party applications like Paylocity
Process payroll in 10 hours vs. 40 hours
Easily onboard additional associates, which saved the company more than $50,000 in the first year alone with Acumatica's unique user-based licensing (avoiding per-user fees)
Additionally, Rebecca says they were able to meet the unexpected need to turn their office staff into remote workers head on. "With Acumatica located in the cloud, it literally is no different sitting here at home or in my office chair. The functionality is the same, everyone is productive, and that's a huge relief."
Forecasting for growth with Acumatica cloud ERP
The full economic impact of COVID-19 remains to be seen, but the SMG team is confident the company will continue to grow with Acumatica as its technology platform.
"The way we were doing things was outdated and it wasn't allowing us to operate in the most efficient and cost-effective manner," President Randy says in SMG's Acumatica customer success story. "Acumatica better aligns with our growth path and ever-evolving business needs."
If your company is looking for cloud ERP software that can help you fuel growth in the midst of the pandemic and after, feel free to contact us with any questions and/or to schedule a demonstration.