How does a company that has been in business for more than a century navigate this new digital economy? It replaces its legacy system with Acumatica cloud ERP.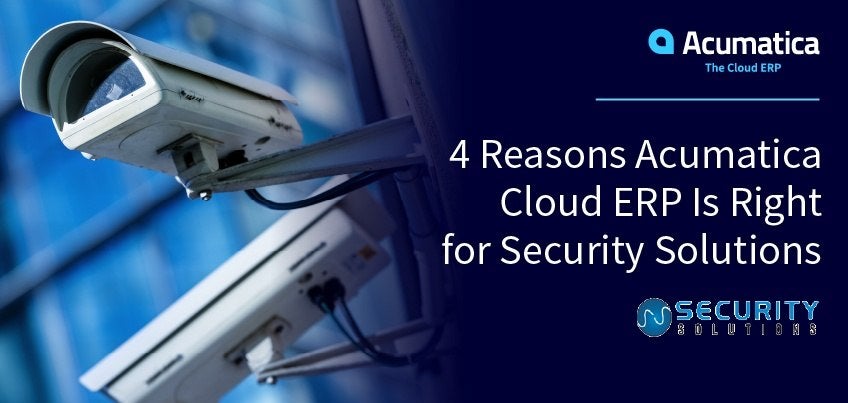 Bellingham Lock & Safe opened its doors in 1904. One hundred years later, the company was still going strong, growing from their original locksmithing services to become a diversified safety and security business. They changed their name to Security Solutions to reflect their metamorphosis, but their legacy system stopped them from making a complete transformation. To move forward, they needed to find a modern, connected cloud ERP solution.
"We needed to move into something that would give us enterprise level financial management, we needed something that would handle contracts, we needed something that would handle recurring revenue," says Owner/General Manager Jamie Vos.
Acumatica cloud ERP "checked off all the boxes"
Security Solutions offers fire suppression equipment and systems, fire and security alarms, access control, surveillance systems, and more. They're committed to "improving the safety and security of Northwest Washington with solutions based on experience, expertise and the most advanced and effective technology available."
Unfortunately, the technology they were relying on for their CRM, financial, inventory, field service, and contracting needs was outdated and incapable of handling their growth.
"In our prior solution, it was very much like QuickBooks. A transaction could be deleted or changed at any time. We had some control issues. We struggled with inventory. We had a lot of manual data entry, which made for lots of entry errors," says Controller Brian Rowerdink. "It's very challenging in our industry to find something that can do everything: financials, CRM, case management, service appointments."
And Bryce Benham, Director of Operations, adds, "We had to go into several different pieces of software just to try to get some information."
The company, which has seven divisions, needed field service management software, financial management software, inventory management software, and order management software within one connected solution, one that could grow with them and keep pace with the security services technology that changes constantly. Brian reviewed Sage and Microsoft Dynamics as well as security industry specific solutions, but they were all operating as separate applications.
Security Solutions turned to Acumatica partner Lucid Consulting for help. "We looked at the toolsets that we could offer them, and Acumatica fit," says Owner Jason Alexander.
How so?
Acumatica offers one connected, cloud-based ERP solution
Acumatica is customizable and configurable
Acumatica is mobile
Acumatica offers the financial, contract, and process controls Security Solutions lacked
Jason assisted Security Solutions in the implementation of Acumatica's Field Service Edition, Customer Management, Project Accounting, and Financial Management modules.
"Acumatica checked off all the boxes," Brian says in the company's customer success story.
Benefits of choosing Acumatica cloud ERP
After choosing Acumatica's cloud ERP software, Security Solutions improved operations across the board. They:
Gained CRM and opportunity tracking and management
Improved inventory management, eliminating $10,000 to $15,000 inventory write-offs
Improved visibility into financial data with real-time access
Provided remote access to the ERP for technicians out in the field
Reduced time to invoice with real-time and automatic timecard entry
Improved recurring revenue and contract management
Eliminated manual duplicate entry of data
Improved customer service with case management
And Brian says, "With Acumatica, we don't have to…pay for a full user license because the licensing model allows everyone to use it without becoming too costly."
Growing with Acumatica cloud ERP
With the addition of their Bothell, Washington office, Security Solutions continues to experience growth, and they were able to continue utilizing Acumatica without a complex set up or additional costs.
"You just need to set up some users and some location codes, and you're good to go," says Jason from Lucid Consulting. "You're already implemented."
This ease of use and scalability are two more reasons why the Security Solutions team highly recommends Acumatica. Brian says, "I just can't imagine using any other platform. Now that I've used Acumatica, I don't know what would be out there that could compare."
And Jamie says, "We searched for a provider that was built for the cloud and selected Acumatica TRUE Cloud ERP. Now we can be seamless by using CRM and the Mobile App, all departments in Security Solutions—locksmith, retail, service, sales, inspections, testing—have instant access to information, helping to speed business and lets us focus on what we do best, which is to design, impellent, execute security solutions that provide peace of mind."
If you would like to focus on what you and your company do best, contact our team today.