SEO and a retail ERP solution are important components of success for retailers in the post-COVID-19 world. In this article, the first of a two-part series, Acumatica's Senior Product Manager of Retail, John Covati, explains why.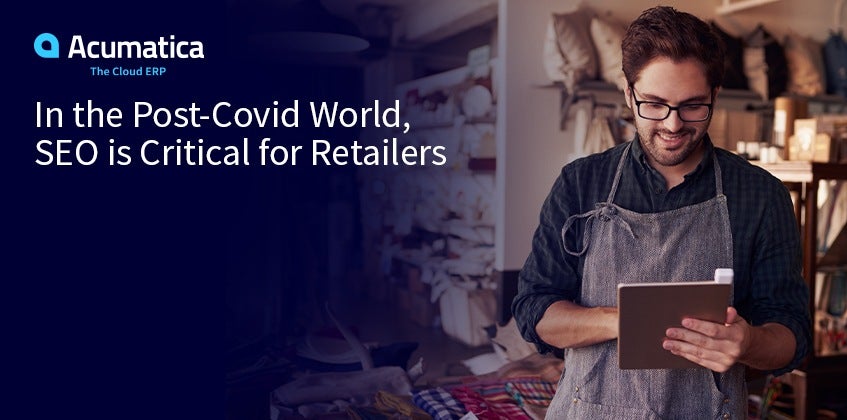 If you're a small- to medium-sized business (SMB), you may know that the SMB trends for 2021 include increased digital transformations, remote work, and a phenomenal rise in eCommerce. (Over 4.2 trillion US dollars was spent online in 2020 worldwide.) These trends are holding true in both COVID-heavy regions and areas that are allowing brick-and-mortar retailers to reopen. To thrive in the new digital marketplace, characterized by remote work and eCommerce, businesses must tap into online sales through a retail ERP system and understand the role of search engine optimization (SEO) in omnichannel retail.
Why A Retail ERP System?
Before the COVID-19 crisis, the retail world was already trending toward eCommerce and omnichannel sales. People from all demographics were buying more and more products and services online. When the pandemic brought lockdowns and shuttered nonessential businesses, online retailers became the only option for many people.
Though the full impact of the COVID-19 pandemic and the changes it has brought remain to be seen, customer expectations are steadily increasing. Whether buying online or in a brick-and-mortar store, customers have easy access to reviews—good or bad—from other buyers, and they have plenty of retailers from which to choose. So, the weight of providing a personalized and consistent omnichannel commerce experience for each customer, thus securing their loyalty, rests solely on the retailer.
To meet these ever-increasing customer expectations, an IDC report says businesses must "ensure that their customer-facing applications are deeply integrated with systems of record so that they are resilient, digitally enabled, and agile enough to tackle future commerce trends."
One of the best ways to accomplish this is to implement a retail ERP solution, which integrates commerce software with a cloud ERP system. The commerce software handles all sales points, including online, tele-, and brick-and-mortar sales. The cloud ERP system centralizes all operations (accounting, sales, inventory, fulfillment, and beyond), while storing and synchronizing data from every department.
As the COVID-19 pandemic ebbs in certain regions, retailers who closed their brick-and-mortar stores are reopening, while working to maintain the eCommerce sales they gathered during lockdowns. Interestingly, online retailers who did not have brick-and-mortar locations before the COVID-19 crisis are now opening these physical stores to enhance their omnichannel presence. So, retailers worldwide are increasingly juggling their online and in-person operations.
A retail ERP solution can help businesses manage their omnichannel performance. But how can companies encourage people to visit their websites and stores, spend more time and money, and become loyal, returning customers?
This is where SEO comes into the picture.
Why SEO?
Before deciding to purchase a good or service, most people Google their options. (According to Statcounter, Google has 92.47% of the search engine market share worldwide). If that Google search doesn't bring up your store, or if your company is far down on the list of search results, you're going to lose out on a lot of business.
SEO applies simple site structure, keywords, meta titles, tags, images, meta descriptions, and social media links to improve your position in the search engine rankings and maximize the number of people who visit your site. To learn more about the basics of SEO, what it is, and how you can make it work for your omnichannel retail operations, see 'SEO Starter Guide' from Google.
Popular commerce solutions, Shopify and BigCommerce, have basic SEO features to help optimize your content automatically. And, with the right retail ERP system, merchants can manage important SEO fields, such as page titles and meta descriptions, directly within the software platform. Because ranking factors change regularly and are continually becoming more sophisticated, these are incredibly helpful benefits.
Supporting the Omnichannel Retail Experience
For retailers, understanding SEO and implementing a retail ERP solution make a winning combination.
Now, we should delve deeper into how SEO impacts the online and in-store experience. We'll cover that topic in the second article of this two-part series: "In Store to Online: How SEO Supports the Omnichannel Retail Experience."
To learn more about retail and eCommerce solutions, check out Acumatica and the Acumatica Retail ERP industry edition. You can also contact our experts with any questions about our cloud ERP software or to set up a demonstration.