Why is an eCommerce ERP solution and SEO important components of success for retailers in the post-COVID world? Acumatica's Senior Product Manager of Retail Commerce explains.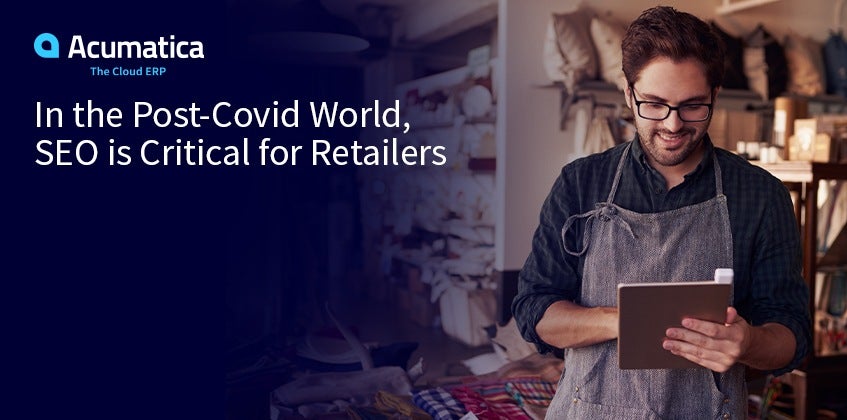 If you're a small-to-medium-sized business (SMB), you may know that the SMB trends for 2021 include increased digital transformations, the embracing of remote work, and a phenomenal rise in eCommerce (over 4.2 trillion US dollars was spent online in 2020 worldwide). As a retailer, whether you're in a COVID-heavy region or in a region that's beginning to open up, tapping into online sales through an eCommerce ERP and understanding the role of search engine optimization (SEO) is critical.
Why commerce ERP?
Even before COVID hit, the world of retail had been transforming. People from all demographics were already increasing their buying of products and services on the internet. After the pandemic brought lockdowns and the shuttering of non-essential businesses, people no longer had a choice but to rely on online retailers to get their necessities and incidental items.
What hasn't changed with the COVID crisis are increasing customer expectations. Whether buying online or in a brick-and-mortar store, customers have easy access to reviews—good or bad—by other buyers, and they also have plenty of retailers to choose from. The weight of providing a personalized and consistent omnichannel commerce experience for each customer, thus securing their loyalty, rests solely on the retailer.
The best way to meet these ever-increasing expectations is to utilize a commerce ERP solution. A commerce ERP is the integration of commerce software, which handles all sale points, including online, tele-sales, and brick-and-mortar sales, with a cloud ERP solution, which manages and integrates all operations (accounting, sales, inventory, fulfillment, and beyond) from a centralized and 360-degree-viewpoint while storing and synchronizing data from every department.
Utilizing a commerce ERP solution is supported by an IDC report that says businesses must "ensure that their customer-facing applications are deeply integrated with systems of record so that they are resilient, digitally enabled, and agile enough to tackle future commerce trends."
Why SEO?
As different regions have begun to open up, retailers who originally closed up their physical stores are opening them up again, especially with the enticement of lowered lease rates. Interestingly, online retailers that may not have had physical locations before the pandemic are now adding them to enhance their omnichannel presence. However they came to have multiple venues, retailers are juggling their online and in-person operations.
As we discussed, a commerce ERP solution will act as their foundation for managing their business, but how do they encourage customers to visit their website or store? How do they get customers to spend more time and money? And how do they get them to come back?
This is where SEO comes into the picture.
The Oxford Dictionary defines SEO as "the process of maximizing the number of visitors to a particular website by ensuring that the site appears high on the list of results returned by a search engine." This is important because the first thing most people do before deciding to purchase a good or service is to Google their options (Statcounter says Google has 92.47% of the search engine market share worldwide). If their Google (or other search engine of choice) search doesn't bring up your store or it's low in the rankings, then you're going to lose out on a lot of business.
With SEO, you're using simple site structure, keywords, meta titles, tags, images, meta descriptions, and social media links to improve your position in the search engine rankings. Popular commerce solutions Shopify and BigCommerce have basic SEO features to help optimize your content automatically. Because ranking factors change regularly and are continually becoming more sophisticated, this is incredibly helpful.
Supporting the omnichannel retail experience
For retailers, the combination of a commerce ERP solution and understanding SEO is a winning one. With the right commerce ERP solution, merchants can manage important SEO fields such as page title and meta description from within the platform.
Now we need to take a deeper dive into how SEO impacts both the online and in-store experience. We'll cover this topic in the second article of this two-part series.
In the meantime, if you're looking to learn more about retail and eCommerce solutions, check out Acumatica and Acumatica Retail-Commerce Solution. You can also contact our experts with any questions about our cloud ERP software and to set up a demonstration.