As 2021 marches on, SMBs are still dealing with the ripple effects of the COVID-19 pandemic. Thankfully, a few SMB ERP trends indicate SMBs are resilient even in uncertain times.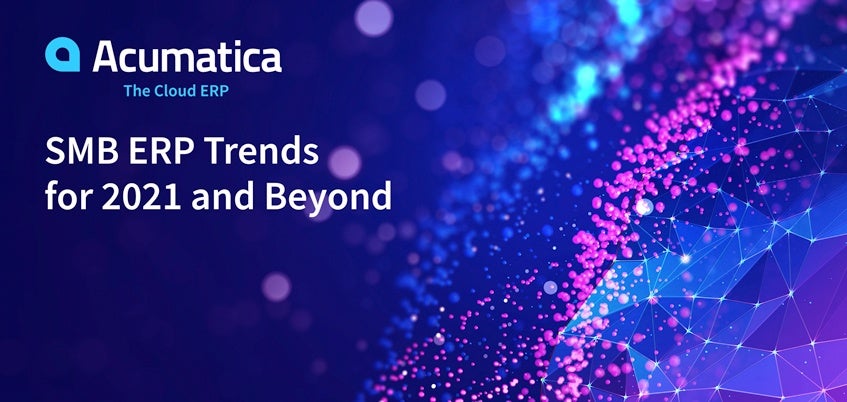 Profit margins can be razor-thin for small and medium-sized businesses (SMBs) at the best of times. Unfortunately, the COVID-19 pandemic does not fall into the best-of-times category, and many SMBs are feeling the burn. A recent Acumatica-sponsored SMB Group study, however, shows that 2020 wasn't all bad for SMBs, and SMB ERP and technology trends for 2021—and beyond—suggest that SMBs are successfully battling for survival.
SMB ERP trends highlight SMBs' continued battle to survive (and thrive)
In SMB Group's study, SMB Technology: Directions For a Changing World, 761 North American businesses ranging from one-to-2,500 employees answered survey questions on business health, new initiatives, technology, and more. Not surprisingly, 2020 started out not so well for most SMBs, but it turns out that the year ended not so badly.
"Overall, many SMBs rebounded as 2020 progressed: 43% reported 2020 revenues exceeded 2019 revenues, just over one-third managed to break even, and only 20% suffered a year-over-year decline," SMB Group writes.
Though smaller SMBs and certain industries (education, hospitality, and personal services) are not as optimistic about 2021, the majority of SMBs look upon 2021 as a new year with new possibilities. This may account for some of the technology trends we're seeing as 2021 rolls into its fifth month.
1. Uptick in digital transformation plans and cloud ERP implementations
According to a 2020 survey by Baker McKenzie, 58% of the surveyed businesses that had yet to begin digitally transforming were spurred on to do so by the COVID-19 pandemic. Digital transformation is the act of replacing legacy systems with modern technology, such as cloud ERP solutions.
Cloud ERP solutions digitize manual, analog processes and connect business records, data sources, and systems within a centralized system. They provide a single source of truth for every person within an organization. Employees can access the system over the internet, which means they can work in the office, from home, or even on the road without interruption.
The expected benefits of increased efficiency, streamlined processes, and security found in cloud ERP software combined with the business-altering pandemic has transformed the way companies handle their business management processes. The investment into cloud ERP solutions is continuing to grow, as global market intelligence firm IDC suggests. From their research, IDC projects that the total worldwide spending for cloud services will surpass $1.0 trillion in 2024 while sustaining a compound annual growth rate (CAGR) of 15.7%.
Richard L. Villars, IDC's VP of Worldwide Research, says, "Cloud in all its permutations – hardware/software/services/as a service as well as public/private/hybrid/multi/edge – will play ever greater, and even dominant roles across the IT industry for the foreseeable future. By the end of 2021, based on lessons learned in the pandemic, most enterprises will put a mechanism in place to accelerate their shift to cloud-centric digital infrastructure and application services twice as fast as before the pandemic."
2. Remote work is here to stay
Working remotely became essential for non-essential workers with the advent of stay-at-home orders. Employers scrambled to give their employees the remote access they needed to do their jobs. Those who had already implemented a cloud-based ERP solution, however, didn't experience the rushed research and decision-making process, nor the delay in getting everyone connected from their homes.
For example, Flo-Tec, a provider of non-woven media in the air and liquid filtration markets, was able to continue shipping their product and to keep employees working because of Acumatica. Director of Marketing Wesley Yarnell says, "Without Acumatica, it would have been such a mess trying to get all these people into the office physically."
Now that people have gotten a taste of working from home, 97.6% of respondents to a Buffer survey said they would like to work remotely at least some of the time during their career and 97% would recommend remote work to others. The ability to do so easily, which includes seamless communication and collaboration with their employer and team members, is possible with the right cloud ERP solution and built-in mobile capabilities.
3. eCommerce on the rise
While online sales have been going up steadily for years, Statista says that "e-retail sales surpassed 4.2 trillion U.S. dollars worldwide" in 2020. It doesn't take a genius to realize that the pandemic is responsible for the astronomical growth in eCommerce revenue. It also doesn't take a genius to realize that adding an online selling option has become a necessity for SMBs but doing so is not as easy as adding a website and hoping for the best.
For eCommerce success, IDC says in their latest Whitepaper, Better Together: SaaS Digital Commerce Platforms and ERP Help Organizations Grow Past Legacy Limitations, businesses must utilize an integrated eCommerce ERP solution, such as the Acumatica for BigCommerce Connector.
IDC, which named Acumatica a Mid-market Leader for 2020, says "The connector is a native interface that integrates BigCommerce web stores with financials, inventory, operations and reports running on Acumatica. To further support the partnership, Acumatica Commerce Edition enables merchants to manage products, orders, customers, inventory, shipping, suppliers, and accounting in a single place."
An integrated cloud ERP and eCommerce solution helps SMBs manage their business processes easily and efficiently while providing the customer with a seamless, transparent, and stress-free shopping experience.
Future proofing SMBs in an altered reality
The COVID-19 pandemic has altered reality for SMBs around the world. Businesses have been forced to fast forward their digital transformation plans (which, according to SMB Group's study, will also make them 2.5 times more likely to expect their 2021 revenues to rise vs. those who plan to digitally transform but haven't); enable their employees to work remotely; and either establish an eCommerce presence or bolster the one they already have.
The future—always an unknown—is uncertain. Thankfully, companies can future-proof their businesses with a modern, cloud-based ERP system that allows them to adapt to consistently changing circumstances and expectations. It also provides them with the data security, seamless integrations, AI/Machine learning capabilities, mobility, and more that they need to survive and thrive.
M3 Technology Group, a company that designs, builds, and installs AV and videoconferencing systems for various industries, implemented Acumatica's cloud ERP software. They have no fears for the future.
"We're confident Acumatica can take us into the future, grow with us, and still maintain all the data we're going to flood it with," says ERP developer and former COO Kelly Burns. "Employees, users—we're not afraid of the system not being able to take us there. To me, Acumatica has the capabilities and all the functionality we need. We're just scratching the surface."
To learn more about how Acumatica's cloud ERP software can help SMBs become a connected business now and in the future, contact our team today. We'll help you confidently face tomorrow.