Every year, Acumatica chooses one of thousands of customers as their Customer of the Year. In 2018, Fabuwood Cabinetry stood out. Their unique business model required customizations and a complex implementation. Partnering with Acumatica and Acumatica VAR NexVue, Fabuwood made it look easy.
Fabuwood Cabinetry is a company that has embraced technology and innovation to the nth degree and has found astronomical success because of it. And with their success came the need for a cloud ERP platform that could act as a single source of truth. They researched their options and found Acumatica.
Using speed, adoption and teamwork, the Fabuwood team's complex manufacturing software implementation was quick and successful. Here's how they did it and why they were chosen as Acumatica's 2018 Customer of the Year.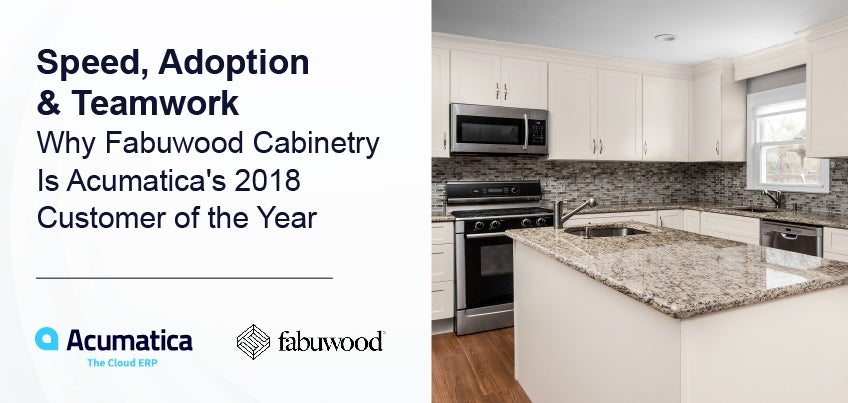 Fabuwood and Acumatica cloud ERP
Fabuwood is a kitchen cabinet manufacturer—one of the largest in the U.S.—located in Newark, New Jersey. The company began in 2009 with 40 employees and a small warehouse. In the decade following, Fabuwood added 760+ employees, 2000 dealers, and a 1 million square foot facility, all of which are focused on getting quality cabinets to their customers within a three-day time period.
Sound impossible?
In an interview with Jon Reed of diginomica, Senior Vice President of Technology Sendy Stern said this about Fabuwood's ability to accomplish this feat, "We want to take technology and state-of-the-art machinery and be able to ship the kitchen within three days. There is really no reason that can't happen."
He explains in the same article that they invested millions in machinery, equipment, and technology for manufacturing to make the three-day deadline possible. They also knew they needed to invest in a modern ERP, one that would be the hub of their multiple systems. Their search led them to Acumatica cloud ERP and Acumatica Manufacturing Edition. With the help of Acumatica VAR NexVue, the Fabuwood team was able to implement Acumatica's manufacturing software and complete nine integrations in an unexpected five months.
"Most people told us it would take about nine months to go live from when you start the process. It was amazing. Within five months we were live," Sendy said during Acumatica Summit 2019. "[Acumatica] has a great platform and a great system that helped us go so fast."
Why Fabuwood is Acumatica's 2018 Customer of the Year
Fabuwood's manufacturing ERP software search began in 2017. By 2018, they had chosen Acumatica cloud ERP and earned one of Acumatica's top honors: Customer of the Year. As noted in our post highlighting the winners of Acumatica cloud ERP awards for 2018, Fabuwood is a "customer who successfully completes a complex implementation and exhibits true team effort throughout the process."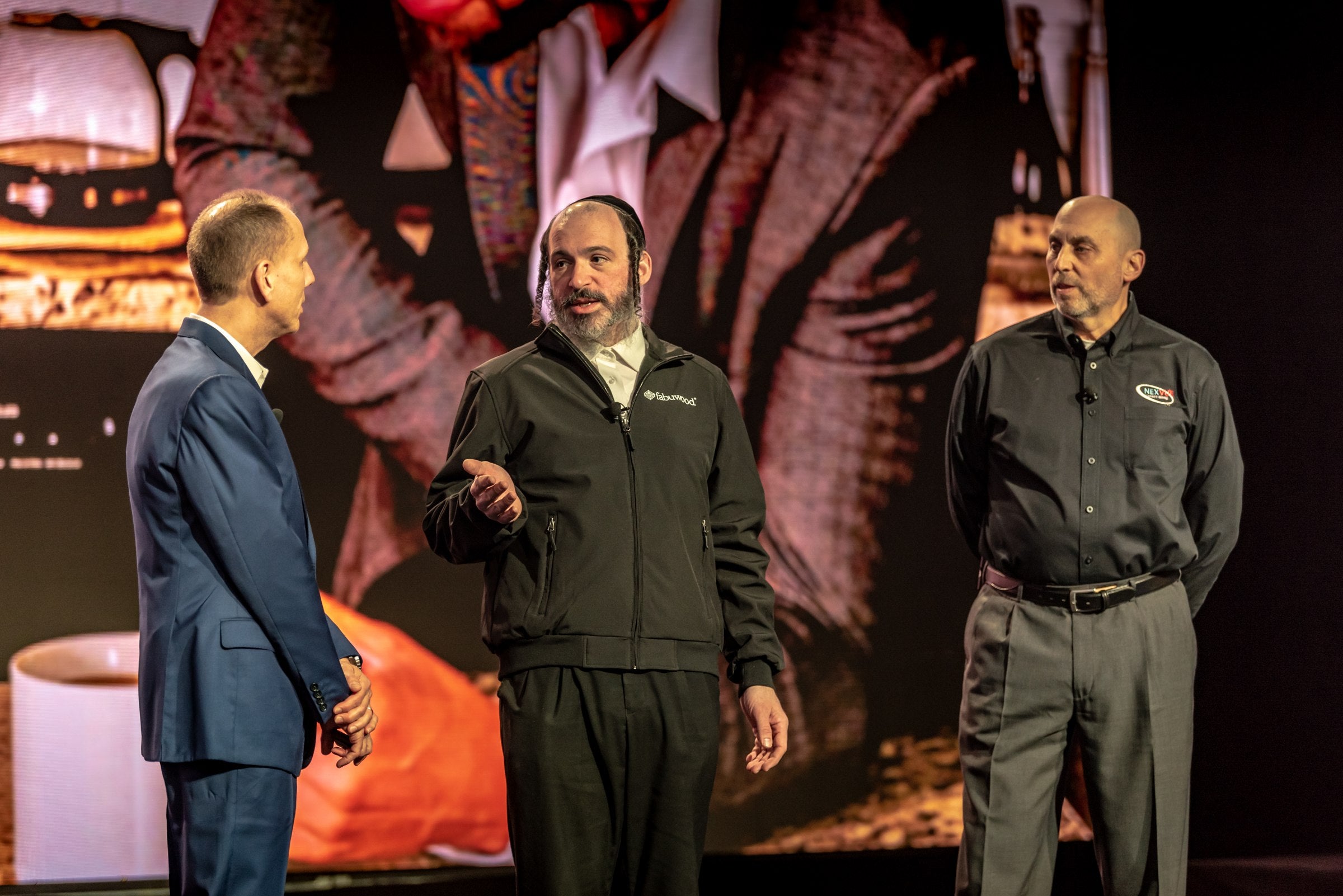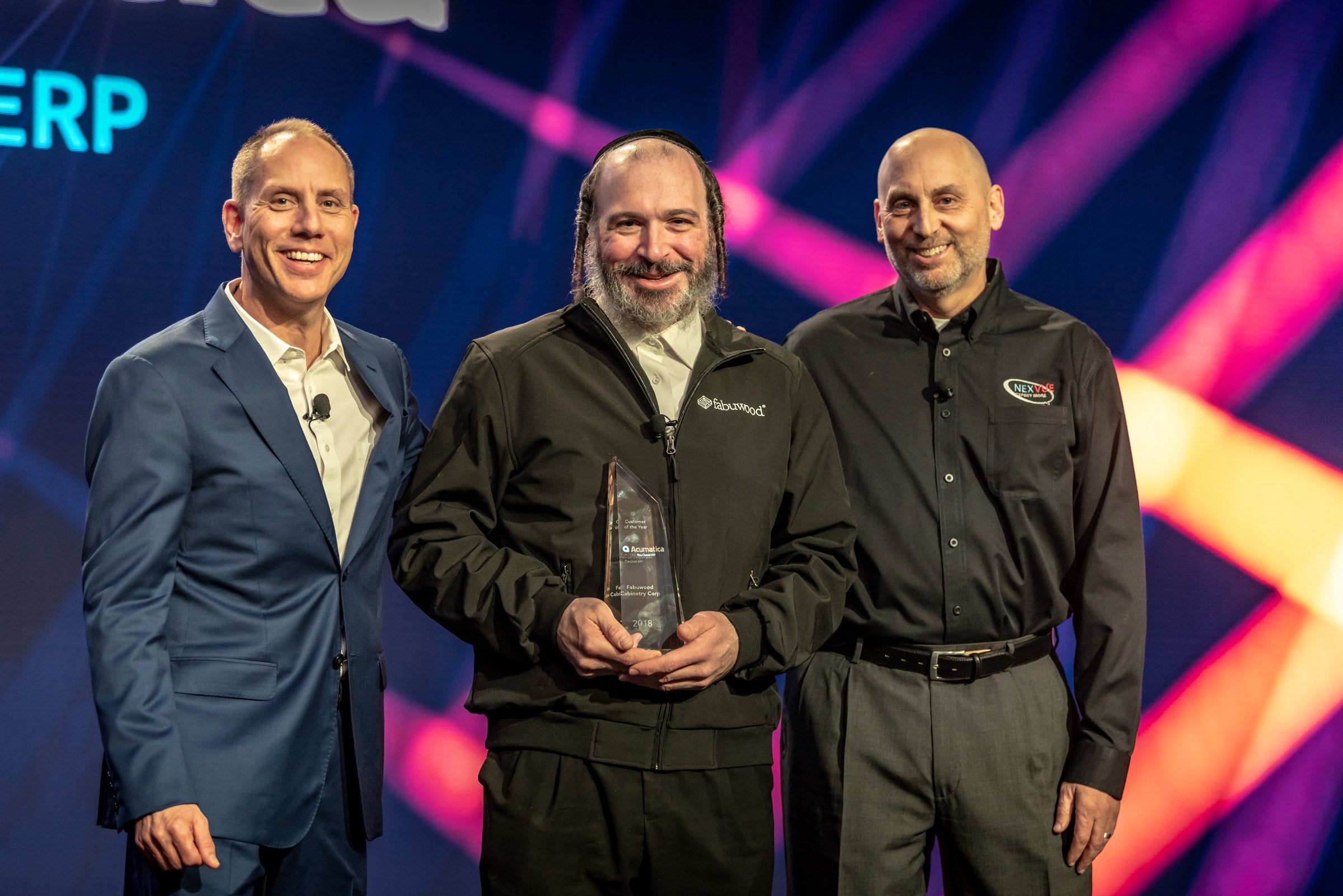 Sendy accepted the Customer of the Year Award during the Day One Keynote at Acumatica Summit 2019 in Houston, Texas (if you missed either the Day One or Day Two Keynotes, you can watch the Keynotes now). When asked by Acumatica CEO Jon Roskill what Fabuwood has been doing with Acumatica, his answer was, "A lot!"
He continued, "Acumatica is definitely the right choice. Fabuwood has a real big IT team. We focus on technology. When we were looking at an ERP platform, we were looking for two main things: it should be easy and have great integrations. Definitely, of all the systems we looked at, Acumatica won out big time."
According to Sendy, Acumatica cloud ERP was destined to be Fabuwood's system of record for their vendors and customers, not the system for their entire manufacturing operation. As they began their integration, however, they realized that Acumatica could, in fact, help them manage their inventory and manufacturing processes, as well. They consider Acumatica to be their "single point of entry" and use Acumatica's web services and APIs.
Daniel Schwartz, the President of NexVue, was with Sendy on stage at Summit and said that Fabuwood is unique, and this contributed to the success of the implementation.
"The executive management team at Fabuwood really embraces technology as part of their core business strategy," he said. "And when you take a company that has that mindset and the power of the Acumatica framework—and they gave us a lot of creative leeway—we were really able to come up with some really great enhancing functionality for the company."
The future for Fabuwood
For Sendy, their successful implementation and receiving the Customer of the Year award boils down to speed, adoption, and teamwork. He said in the digonomica article, "I think it's how fast we adapted the Acumatica platform. I think it's the speed we adapted to it, the amount of integrations we did within that timeframe, and amount of customizations Dan and his team built. We did a lot of unique customizations for our business."
As Fabuwood moves forward, they expect to continue providing their customers with a quality product and great service with the help of Acumatica, who is at the forefront of emerging capabilities, and with the help of NexVue.
In a recent blog post about winning the award, Fabuwood notes, "There are so many exciting possibilities to explore with the Acumatica tool. With the backing of a very supportive team at Fabuwood and a great set of partners like NexVue and Acumatica, we look forward to pioneering new technological solutions that augment our level of service to customers at large."
The Acumatica team is looking forward to seeing how Fabuwood uses innovative and connected technology, centered on our manufacturing software, to continue growing their already amazing business.
If Fabuwood's success has you interested in learning more about Acumatica Manufacturing Edition, please contact our team today.