For construction companies not operating their business with an integrated, mobile, and affordable cloud ERP solution, the struggle is real. Spohn Associates experienced it themselves…until they found Acumatica Construction Edition.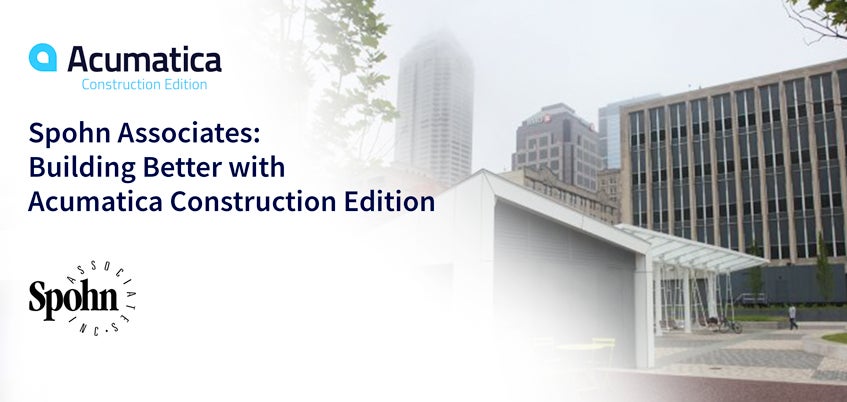 Acumatica cloud ERP customer Spohn Associates specializes in installing "all the pretty things on a building," according to CFO Sean Barnett. The "pretty things" include ornamental metals and railings, canopies, walkways, shelters, architectural wall panel systems, screenwalls, architectural windows, and much more.
As specialty contractors, Spohn is in a unique construction category requiring unique construction and accounting software—something they didn't have for years with their legacy Sage Mas 90, then Sage 100, and in-house Access database. A change was necessary, and on the advice of the company's CPA firm, Somerset CPAs and Advisors, the company investigated, approved, and implemented Acumatica Construction Edition.
"Acumatica Construction Edition had everything we were looking for," Sean says in the company's Acumatica customer success story. "We are different from a regular construction contractor and liked that we could add different specialty fields and customize it to the way we do business."
From wasted time to on time with Acumatica Construction Edition
Before implementing Acumatica's cloud construction management software, the Architectural Installation Company wrestled with time-wasting processes. For example, they had to print four reports before and after writing a check; each report took about a minute to print, which added up to 10 minutes to write two checks (and to perform manual updates).
Their financial operation covers five internal companies. "We were always out of balance and wasted hours a week when doing all of the intercompany transfers. We had a lot of manual steps to remember because the system has been cobbled together over time."
Building a customized database that included 450 reports and views didn't help; it eventually crashed under the strain. Having disconnected reporting and financial systems and field service teams using a VPN connection (which Sean describes as "very clunky") to access information wasn't working either.
The search for a cloud-based ERP solution that was designed specifically for the construction industry and that would help them bring their projects in on time lasted two years. It ended when Jason Leveson, Somerset CPAs and Advisors' Director of Technology Solutions, suggested they look into Acumatica's construction-specific cloud ERP software.
"After Jason showed us everything—all the customizations we could do and the functionality—we knew we had found a great solution," Sean says.
Acumatica cloud-based construction and accounting software benefits
With Sean's technical background and Somerset CPAs and Advisors' expertise, the implementation of Acumatica Construction Edition, Acumatica Customer Management, and Acumatica Financial Management took a short three months.
The company-wide benefits include:
Cost savings due to Acumatica's consumption-based pricing model: "It's a nice thing not to have to worry about per-user licensing fees," Sean says. "Some of the other systems we looked at were comparable but then the per-user licensing model made them way more expensive."
Time savings through automated accounting processes: "Working in Acumatica Construction Edition is easier, so is the management of invoicing as well as the management of approvals for accounts payable. The side panels are one of my favorite features. It keeps information I need the most at my fingertips," Sean notes. And AIA invoices, which used to be created outside of Sage is "built-in and automated, so billing takes less time."
Time savings through automated subcontractor compliance via Somerset CPAs and Advisors' customization: As noted in the company's Acumatica customer success story, "For Spohn, Somerset built out automatic workflows for project management, cost approvals, subcontractor insurance compliance, and project submittal tracking. Workflows incorporated email routing, document management dashboard reporting, as well as feature rich system functionality."
Increased efficiency through Machine Learning (ML) and Artificial Intelligence (AI): "Being able to type in an area that users want to analyze or access different parts of the system has helped Spohn be more nimble and has cut out steps, allowing them to streamline search and be more efficient," Jason says. ML and AI also allows Acumatica customers to take pictures of expense receipts and email it to the home office where Acumatica pulls the information into the system automatically and correctly.
Additionally, the Spohn Associates team appreciates the easy-to-use and intuitive interface, the ability to personalize many items, and the flexibility of the solution.
Says Director of Operations Jeremy Sturgeon: "We can make it adapt to what we need it to do, to the way we do business."
Rely on Acumatica Construction Edition
Acumatica cloud ERP is an ERP system for construction companies that provides a complete, real-time, single-source-of-truth. Specialty contractors and construction companies alike can access information at any time and from anywhere. The integration of multiple systems and applications, including financials, job cost accounting, project management, payroll, inventory, service management, CRM, and more, along with the ability to integrate with critical third-party applications, is exactly what every construction company needs in today's digital economy.
For those in the market for an ERP for construction industry, not all construction ERP solutions are created equal. Contact our team today to find out what sets us apart.
As an Acumatica customer, Sean knows. "We're relying on Acumatica Construction Edition to help us be more efficient, more productive, and allow us to do more with less over the coming months and years."