Businesses within the staffing industry have a variety of unique business management needs that can be met with an ERP for staffing. Two staffing companies chose Acumatica's cloud ERP solution and say others should follow suit.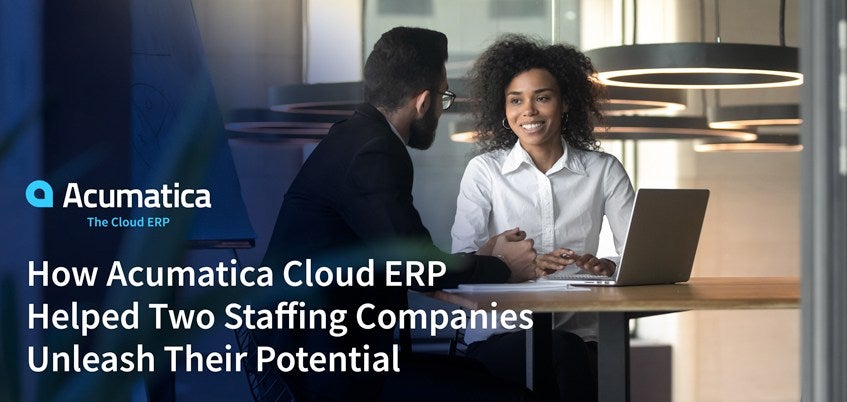 Every business in every industry has challenges, some unique and some universal. Take businesses within the staffing industry. While they, like many, deal with the realities and responsibilities of international operations as well as the globalization of the workforce, their non-standard business model (e.g. no inventory, no invoices or timekeeping generated in its own internal system, reliance on client/vendor management systems) adds a layer of exclusive complexity. That's why two staffing companies designated Acumatica cloud ERP as their ERP solution for staffing.
Aditi Staffing and Acumatica cloud ERP
Aditi Staffing provides highly technical staff for technology and telecommunications companies. It started as a division of Aditi Technologies, but when it was purchased by Symphony Teleca Corp. in 2013, Aditi Staffing became a standalone staffing company.
The company inherited Microsoft Dynamics AX from Aditi Technologies but found that not all inheritances are worth it. For example, they discovered that the software was a glorified input tool. They were unable to get information out or reliable trial balances.
Other issues included:
Creating financial statements by creating an Access database and manipulating the data within Excel
Exporting static information from client/vendor management systems (approx. 4,000 records from 40 different systems) and recreated invoices in Dynamics AX
Manually tracking AR invoices and balances
A lack of visibility into their entire revenue stream
A lack of visibility into their operations in India and Bellevue as well as their over 350 contractors working for 40 different customers
Difficulties logging in remotely
Generating reports manually
Providing accurate financial information to executives
The company needed an ERP for staffing that could handle their needs—and they needed it quickly. According to the company's customer success story, Acumatica's cloud-based platform, various modules that could be leveraged over time, and unlimited user pricing were exactly what they were looking for. The fact that Acumatica could be easily customized to suit Aditi Staffing's operations was the cherry on top.
They partnered with Acumatica Gold Certified Partner PC Bennett to get them up and running, implementing modules as they needed. "As we grow, we need a system that can scale with us like Acumatica can. We like that we can fire up other modules and pay for them as we need them. Other packages don't have that flexibility," the company said.
Now, Aditi Staffing can track employee time, generate reports and invoices in record time (based on accurate data), save even more time in closing a quarter, outsource accounting for their India operations, gain visibility and insight across the company, and more.
Safety Management Group and Acumatica cloud ERP
Safety Management Group (SMG) recommends businesses in the staffing industry research and implement an ERP for service industries right away.
What's the hurry?
The arrival of the COVID-19 pandemic has changed the staffing needs of businesses around the world. Unless deemed essential, most have had to transform onsite employees into a remote workforce. They may or may not have had the technology in place to accommodate this shift.
If they did, then they were in a good place, and if they didn't, they obviously weren't. Luckily, SMG was the former.
CFO Rebecca Ogle says the switch to remote working was seamless with Acumatica's cloud ERP software. "In a day's time, we confirmed everyone had what they needed. They brought their office work home that night and started working from home the next day."
SMG provides safety consulting, training, program planning and implementation for construction, automotive, utilities, healthcare facilities, and more. They also offer short-and-long-term safety staffing services, placing highly qualified site safety professionals on site and administering all compensation, benefits, and taxes.
As with all staffing suppliers, they have industry-specific challenges. Finding talent during a talent shortage (and dealing with dishonest applicants), finding experienced recruiters, struggling with a slow hiring process, handling performance management duties, being subject to talent trends, and having the required reporting capabilities and insights, to name a few.
Before Acumatica, SMG was using seven separate systems to handle these challenges as well as their staffing business management needs. The systems included Sage for GL and payables, BQE Software for time and AR, Concur for expenses, F9 Software for financial reporting, Access database for conversion files, and multiple spreadsheets.
With Acumatica, Rebecca says, "Acumatica now serves as the single source of truth for our business ensuring we are making the right decisions during this time," she says.
SMG implemented Acumatica Financial Management, Acumatica Field Services Edition, and Acumatica Customer Management, which allows SMG to:
Manage projects with greater visibility
Generate reports and look at profitability with the click of a button
Consolidate time and expense reporting
Use the Acumatica mobile app to see detailed, actionable data across all areas of the business from anywhere, at any time
There are even more benefits, which can be found in the company's customer success story.
Unleashing SMB potential with Acumatica cloud ERP
SMBs like Aditi Staffing and SMG are unleashing their potential with Acumatica cloud ERP. Though a limited talent pool and finding experienced recruiters are still concerns, these companies are no longer limited by legacy solutions that were unable to be customized to fit their very specific needs.
If that's what you need, then now is the time to research, select, and implement an ERP for service industries, such as Acumatica. Contact our team today to ask any questions or to set up a demonstration.