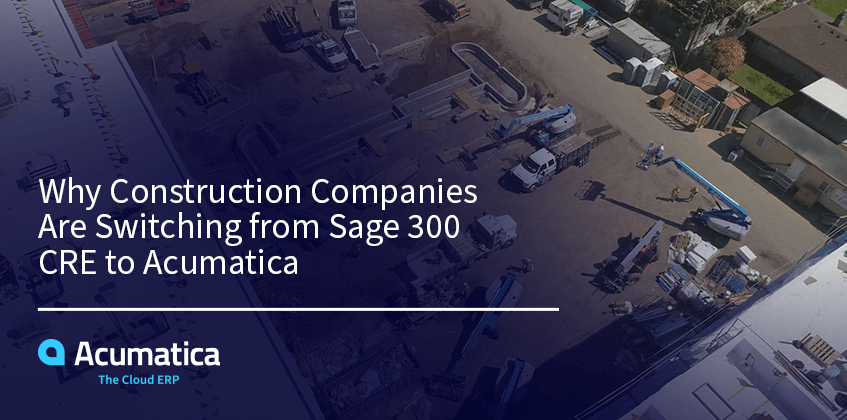 It's challenging to let go of a product or service if you've used it for a long time. There is comfort in familiarity. Unfortunately, familiarity also encourages complacency. Becoming complacent in today's hyper-competitive construction industry does not lead to success. As a construction professional relying on Sage 300 Construction and Real Estate (Sage 300 CRE), a well-known and oft-chosen construction software, it may be time to gauge your complacency levels and reflect on why competitors are switching to Acumatica.
To assist you in this endeavor, Acumatica has a new (and complimentary) eBook, Why Sage 300 CRE Users Look to Acumatica for Agility and Growth. The title provides a huge hint as to why, when construction firms compare Acumatica vs. Sage 300 CRE, Acumatica emerges as the clear choice.
Acumatica vs. Sage 300 CRE: The Switch is On
Let's examine this migration from Sage to Acumatica by looking at two Acumatica customers who happily made the switch.
Carlson-LaVine
Carlson-LaVine is a general contracting company located in Minneapolis, Minnesota. Experts in healthcare, banking, and grocery construction, the business's motto is "Building with Heart." It applies not only to its customers but to its employees as well.
Executive Director Matthew Shamp says in the company's Acumatica customer success story that Carlson-LaVine's success is dependent on their employees' success. Offering them education, tools, advancement opportunities, and competitive salaries are some of the ways Shamp is able to keep his turnover rate low.
"If our employees are well equipped," Matthew says, "we're going to be successful."
Alas, the forward-thinking and employee-nurturing company was running on Sage 300 CRE and had been for almost 25 years. The list of inefficiencies they experienced included creating six reports in Sage and hand typing into an Excel sheet for one report and using multiple servers to store their many files. "We were light-years behind [with Sage 300 CRE]. If we planned to keep on existing—not even an eye for growth—we needed to make a change."
The change came in the form of Acumatica and Acumatica Construction Edition. Between Acumatica's open APIs (allowing for seamless integration with Procore), customer-first mindset, affordability, and its user-friendly, scalable platform, there was no competition.
"With Acumatica, I'm giving employees an ultra-efficient tool they need to do their jobs correctly and allowing them to do things easier," Matthew says. "I'm handing them a smartphone versus a rotary phone. They are more well-equipped to do their jobs, which produces good outcomes for customers and helps us grow our business
Now, the company has modernized workflows and automated processes, which has increased productivity, reduced payroll processing time, and improved communications across the entire organization.
"Acumatica does what it says it will do, which is a huge deal to Sage 300 CRE customers whose product roadmap never came to fruition. If you are future oriented and want to be more streamlined, Acumatica is a great partner to work with," Matthew says.
Texas Scenic Company
Texas Scenic Company (TSC) has been designing, manufacturing, and installing theatrical stage equipment for eight decades. From off-the-shelf to custom solutions and from simple stage hardware to complex motorized rigging systems, the company serves the construction, manufacturing, and retail industries and is committed to meeting and exceeding customer expectations.
In an interview with diginomica's Jon Reed, CFO Ron Fairchild spoke about being one of the early adopters of Acumatica's residential & commercial construction software. He explained that the construction industry is an evolving and very competitive space. "[The] low-dollar guy is the guy that wins. Because of that, you need every competitive edge that you can get."
An IT consultant when he joined the company in 2001, Ron believes technology plays a key role in the competition, but TSC was relying on Timberline Software (now Sage 300 CRE), which required custom integrations and other limitations. "It got to the point to where it was time to either rewrite all of that stuff or see what the alternatives were."
They needed a new construction accounting software that could adapt to their unique business management requirements, and Acumatica (as recommended by Acumatica VAR Clients First), fit the bill. The three reasons TSC chose Acumatica were:
It provided seamless connection between front office, back office, and on-site personnel working on multiple construction projects, and it also offered Acumatica Manufacturing Management, Acumatica Project Accounting, and Acumatica Distribution Edition for their non-construction-related projects.
It acted as a "single source of truth," providing project managers with a centralized system and real-time data.
It integrated seamlessly with critical third-party applications, such as Procore, Smartsheet, Power BI, Tableau, and more.
Acumatica does it all. Ron says, "[Acumatica is] a modern cloud solution that handles our manufacturing, service, distribution, and construction business in one cohesive integrated solution allowing a seamless flow of data."
Is It Time to Migrate to Acumatica Cloud ERP?
According to Acumatica's eBook, Sage 300 CRE customers have reasons to migrate. "The software platform is quite outdated, unintuitive, difficult to learn, and clunky to use.  Younger employees are loathe to engage with it, which impacts recruiting and retention across its customer base. Moreover, Sage 300 CRE users are handicapped by high costs incurred by maintaining, integrating, and upgrading an on-premise system. Additionally, connecting Sage 300 CRE to other applications is fraught with challenges from fragile point-to-point integrations which often break during the upgrade process."
It discusses additional difficulties, such as the system's lack of anytime, anywhere access, and highlights how Acumatica's cloud software provides a future-proof cloud platform that unifies business processes and helps your firm become agile and profitable. And check out this comparison chart, which highlights the differences between Sage 300 CRE and Acumatica features.
Is it time for you to migrate your construction business to Acumatica Cloud ERP? Contact our experts today, and they'll help you make the switch.