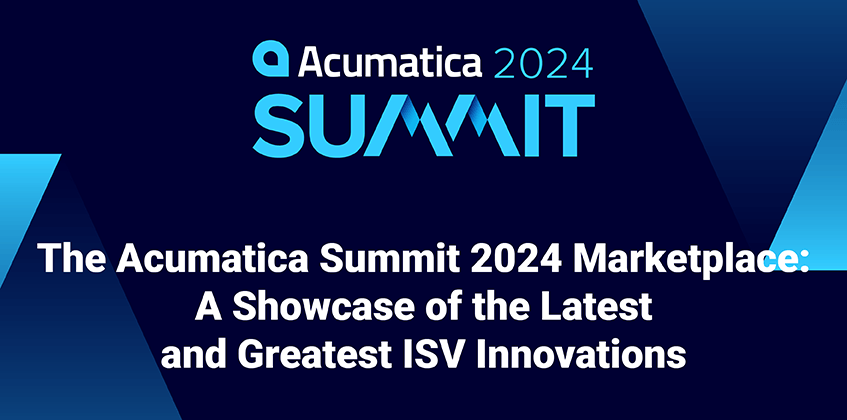 All the planning and preparation for Acumatica Summit 2024 (January 28 – 31, 2024 at the five-star Wynn Las Vegas) will soon come to fruition as opening day draws closer. For Acumatica Community members who have not yet registered, now is the time to secure your spot at Summit, which, as Acumatica's CJ Boguszewski notes  in a recent article, is "the one time and place where attendees can fully engage with each other and expand their technology knowledge via expert keynotes and informative breakout sessions without the daily distractions of the real world."
Summit is predicated on how best we can help our Acumatica Community members gain real-world, practical cloud ERP knowledge in a relatively short period of time. One of the most efficient, informative, and enjoyable ways to do this is through our in-person and extensive Acumatica Marketplace.
Today, we'll explore how the Acumatica Marketplace provides expanded learning and connecting opportunities for every community member, from Independent Software Vendors (ISV) and Value Added Reseller (VAR) partners to existing and prospective customers.
Acumatica Marketplace: Expanded Opportunities for All
Every year, Acumatica Marketplace opens during the Welcome Reception on Sunday at 6 PM PST. Though the Summit Agenda is packed with varying keynote, breakout, and training sessions, Summit attendees have plenty of time throughout the week to visit the Marketplace.
Located in two of Wynn's beautiful, full-sized ballrooms (the Lafite and the Latour), the Acumatica Marketplace is where Acumatica ISV partners—who develop unique third-party applications that extend the functionality of Acumatica's already comprehensive cloud ERP software—can sponsor the event as well as exhibit their integrated solutions. Says multi-year Acumatica Marketplace ISV exhibitor and sponsor Rahul Gedupudi, Co-Founder & Chief Product Officer, Kensium:
Summit is an incredible opportunity to celebrate successes, discover new partnerships, and together, imagine new places we can go. The Acumatica Marketplace gives us an opportunity to showcase our innovative ISV solutions and immediately reach a broad audience of both customers and partners. Kensium has experienced tremendous success over the last decade through our partnership with Acumatica and we are looking forward to seeing that continue as we plan for the future. 
Celebrating successes, discovering new partnerships, and showcasing their innovative solutions are key benefits for ISVs who participate in the Acumatica Marketplace. But Marketplace benefits are not limited to ISVs. Customers—both new and prospective—experience a few of their own.
Acumatica customer Rebecca Ogle, CFO at Safety Management Group, in speaking about Summit, has this to say about her experience in the Marketplace:
As we're all here together, we can reconnect socially, and just see different things that are out there in the Marketplace, different vendors that might create some efficiencies or help us. So that's always nice to be able to walk around and get ideas.
Professional and personal connections are nurtured by the relaxed atmosphere in the Marketplace. In fact, there's no agenda, so attendees can take their time visiting ISV partners, asking questions about their innovative applications, and discovering new functionalities for their unique business needs. Further, the Acumatica Marketplace allows attendees to:
Research ISV products and services in person.
Compare applications at the same time, in the same place.
Meet the Acumatica team behind our award-winning ERP solution.
And Acumatica customers can arrange to tour the Acumatica Marketplace with their Acumatica VAR.
VARs—on whom Acumatica's entire partner model rests—provide our shared customers with superior sales support, consulting services, and technical expertise, which means they leverage their knowledge about a customer's specific business needs and their Acumatica knowledge to help the customer find industry-specific applications that will help them grow on their terms.
For VARs, advising their customers is just the tip of the iceberg when it comes to Acumatica Marketplace benefits. In-person interactions strengthen their customer-partner relationships, enhancing the trust they've already established. Should VARs have a problem they've yet to solve, they're surrounded by peers who are willing to freely share their ideas, knowledge, and experience.
And spending quality time in the Acumatica Marketplace—as it teems with the energy and excitement that can only be created by business-growing, problem-solving, and customer-centric technology—confirms that being an Acumatica channel partner is advantageous to them and their customers.
Acumatica Marketplace: Community Building at Its Best
Networking with other community members, expanding cloud ERP knowledge, and discovering applications that enhance Acumatica's connected, collaborative solution are all benefits of the Acumatica Marketplace, and they work in unison to achieve Acumatica's goal: building the future of business, together. The Acumatica booth is an integral part of community growth at Marketplace. It acts as an opportunity for everyone to engage with the Acumatica experts in their industry.
As we continuously seek to improve our industry-specific cloud ERP software so that small and midsized companies can grow on their own terms and control their future, we recognize that it begins with developing and sustaining a vibrant community of partners, customers, and creators.
"I love the Marketplace to be able to see what different people are doing," says Acumatica customer Christine Ziegler, Director of Finance and Operations, Communication Center. "We've been able to really move our business forward by seeing what products are available and taking advantage of some of those with our VAR. I always walk away knowing that the conference paid for itself."
Join us for a fun week filled with valuable opportunities to network, connect, learn, train, celebrate, and discover. Check out the Summit agenda and contact the event team at support@acumaticaevents.com with any questions. For any questions about our cloud ERP software, contact our team today.
Register for Acumatica Summit 2024