Every year during Acumatica's annual Summit, hundreds of Acumatica ISV partners are invited to grow their business and brand by exhibiting their innovative, third-party applications at the Acumatica Marketplace. It's a tremendous opportunity for them to share their products and expertise with thousands of attendees who are eager to further extend the capabilities of Acumatica's already comprehensive cloud ERP solution.
Due to its popularity, the Acumatica Marketplace has grown every year—so much so that we have been happily forced to expand our exhibit space into two, full-sized ballrooms (the Lafite and the Latour) at the Wynn Las Vegas—making the Acumatica Summit 2023 Marketplace our biggest and best yet.
Acumatica Marketplace: 75,000 Square Feet of Cloud ERP Gold
The Acumatica Marketplace opens Sunday, January 29, 2023, at 6:00 PM PST during our highly anticipated Welcome Reception, and we believe our expected 3000+ attendees will find the Marketplace to be a veritable gold mine of networking opportunities and ISV expertise.
In addition to enjoying the wonderful food and libations served at the reception, customers, partners, developers, and analysts will have several hours to roam the 75,000 square feet of meeting space—equivalent to 1.72 acres and larger than a football field—filled with hundreds of turn-key ISV booths. But there's more. This year, we've added several new and exciting exhibits, including an interactive NASCAR exhibit of the Denny Hamlin Acumatica car and a complimentary headshot booth with the services of a professional make-up artist.
As always, the Acumatica Booth will be located front and center, and team members from every specialty will be available to discuss all things Acumatica, from who we are as a company to how our cloud ERP software can help businesses survive and thrive in today's uncertain economy. Surrounding the Acumatica Booth will be the ISV partner booths, each one strategically placed based on the industry represented, including Retail, Distribution, Manufacturing, Construction, and General Business.
And we would be remiss not to mention that, in addition to our growing Acumatica Marketplace, we're experiencing huge growth in the number of partners wishing to be a part of the flourishing Acumatica community. In 2022, we had the pleasure of adding 53 Acumatica ISVs: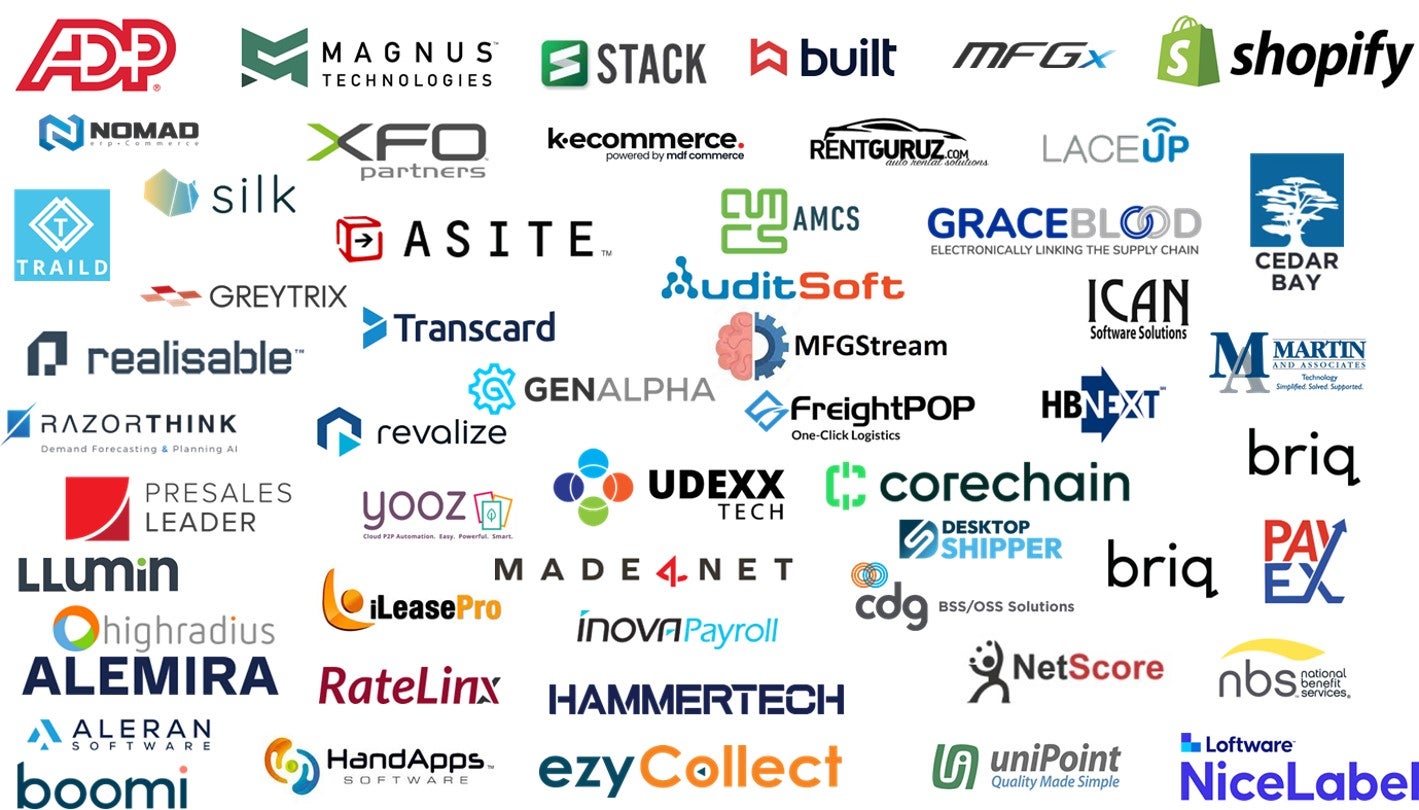 ISVs On the Benefits of the Acumatica Marketplace
The Acumatica Marketplace continues to break records as more and more ISV partners join us to exhibit their unique applications during Summit. A few of our returning ISVs share why they keep coming back.
Rahul Gedupudi, Co-Founder & Chief Product Officer, Kensium:
It is Kensium's 10th year at the Acumatica Summit and even after a decade, we are as excited to be participating and exhibiting as we were in year one. Summit is an incredible opportunity to celebrate successes, discover new partnerships, and together, imagine new places we can go. The Acumatica Marketplace gives us an opportunity to showcase our innovative ISV solutions and immediately reach a broad audience of both customers and partners. Kensium has experienced tremendous success over the last decade through our partnership with Acumatica and we are looking forward to seeing that continue as we plan for the future. We are looking forward to having great conversations around Commerce, Omni Channel, Acumatica, and most importantly – Innovation!
Kris Lengieza, VP, Global Partnerships & Alliances, Procore:
We're excited to continue to grow our existing partnership with Acumatica by participating in their Summit 2023 Annual User Conference. Through bringing together our world-class cloud solutions, we're providing contractors and their accounting teams with improved access to financial data in real-time. Construction professionals using Procore with Acumatica Construction Edition can trust that they have the most accurate and up to date information shared between the jobsite and the back office to deliver their projects on time and within budget."
Frank Hanzlik, VP & GM, Global Partner Development, Avalara:
The complexity of tax has made automation mission-critical for businesses. Our partnership continues to make it simple for businesses to manage their tax compliance obligations within their Acumatica ERP. Avalara is looking forward to returning to and exhibiting at the Acumatica Summit to help solve the growing tax challenges businesses are facing today and tomorrow."
Chris Goheen, President, Workforce Go!:
Workforce Go! is thrilled to return to Acumatica Summit as a Platinum sponsor. Our team of Heroes is ready to leap into action showcasing the power of the unified Workforce Go! HCM Payroll, People and Time solution suite with Acumatica ERP!  As a Fulfilled by Acumatica partner, Acumatica clients benefit from a fully integrated "Better Together" system providing everything needed to create meaningful work experiences for their people while gaining the visibility and analytical reporting needed to drive thoughtful change. With the tremendous support we receive from the Acumatica team, our heroes are ready for the challenge and look forward to being in Vegas for another amazing event!
Liz Anderson, Board Member, acu-connect:
The acu-connect community is once again excited to have a strong presence in the Acumatica Summit Marketplace for 2023. The acu-connect community meets virtually throughout the year to learn, share, and connect about Acumatica, and the Acumatica Marketplace is the culmination of all the ISV members efforts for the year. The event provides acu-connect members in-person opportunities to solidify relationships nurtured with partners, customers, other ISVs, and the Acumatica team. The venue also provides acu-connect ISVs the opportunity to demonstrate to the community their Acumatica subject matter expertise on seamlessly integrated third-party applications that help users and partners grow their business. The energy in the Acumatica Marketplace is truly something to behold and not miss!
Growing Businesses and Community at Acumatica Summit 2023
For the team at Acumatica, Acumatica Summit 2023 is the culmination of a fruitful but challenging year filled with many noteworthy milestones, and it's the start of an exciting new year filled with cloud ERP innovations that will help businesses and our community grow.
"Throughout our time in Las Vegas, the Acumatica team is there to listen and learn—pure and simple," writes CEO John Case in a recent article. "What we hear from our community is the basis for Acumatica's business and product roadmap for the months and years to come. Together, we're building the future of technology—and it all begins with building community."
In fact, building community is why we introduced the Acumatica Community. It's where members can partake in partner forums, learn about new releases (as well as pre-releases, news, and upcoming events), and provide product ideas. With over almost 16,000 members discussing 8,200 topics, it's a great place to be, and we hope our community members will continue these discussions face-to-face during Acumatica Summit 2023 and in the Acumatica Marketplace.
Says Christine Ziegler, Director of Finance and Operations, Communication Center, "I love the Marketplace to be able to see what different people are doing. We've been able to really move our business forward by seeing what products are available and taking advantage of some of those with our VAR. I always walk away knowing that the conference paid for itself."
Acumatica Summit 2023 is only days away, but our event planning team is still available to answer any questions at support@acumaticaevents.com. And our team of experts are on hand to answer questions about—or to schedule a demonstration of—our award-winning cloud ERP software.