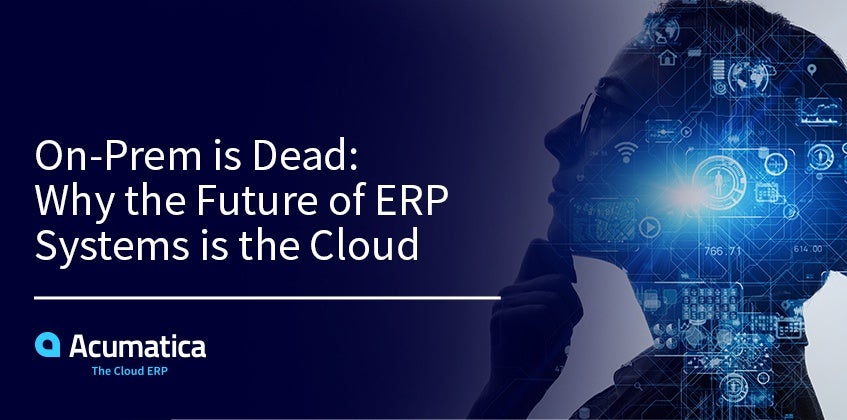 What is the Future of ERP?
Historically, various industries have had to completely reinvent themselves. For example, fax machines, once indispensable for business, are now all but extinct. Streaming services, like Netflix, Disney+, and Hulu, replaced DVDs and Blu-ray discs. Amazon Prime revolutionized the way consumers shop and interact with retailers. These reinventions occurred because of technological advancements. Cloud ERP systems have experienced a similar evolution.
For the past 30 years, legacy and on-premises systems have dominated the enterprise resource planning (ERP) landscape. Unfortunately, the technology on which many of these systems were founded has become obsolete. Because such legacy solutions cannot integrate with new technology, they prevent their users from taking advantage of the latest ERP innovations.
So, what is the future of ERP?
On-Prem is Dead: From Legacy and On-Premises ERP Systems to Cloud ERP Solutions
With the advent of the internet and cloud computing applications, a paradigm shift happened for ERP systems. People became increasingly familiar and comfortable with using mobile applications on their phones, tablets, and laptop browsers. They soon expected, and ultimately demanded, that same ease-of-use and flexibility from their ERP systems.
Users now require workflow engines—or intelligent software—that can proactively determine a process or notify them when an exception occurs. They want configurable, simple-to-use dashboards that take them to relevant information with one click. They demand business intelligence (BI) solutions through which they can analyze their sales and financial data from various perspectives.
In our ever-shrinking world, with its ever-expanding global economy, businesses need international solutions that can manage multiple currencies, legislation systems, and physical requirements. This helps them forge global subsidiaries and partnerships while keeping their users on a single, fully integrated platform. Companies also demand stronger security measures and the ability to tailor their resource planning solutions to their wants and needs.
All this is the new norm in the ERP industry. The platforms on which many legacy and on-premises systems were built and the languages in which they were written simply cannot support these advantages.
The future of ERP is the cloud.
Living in the Cloud
The cloud revolutionized the ERP industry. ERP providers now embrace internet standards and browser-based access. They provide upgrades that are automatic, regular, and consistent—saving users from having to service aging (read: outdated) on-premises systems. And users have access to standardized data from a centralized solution.
With this revolution brought by the cloud and cloud ERP systems, businesses pursuing success in the digital economy should investigate their options. For an example of this, consider LiveView Technologies (LVT).
LVT designs and sells cloud-based, fully self-contained, solar-powered surveillance systems. To do so, it originally relied on QuickBooks and legacy software, giving it no integration with the sales order process, no manufacturing/scheduling functionalities, and no inventory control. As a growing company, LVT had no faith in its business management system.
So, LVT began looking for a cloud-based ERP system and chose Acumatica. Now, LVT has a connected business solution offering in-depth data visibility, paperless purchasing and payables, seamless integration with third-party applications, and access to data anytime, from anywhere. Using legacy technology, LVT needed 15 days to close its financial statements. Now, it needs just five days—without hiring additional accounting staff. LVT also plans to move its administrative team into a new, high-tech office and expand manufacturing processes in its existing locations—two steps forward that it can more easily take because of Acumatica's cloud-based ERP software.
LVT's CFO Andy Gale says: "We are the sole provider of mobile security monitoring systems around the country [US]. Significant organizations want to monitor cell phone towers and other remote equipment, so everything we do is looked at through a lens of how we can scale, and Acumatica fits that bill for us in a ton of ways. Acumatica has easily demonstrated its ability to scale."
How Acumatica Can Help
Acumatica's cloud ERP solution provides all the power of older legacy and on-premises systems, within a user-friendly platform that fulfills modern-day requirements. Unlike our competitors, Acumatica was born in the cloud and is built on the world's best mobile technology. Through it, companies can tailor business processes to their specific needs and take advantage of emerging technologies. They can also easily and seamlessly integrate with critical third-party applications.
Acumatica's cloud ERP incorporates artificial intelligence and machine learning in its core offering, providing businesses with real-time data and insights for a complete end-to-end view of the business process that goes beyond accounting. Additionally, Acumatica operates as a customer-first company, supported by our Customer Bill of Rights.
Says Acumatica CEO Jon Roskill: "We believe in protecting customers against unscrupulous business practices and are dedicated to keeping our customers' needs and wants at the forefront of our product roadmap. Their satisfaction combined with our focus on innovation is vital to our continued reign as the fastest growing cloud ERP solution on the market."
Since the cloud has become a firmly fixed feature of the business world, companies must evolve as well, moving from legacy and on-premises solutions to cloud-based ERP software.
Contact our team today to get started.