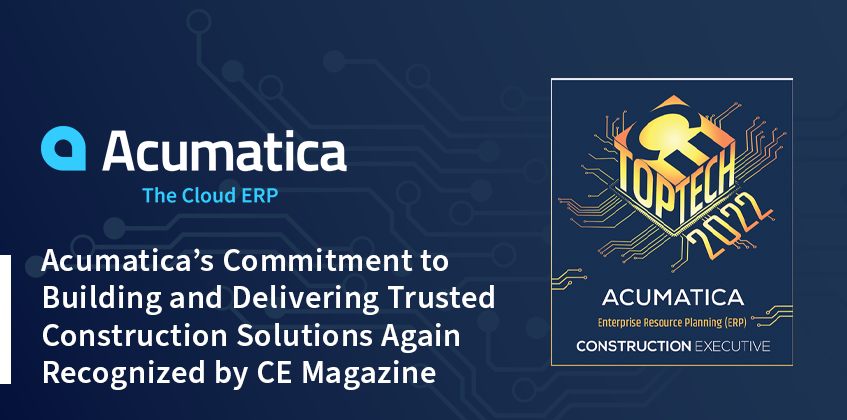 When Acumatica was included in Construction Executive's (CE) inaugural list of The Top Construction Technology Firms™ for 2021,  we saw this as a strong validation of our efforts to deliver transformative technology through cloud-based  construction management solution and accounting software.
Repeating this honor in 2022 in the industry's leading trade magazine confirms that we are truly addressing the needs of today's construction firm.
Making the Top Construction Technology List
CE compiles The Top Construction Technology Firms list by closely scrutinizing data from hundreds of construction technology and software vendors. To participate, a company must provide information about its product offerings, define a user profile for each product, explain how its products are sold/licensed, and list how many active users (companies or individuals) it has had over the past 12 months.
Not every business makes the selective list. The firms that do are assigned to a primary product category, such as Enterprise Resource Planning (ERP), but they may also be included in secondary categories, such as Payroll and Scheduling.
To remain viable and competitive in today's evolving marketplace, construction companies must implement modern, multifaceted technologies tailored to their industry. And many options are at their disposal. In an article for CE, Cybele Tamulonis notes:
Construction companies no longer lag other industries in the use of technology—at least, those firms that are making the required investments to improve the bottom line. Key players in technology will continue to innovate, leveraging data from connected back offices and web-connected field workers, to create the applications that will make the business of construction more predictable and more profitable in the future.
Tamulonis correctly points out the significant downsides of foregoing cloud-based construction technology. Continued reliance on manual processes, and outdated, stand-alone solutions, delays or even prevents information sharing and hinders collaboration. Construction firms must embrace cloud technology before it's too late—before they begin to lag behind.
Cloud technology, Tamulonis says, "has provided the bridge from yesterday's anachronistic and often redundant workflows to today's hard-won reality of how things get done efficiently and effectively. With an army of remote employees and field workers using an arsenal of smart devices connected to real-time project data, the industry is poised for a true technological revolution."
Usher in the Technological Revolution with Acumatica
Acumatica's award-winning cloud ERP solution was built, from the ground up, on innovative mobile technology that provides both broad and micro-vertical capabilities. Acumatica Construction Edition meets the front office, back office, and job site needs of residential and commercial construction professionals, supplying them with a "single source of truth" that is accessible anytime, anywhere, on any browser-enabled device.
From job costing, budgets, and commitments to change management, compliance, and billing, construction firms can use Acumatica as their sole construction management solution and produce profitable, customer-centric results. But don't just take my word for it. Here's what Acumatica customer Scott Lyons, Chief Financial Officer at Alpha Insulation & Waterproofing Inc., has to say about the solution: "In my opinion, there isn't a better product out there for a specialty construction subcontractor than Acumatica's Construction Edition."
Alpha—a company with three decades of experience in commercial insulation, waterproofing, fireproofing, and fire stopping—ran on a multi-tenant legacy software system that crashed often and was not SOX compliant. After exhaustively evaluating the company's needs, Lyons teamed up with Cassandra Moore, Alpha's Director of Accounting, to research ERP options. They narrowed the list down to Acumatica and chose Acumatica Construction Edition.
Says Lyons: "Acumatica had the most robust product roadmap, the most thorough understanding of the construction industry, and the best overall user experience."
The benefits Alpha has enjoyed after implementing Acumatica's cloud construction management solution and accounting software include:
Complete visibility into every aspect of the growing business.
Real-time access to accurate, updated data.
Automated WIP calculations.
Customizable reports.
Unlimited user licensing, which means the company pays for the resources it actually uses and can add employees without the penalty of headcount fees.
"The fact that Acumatica can update job costing with weighted cost average is phenomenal," Lyons says. "The fact[s] that…it communicates with inventory and feeds into job costing, and that it can sum up jobs to a WIP schedule regularly… [make it] one of the best platforms out there."
The Future with Acumatica
Acumatica is committed to being at the forefront of innovation. Our resolve is strengthened by satisfied customers, like Lyons, and prestigious recognitions, like our position in CE's lists of The Top Construction Technology Firms for 2021 and 2022. We are dedicated to producing best-in-class, continuously updated technology for the construction industry, and a good example of this can be found in our latest software release, Acumatica 2022 R2.
After implementing Acumatica 2022 R2, contractors and other construction industry organizations will be able to:
Streamline change orders for multiple construction projects with:

Unit rate changes.
Custom retainage.
Cost-only change requests.

Schedule service technicians according to their skills.
Use scanned receipt image recognition in the Acumatica mobile app.
And more.
To learn all about how Acumatica's cloud ERP software can help construction firms confidently face the future, contact our experts with any questions or to schedule a demonstration.