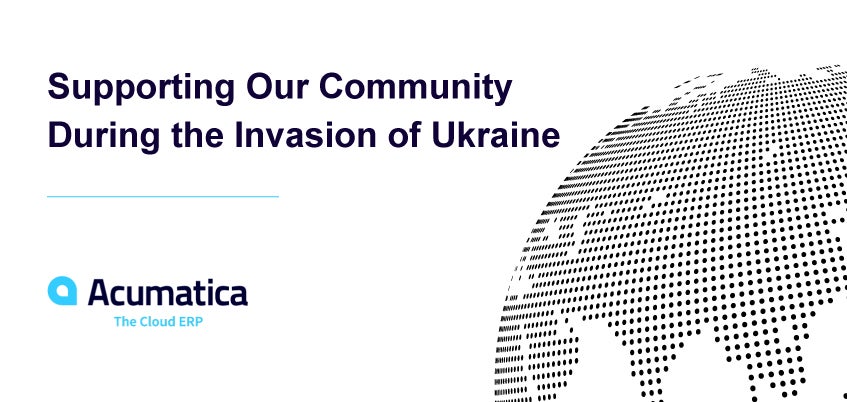 The conflict is alarming. We have team members throughout the world, including Ukraine and Russia, whom we know and love. We are committed to supporting our team members and their individual needs during this conflict and recognize that the Ukraine invasion is the act of an autocrat, not a people, and has been universally condemned.
Acumatica has been preparing for this potential escalation, and the anticipated Western reaction, for some time. This blog outlines what we're doing to support our team members, how we're prioritizing business continuity for partners and customers, and how we're contributing to humanitarian relief efforts.
Supporting the Acumatica Community and Mitigating Cyber Issues
Acumatica is a U.S. corporation with its global headquarters located in Kirkland, Wash., and offices in Ohio and Virginia.  In 2019 we were acquired by EQT Partners, a global private equity firm based in Stockholm, Sweden. We have development centers in Canada, Europe and Asia.
We are in close contact with team members in the affected areas and doing all we can to support them and ensure their safety. Based on how the situation evolves, Acumatica leaders will take any and all necessary actions to support them.
Our 8,000+ customers are running our software worldwide in 50+ countries. Our network of global 350+ resellers and 200+ Independent Software Vendors offer specialized and reliable technical service to customers, ensuring their business operations run smoothly. We do not have customers or partners in either Russia or Ukraine.  All Acumatica SaaS customers are running in Acumatica Cloud datacenters on Amazon Web Services, with multi-zone redundancy, so there is no impact to customers' ability to securely access the platform.
Acumatica's cloud-based technology provides 24/7 mobile access, allowing users to manage their business without disruption from any location with an internet connection. We also ensure customers can access round-the-clock support from Acumatica team members.
Aiding in Relief Efforts
Acumatica has made donations to two separate organizations to assist in the humanitarian crisis – International Rescue Committee (IRC) and World Central Kitchen (wck.org). IRC is providing critical aid to displaced families with an institutional focus on women and girls. WCK is providing food assistance to Ukrainian families in country as well as those fleeing their homes. We will be looking for additional ways to provide assistance to those in need as the crisis evolves.
The UN estimates that more than 500,000 Ukrainians have fled since the invasion began, with that number expected to rise dramatically. We hope that our donations to these organizations will aid in providing relief to individuals and families.
We applaud the Ukrainian people for the bravery they have demonstrated during the unlawful and unjustified invasion of their country. We take this conflict seriously, including violence and cyber-attacks, and will continue to do all we can to support the Acumatica community and affected people throughout the world.