Selecting ERP system software is an important decision that takes time and research. Once you've made a selection, the ERP implementation process can be intimidating, but it doesn't have to be. We're here to help.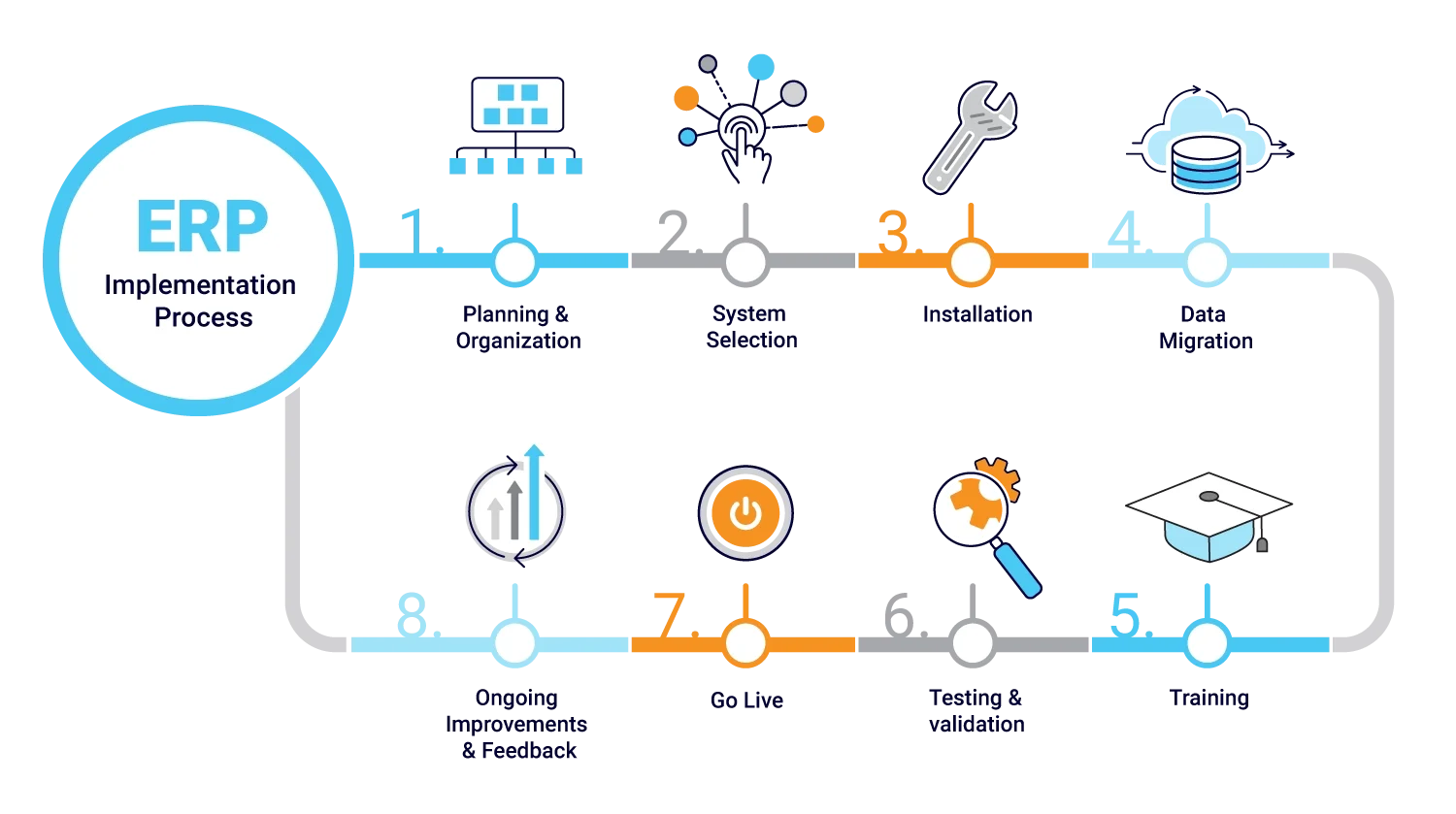 In this article:
What is an ERP solution?
An ERP solution is a central data repository that connects every department in an organization and allows all the company's information to be accessed—anytime, anywhere. Modern ERP solutions are also powerful, intelligent platforms that can automate manual tasks, consolidate all inventory, product, manufacturing, distribution, and project-related information, and set businesses up for success in the digital economy. But, before you can enjoy this "single source of truth," your business must complete the ERP implementation process.

What is ERP Implementation?
An ERP implementation is the process of installing your chosen ERP software, moving your business data over to the new system, configuring your user information and customized processes, and training your employees to use the software. That may sound like a lot, but these components of an ERP implementation don't happen all at once. They're accomplished in a logically progressing way, across the ERP implementation life cycle.
What is the ERP Implementation process?
As with any large project, you must take an ERP implementation one step at a time. Though the implementation of an ERP system looks slightly different for each company, every ERP implementation life cycle is made up of eight standard stages—all of which are critical to the project's success. The timeframe for completing these stages also differs from company to company and will depend on your personal decisions about how quickly you want to move forward. For perspective, though, most ERP implementations are completed, from planning to having a fully operational system, in six months to one year.
Below, we'll discuss in detail the phases of the ERP implementation life cycle. Each step should be fully completed before moving on to the next. This ensures that all parts of the process are built on firm foundations.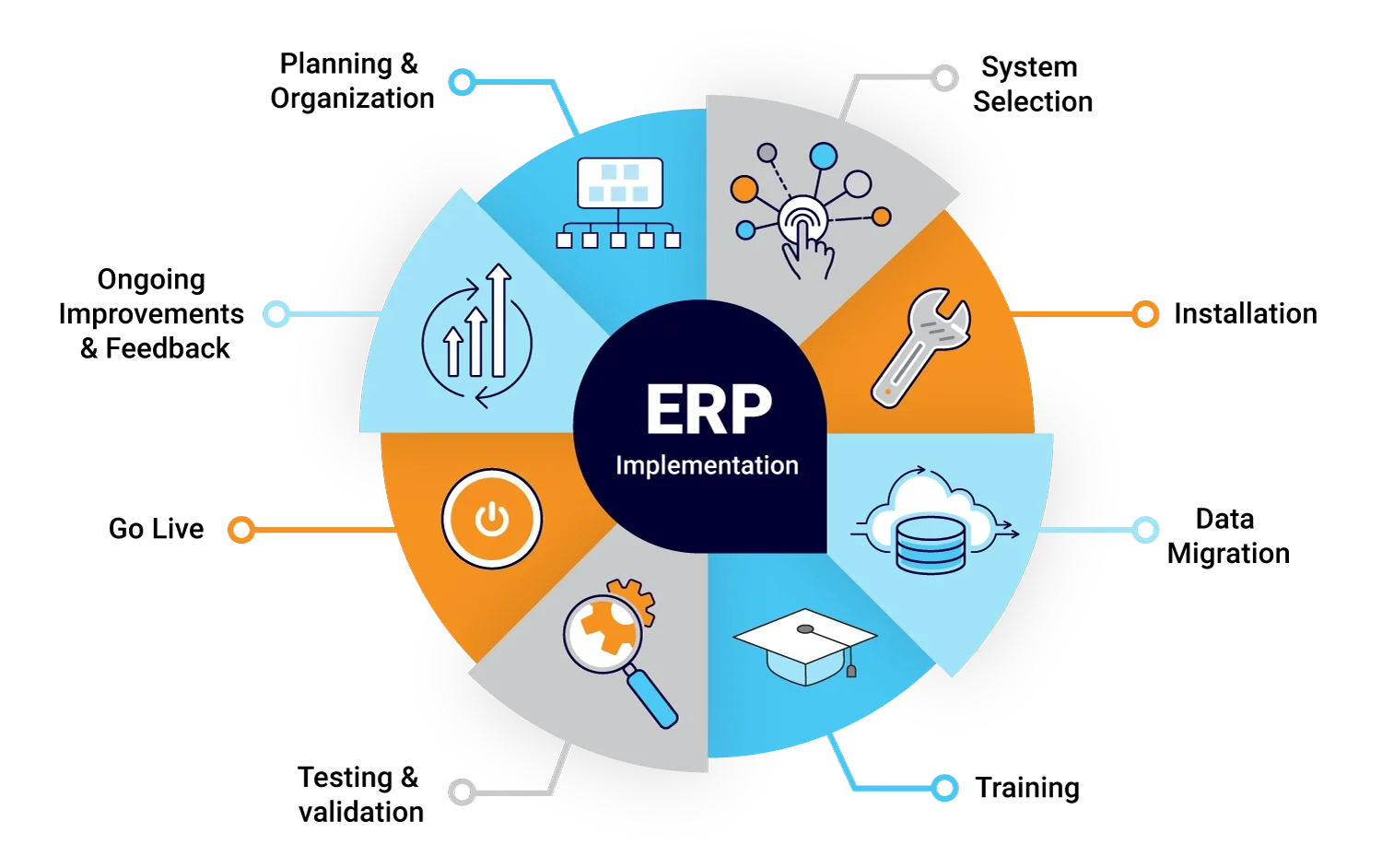 Step 1: Planning and Organization
This step, which begins before you've even chosen the ERP system that best fits your business requirements, has several sub-steps. You'll be:
Getting leadership and IT buy-in for the project. Support from your executive team and IT department is critical because the rest of the organization looks to them for leadership and security, respectively. Here are some important steps to attaining leadership support:

Explain why a modern cloud ERP solution is important: Most executives today are fully aware of the need for a digital transformation strategy. To remain competitive in the marketplace, businesses must automate important business management processes to increase efficiency, scalability, and profitability. Your must clearly communicate what a modern ERP system can do: put every department on the same page with a "single source of truth," provide real-time data for better decision making, add in-depth analysis capabilities, offer mobility for connection anytime and anywhere, and allow for seamless integration with necessary third-party applications.
Highlight the ROI: Justifying a large expenditure requires estimating the cost of the investment, from licensing and implementing it to training users and maintaining the system. The total cost is then weighed against the benefits of a new system. The benefits of cloud ERP systems generally include reduced operating expenses, improved customer satisfaction with faster response times, increased data analysis for better decision making, and ensuring employee efficiency through more comprehensive and intuitive workflows—all of which combine to affect your Return on Investment over time.
Keep the leadership team in the loop: This is where the champion comes into play and will be, as mentioned earlier, someone from the leadership team who can to meet with the whole org regularly throughout the ERP implementation to keep everyone informed. They'll not only be prepared for the process, they'll also have a say in it. In addition, they won't be surprised when challenges come up and they can help resolve any problems.

Once there is support from leadership and the process of implementation starts developing, it is important to have the whole company involved in the process. Here is what you can do:

Communicate the plan to implement a modern cloud ERP right away  –  The benefits of a cloud-based ERP may be unclear to your employees who have been making do with your legacy system for years. They may feel this change is unnecessary, disruptive to their way of doing things, and even slightly offensive—perceiving that their efforts haven't been up to par. The best time to address their concerns (and possible feelings of resentment) is before the ERP implementation occurs—maybe even during the ERP software selection process itself. Giving employees a heads up that a new business management system is in the works will give them time to digest the news, ask questions, and adjust to change. The bonus benefit of communicating this information early is that employees can share their thoughts on the features they'd like to see and use in a new cloud ERP solution. Their feedback is invaluable; you'll have a clear picture of what things will help make their jobs more streamlined and easier, thus encouraging support for the implementation.
Communicate the features and benefits clearly  –  Communicating the features and the resulting benefits before (and during) the ERP implementation will help grease the wheels, so to speak. Cloud ERP systems are designed to be learned intuitively, and the benefits include increased efficiency, scalability, and profitability. These benefits provide job security and new opportunities as the business expands.
Communicate leadership support  –  Attaining organizational buy-in without push back is always the goal and providing advance notice of the system change and outlining the benefits will help. Even so, resistance can occur. Reinforcing the fact that the executive team fully supports this major investment can facilitate faster acquiescence. Knowing that the entire organization—from the top down—will be using the same system can instill confidence, patience, and acceptance regarding the ERP implementation.

Assembling your ERP implementation team. These employees should be drawn from different departments, and each will be given a specific role on the implementation team. (More on this later.)
Choosing your deployment option (cloud-based SaaS, private-cloud based, or hybrid).
Having done your homework, garnered the necessary support, used feedback from the whole organization to choose the right cloud ERP software, and established a cross-functional project team, you're well on your way to a successful ERP implementation. But there are still some pitfalls you need to watch out for.
Time: No matter how well you plan and coordinate, your ERP implementation can take longer than you think. Set up a timeline that includes a buffer zone. There are many moving pieces and a lot of people involved, and, inevitably, questions and challenges will arise. You will need to be prepared to continue your daily operations while finding answers. Planning for pitfalls from the start—even if it takes longer—will benefit you in the long run.
Pushback: No matter how well you communicate the benefits of a new system, some people will prefer sticking with the tried and true. Keep employees updated on how the implementation is going, remind them of the pain points that will be resolved and the time that will be saved, and ask for their input throughout the process.
Step 2: ERP System Selection
Defining Requirements
Defining cloud ERP requirements involves documenting current business processes and functional gaps in your current system. You and your team will need to determine which business processes you can improve and how you want our new Acumatica ERP system to function.
There are four general areas within which your cloud ERP requirements fall:
Essential: Features or functions that are essential for the company to be able to operate.
Desirable: These functions would enhance the usefulness of the new system, if possible.
Not an immediate need: Functions that are not required at this time but will be necessary soon, depending on the company's growth and advances in technology.
Nice to have: Non-essential functions that would make work easier.
You and your team will then create a list, starting with essential functionality and ending with additional functionalities that are affordable and fit your timeline. By the time you're done, you should have a list of features and functions you expect to have when the project is completed.
System Selection
Now that you have established your cloud ERP requirements, it's time to select the cloud ERP system that best fits your unique needs. It's a critical decision with which your implementation team can help, and the decision-making process begins with determining a few important details, including what pain points exist within your business and in your tech stack, how much you want to spend, and how you want to host the ERP solution (e.g., on-premises or in the cloud).
From there, you'll need to begin researching your many ERP options by evaluating them based on their scalability, usability, functionality, and security features; scheduling demonstrations; asking ERP vendors about their tech and user support; seeking advice from ERP partners; and reading analyst reviews. This vital information will help you narrow your ERP selection down to the ERP system that ticks all of your specific boxes
Step 3: Installation
What happens in this step will depend on the ERP deployment option you chose during Step 1. If you chose to deploy your new ERP solution as a SaaS instance, you will have no software installation requirements and little to no installation lead time. If you chose a private-cloud or hybrid model, there will be a window of days to weeks during which hardware and software will be delivered to your premises, and the software itself, as well as any necessary infrastructure components, will be installed.
Step 4: Data Migration
Once your chosen ERP system has been installed, company data must be filtered (to remove any incorrect or redundant data) and then entered and/or moved into the new solution's database. This includes "basic records" like customer, vendor, and item master files; bills of materials; production facilities and routing information; general ledger charts of accounts; and so on. Just before Go Live, active transactional data will be converted and/or transactional activity will be moved into the new software.
Note: This is the only step that may bleed over into the next stages. Some data migration may be completed in parallel with training, testing, and validation—e.g., testing the system to verify that all legacy data has been moved and is accessible, etc.
Step 5: Training
Employees you designate as Subject Matter Experts (members of the IT team, the finance team, etc.) should receive specialized training during this part of the ERP implementation process, so they can teach others to use the ERP software and be the "go-to" people for questions after Go Live. All other users should be taught how to perform their own roles within the new system, too.
Step 6: Testing and Validation
This step involves creating and applying a detailed testing plan, which will measure user acceptance and help you determine if the ERP system fits your needs out of the box or if modifications should be made. You should also employ your IT resources here, validating whether the new software is working as expected and making sure that all company data (migrated into the system in Step 4) is complete and as accurate as it was in your previous software.
Step 7: Go Live
When you are ready to roll out the ERP implementation across your company, it's time to choose which approach best suits your context. There are three main options.
Step 8: Ongoing Improvements and Feedback
The ERP implementation process doesn't end at Go Live. From there, as your employees use the software and as your business evolves, you'll gather user feedback and make ongoing improvements and adjustments to the system. This is why it is very important to choose an ERP solution that can scale with you, according to your fluctuating needs.
ERP Implementation Best Practices
Deciding to upgrade your existing ERP software or to implement a new ERP system is a major undertaking, but it can be successful if you follow best practices. Here are some of the most important best practices to keep in mind:
Develop a project management plan – ERP implementation processes should concentrate on project management as the key to success. Project management is all about comparing the progress made against the original plan and thereby updating the plan.
Build a strong project team – the implementation team's role is to guide the project from beginning to end. As such, the ERP implementation team you put together should consist of people, drawn from across the organization, who will be most affected by the new technology: the users. The people who will gain the most from the transition will be the most motivated to make sure the project succeeds. During the implementation process, they will be anticipating the results that the new system will provide, and they'll want to get the benefits of those results as quickly as possible.
Establish clear requirements and KPIs – to evaluate the success of your implementation, you'll need to establish key performance indicators (KPIs). They must be clear, measurable, and impactful. Are you hoping to lower operating costs, improve productivity, reduce inventory levels, fix errors, centralize data in a single source of truth, or make faster decisions? If the answer is some of the above, all of the above, or all of the above plus additional KPIs, then outline these points for your project team and the organization. Then, you—and they—will be able to gauge the implementation's success based on real metrics.
Collaborate and communicate – as mentioned in Step 1, communication is essential for the success of any ERP implementation project. You need to communicate with all stakeholders throughout the process, including employees, customers, and suppliers. This will help to ensure that everyone is on the same page and that the implementation process goes smoothly.
Be flexible – things don't always go according to plan, so it's important to be flexible during the ERP implementation process. Be prepared to make changes as needed to ensure that the project stays on track.
Choose an ERP system that is flexible and scalable – this will ensure that the system can meet the needs of your business as it grows and changes.
Monitor the performance of the ERP system after implementation – this will help you to identify any problems and make necessary adjustments.
The risks of not implementing an ERP solution
Today's digital economy poses many risks for companies that do not implement ERP solutions. Some of these are: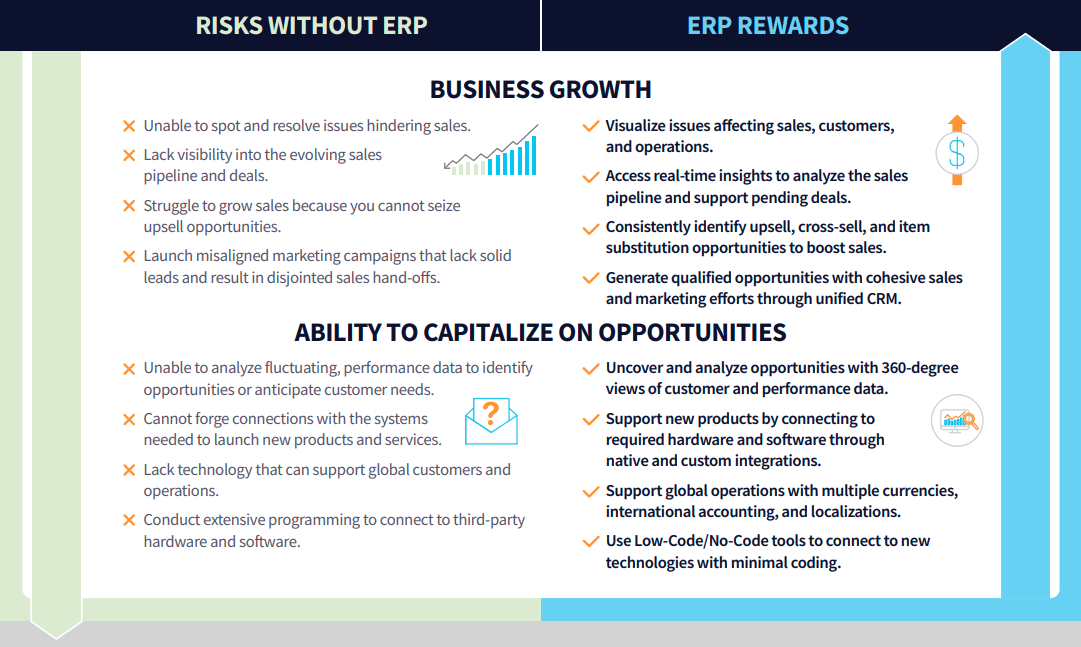 Disconnected, disjointed data—meaning that your business can't operate cohesively because no one has the same information.
Frustrated employees, whose productivity is hindered by that piecemeal data.
Difficult business growth/change due to expensive hardware/software purchases that just continue to stack up over time.
An inflexible interface that cannot connect your front-office, back-office, field, and remote employees.
Inefficiency and decreased profitability.
Security/compliance issues and extended downtime.
An overall inability to flex with the times.
However, an ERP system can alleviate all of these concerns. You can expect:
Streamlined operations.
Easy-to-use functionality.
A real-time view of your business anytime and anywhere on any device.
A secure platform that can easily adapt to your company's ever-changing needs.
ERP implementation FAQs
How long does ERP implementation typically take? Most ERP implementations are completed, from planning to having a fully operational system, in six months to one year. Completion times can vary depending on the ERP solution and vendor.
How much does ERP implementation cost? Varying factors play a role in the cost of an ERP solution. These factors include whether you will be hosting your ERP solution on-premises (which requires an upfront investment into hardware, software licensing fees, hardware/software maintenance, IT staff, storage, and utilities) or in the cloud (which doesn't require hardware, software, storage, or IT investments); how the ERP vendor charges (per user or for the resources used); downtime and training fees (if they apply); and the potential purchasing of additional applications in the future.
What kind of training and support should be provided to employees during ERP implementation? Complete training and support should be provided by the ERP vendor and/or ERP partner. Each person who will be using the system should receive hands-on training as well as online and partner support after go-live. Depending on the ERP solution you choose, training may or may not be included in the initial cost and is an important consideration before signing an ERP contract.
How do I measure the ROI of ERP implementation? The ROI is the comparing of the total cost of ownership (TCO) to the direct and indirect benefits you expect to receive over a five-to-10-year period. Some ROI savings include increased revenue, reduced overall operating expenses, improved production efficiency, and better cash flow. When taken together, the cost and the ROI will provide you with a clear picture of the economic impact of the ERP solution you're researching.
What are the post-implementation maintenance and support requirements? Going live with your new ERP solution is a thrilling milestone, and you may assume that your ERP implementation journey is over—but it's not. Ensuring that your ERP solution is operating optimally requires ongoing support, including reviewing the current setup, possibly adding additional features not required for the initial go-live, and accommodating changes to business processes once the system is being used. Additionally, your ERP software should receive improvements and enhancements on a regular basis. If you've opted for an on-premises ERP solution, your IT team will be responsible for the upgrades (as well as for maintenance and security requirements), but if you're running on a cloud ERP solution, the ERP vendor will handle the upgrades and your security needs.
How often should an ERP system be upgraded or updated? Most ERP systems have a life span of five-to-ten years, but this can vary depending on the ERP system you choose. If you select a system that rests on a modern platform that can be easily customized, seamlessly integrates with third-party applications, and receives regular enhancements based on ever-evolving requirements and customer feedback, then you can confidently rely on your system for years to come.
Conclusion
An ERP implementation is a time-intensive, expensive process. Before embarking on an ERP implementation journey, you must be prepared for the challenges that await but recognize that the many benefits the right ERP solution delivers, including increased efficiency, happier employees, and more satisfied customers, makes it all worth it. Now is the time to review the stages of ERP implementation, find the perfect ERP solution for you, and take the first step to ERP implementation success.
An ERP solution connects businesses end-to-end, helping them automate manuals tasks, consolidate all inventory, product, manufacturing, distribution, and project-related information, and find success in the digital economy. To enjoy these benefits, businesses must complete the ERP implementation process.
The ERP implementation process involves multiple steps, starting with choosing your deployment option to the go-live. The ERP vendor you choose should walk you through each step and continue supporting you after the ERP implementation is complete.
Ultimately, you and your team will need to carefully research your ERP solution options, make an informed ERP decision, and fully commit to the ERP implementation. And when you do these things, you'll find that the benefits of undergoing an ERP implementation far outweigh the challenges.
"Most people told us it would take about nine months to go live from when you start the process. It was amazing. Within five months we were live. [Acumatica] has a great platform and a great system that helped us go so fast." – Sendy Stern, Chief Technology Officer, Fabuwood
View ERP Implementation Success Stories