At Acumatica, we know that selecting ERP system software is an important decision that takes time and research. Once you've made a selection, the ERP implementation process can be intimidating, but it doesn't have to be. We're here to help.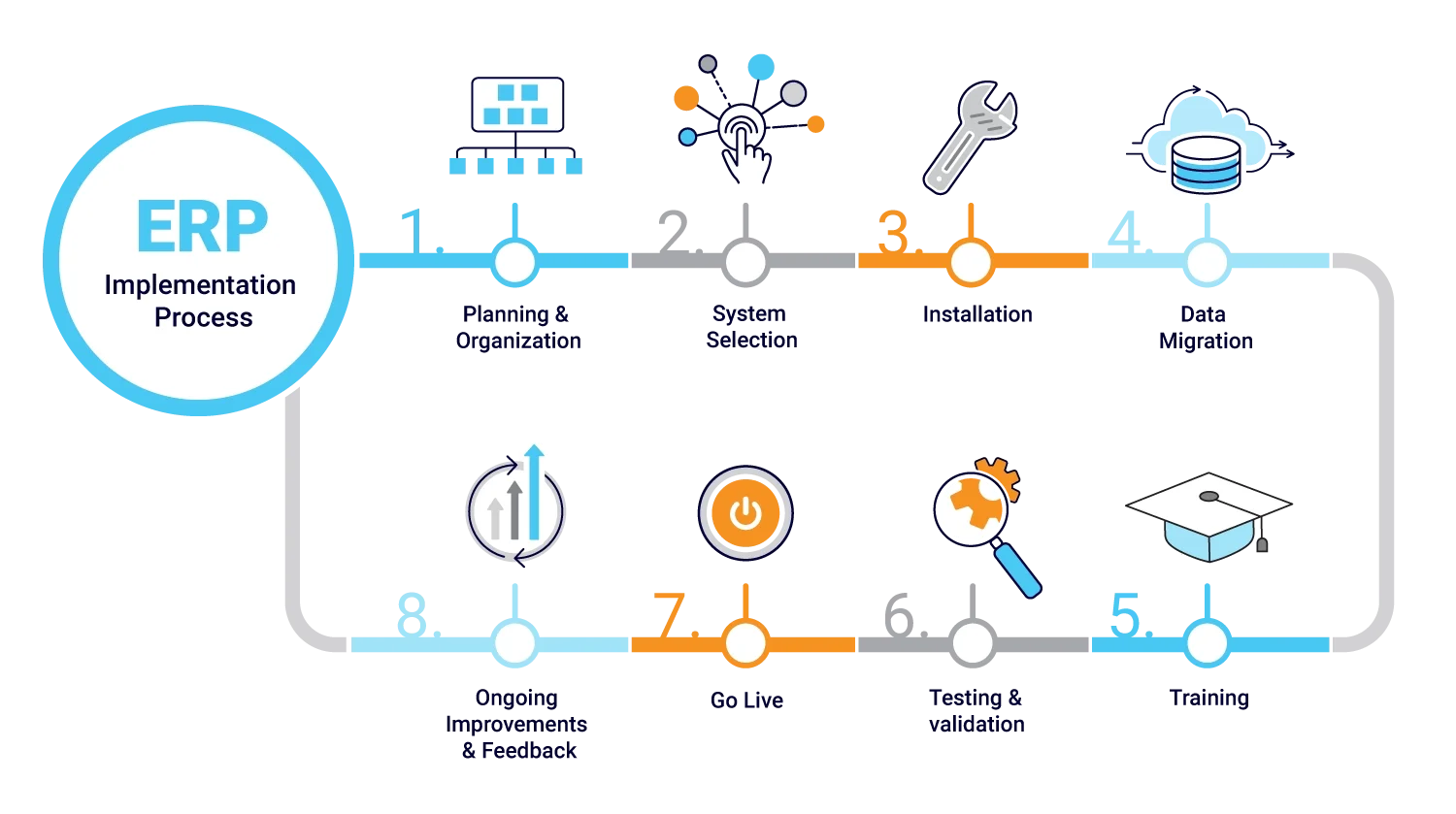 In this article:
What is ERP Implementation?
What type of implementation project is it?
Dual Layers of Support
What are the support stages of an ERP implementation?
ERP implementations pave the way to continued success
How can Acumatica help?
What is ERP Implementation?
ERP implementation is the eight-step process of "installing your chosen ERP software, moving your business data over to the new system, configuring your user information and customized processes, and training your employees to use the software." And the second stage of any ERP implementation is "System Selection." During System Selection, you and your team will take several critical planning steps, one of which will be determining the project type. The project type will, in turn, determine what your ERP implementation process will look like—because each project differs greatly from the next.
What type of implementation project is it?
A cloud ERP implementation process can be categorized as one of three types.
Express: The ERP software is functional out-of-the-box (OOB). The customer is a single entity without complex processes, and no add-on solutions are required.
Standard: These ERP implementations are for single or multiple entities that:

Use one currency and language.
Require minimal customizations and add-ons.

Advanced: These ERP implementations are for single or multiple entities with multiple locations, currencies, and languages. Their business processes and integrations range from moderate to complex. A complex rollout is involved with multiple phases (e.g., template rollouts, pilot rollouts).
If you have chosen Acumatica Cloud ERP, you will be paired with a Value-Added Reseller (VAR) partner that is an expert in your industry and is geographically local to your business. Your partner will be responsible for recognizing the ERP implementation type you need and will guide you through each step of the process.
Dual Layers of Support
We know that ERP implementation projects are very dynamic and unique to each business. The guidance that worked for one project may not work for the next. That's where Acumatica's dual layers of support come into play.
Acumatica has gathered the best network of VAR partners in the ERP industry, and we support these partners in delivering their best service to you. So, throughout your implementation project, you will, of course, have access to support from your VAR partner. But both you and your partner will have access to dedicated support from Acumatica. If issues or challenges arise, the Acumatica support team will always take your call, treat your pain as their pain, and stay with you until the problem is fixed.
But that does lead to another question. How do we and our VARs support customers across each stage of the ERP implementation life cycle?
We actually have our own eight stages, which run parallel to yours.
What are the support stages of an ERP implementation?
We mean it when we say that Acumatica and its VAR partners are here to help you implement and use your new cloud ERP software to your best advantage. Our commitment to this is one of the reasons why we've been ranked No. 1 in Customer Satisfaction. To accomplish this level of support, we and our partners adhere to the following eight steps.
Discover: We'll help you define your needs, your vision, and the scope of the project. At this point, we'll also make sure that you are comfortable and ready to proceed with the rest of the ERP implementation process.
Plan and Monitor: We'll develop a strategy for helping you complete the ERP project successfully. From this stage and throughout the rest of the implementation, we'll also measure progress and take corrective action if needed to keep steering you forward to success.
Analyze: This is very like our Discover stage, but it takes place on a more detailed level. We'll gather more information about your requirements for the ERP system and deeply analyze your business needs to help you personalize the software to your greatest advantage.
Build: This is the continuation of the Plan and Monitor step. Here, we'll carry out each of the tasks in the strategy we made for completing the ERP project.
Stabilize: At this point, we make sure that the ERP solution meets your needs and is ready for Go Live. We'll also talk to you about how you'd like to proceed with Go Live—in a Big Bang, Phased, or Parallel
Go Live: We'll deploy the ERP solution, following the approach you've chosen.
Post Go Live: We'll keep providing support for technical questions, add-on features, customizations, updates, maintenance, security, and more for as long as you use the Acumatica system.
ERP implementations pave the way to continued success
As your company grows and changes; as markets evolve; as people come, go, and grow; and as technology offers new challenges and opportunities, your ERP system and how you use it will change. This is the definition of digital transformation. It's an ongoing journey that transforms businesses—over and over again. ERP implementation is a necessary first step toward maintaining a competitive edge and building success in the digital economy.
For a good example of this, consider Power Storage Solutions, a company that offers, installs, and services DC-power backup systems. Power Storage Solutions implemented the Acumatica Financial Management, Acumatica Customer Relationship Management, and Acumatica Intercompany Accounting modules, going live and transforming their business in just 60 days.
Co-owner of the company, Derrick Elledge, says: "In 60 days, we went from nothing in Acumatica to launching a $24 million company with 20,000 parts [and] 5,000 customers. [We had] sales orders, projects, inventory, payables, receivables, and [we went] live Dec. 1. It's astronomical when you look at what we did and how Acumatica's cloud ERP system supports us."
How can Acumatica help?
If you're ready to implement a modern, scalable, and innovative cloud-based ERP solution, backed up by dual levels of support designed to truly help you succeed, then look no further than Acumatica. Contact our team today with any questions or to request a demonstration.