At Acumatica, we know that selecting ERP system software is an important decision that takes time and research. Once you've made a selection, the ERP implementation process can be intimidating, but it doesn't have to be. We're here to help.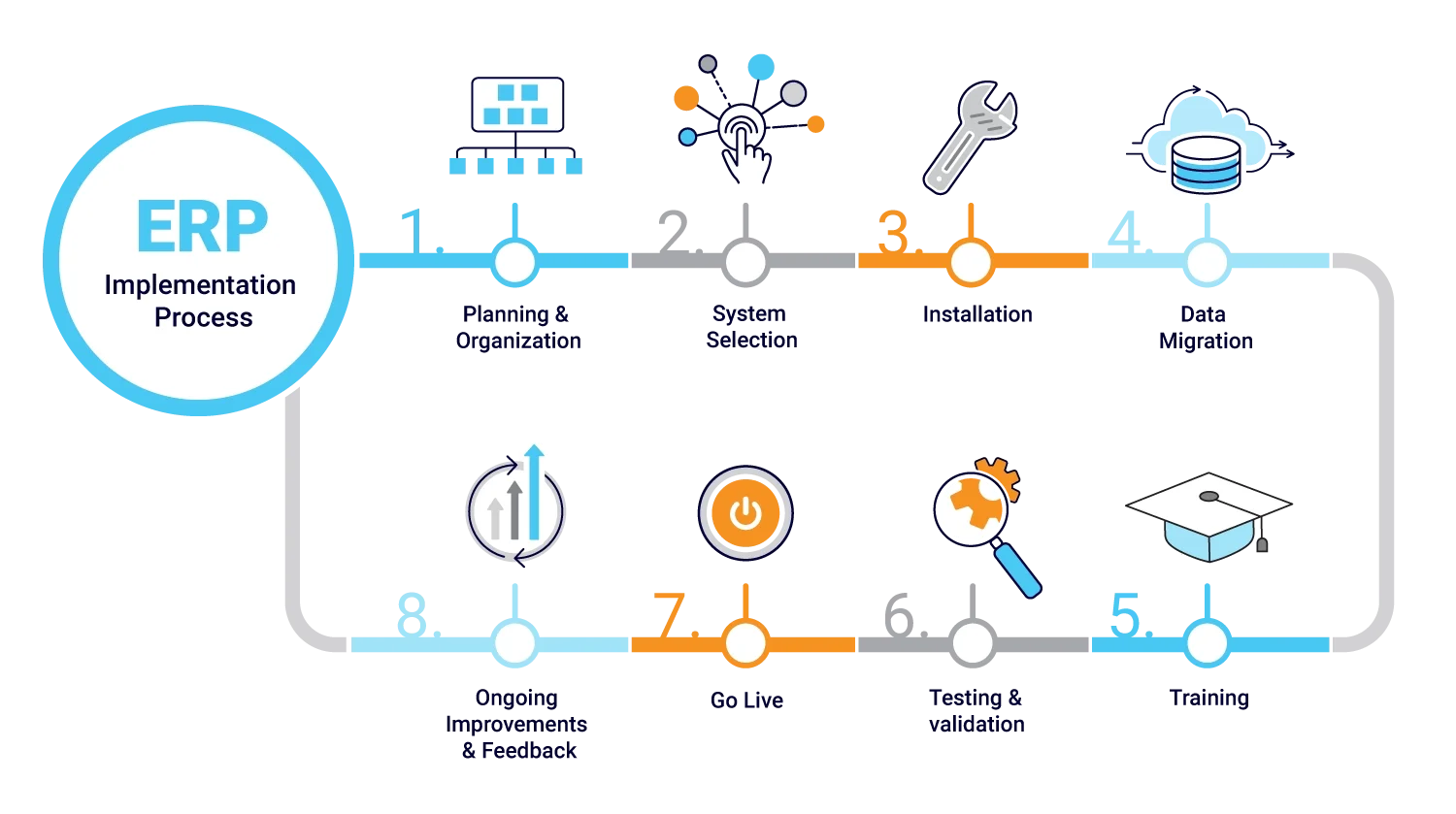 In this article:
What is an ERP Solution?
What is ERP Implementation?
What is ERP Implementation life cycle?
ERP Implementation Best Practices
The risks of not implementing an ERP solution
ERP implementations pave the way to continued success
What is an ERP solution?
An ERP solution is a central data repository, which connects every department in an organization and through which all the company's information can be accessed—anytime, anywhere. Modern ERP solutions are also powerful, intelligent platforms that can automate manuals tasks, consolidate all inventory, product, manufacturing, distribution, and project-related information, and set businesses up for success in the digital economy. But, before you can enjoy this "single source of truth," your business must complete the ERP implementation process.

What is ERP Implementation?
An ERP implementation is the eight-step process of installing your chosen ERP software, moving your business data over to the new system, configuring your user information and customized processes, and training your employees to use the software. That may sound like a lot, but these components of an ERP implementation don't happen all at once. They're accomplished in a logically progressing way, across the ERP implementation life cycle.
What is ERP Implementation life cycle?
As with any large project, it's imperative that you take an ERP implementation one step at a time. Though the implementation of an ERP system looks slightly different for each company, every ERP implementation life cycle is made up of eight standard stages—all of which are critical to the project's success. The timeframe for completing these stages also differs from company to company and will depend on your personal decisions about how quickly you want to move forward. For perspective, though, most ERP implementations are completed, from planning to having a fully operational system, in six months to one year.
Below, we'll discuss in detail the phases of the ERP implementation life cycle. Each step should be fully completed before moving on to the next. This ensures that all parts of the process are built on firm foundations.
Step 1: Planning and Organization
This step, which begins before you've even chosen the ERP system that best fits your business, has several sub-steps. You'll be:
Getting leadership and IT buy-in for the project. Support from your executive team and IT department is critical because the rest of the organization looks to them for leadership and security, respectively.
Assembling your ERP implementation team. These employees should be drawn from different departments, and each will be given a specific role on the implementation team. (More on this later.)
Choosing your deployment option (cloud-based SaaS, private-cloud based, or hybrid).
Step 2: System Selection
You and your ERP implementation team will research available ERP options and determine which one will best suit your company's needs. At the same time, you'll be:
Getting organizational buy-in. Just as you got buy-in from the leadership and IT teams, you'll now need to convince your other team members that the new ERP technology will benefit them and the company. Some employees may think that the ERP implementation is not a good idea because it will change their daily workflows. Address these concerns immediately—highlighting the benefits the ERP system will bring to everyone involved.
Defining your requirements. Document your business processes and any functional gaps in your current system. Look for processes you can improve and determine how the new ERP system should function to make those improvements a reality.
Developing a project plan with the ERP implementation team and your employees. The plan should outline assumptions, projected costs, project milestones, and tangible goals.
Choosing your ERP implementation process type.

Express: The ERP software is functional right out of the box. Companies that choose express implementations are single entities without complex processes, and they require no add-on solutions.
Standard: Companies that choose standard ERP implementations are either single- or multi-entity organizations that (1) operate in one currency and language and (2) require minimal customizations and add-ons.
Advanced: Companies that choose advanced ERP implementations are single- or multi-entity organizations with multiple locations, currencies, and languages. Their business processes and integrations range from moderate to complex. A complex rollout is involved with multiple phases (e.g., template rollouts, pilot rollouts).

Note: Acumatica Cloud ERP customers are paired with Value-Added Reseller (VAR) partners that are experts in their industries and are geographically local to the customers' businesses. VARs are responsible for recognizing the ERP implementation type businesses need and guiding them through the entire process.
Step 3: Installation
What happens in this step will depend on the ERP deployment option you chose during Step 1. If you chose to deploy your new ERP solution as a SaaS instance, you will have no software installation requirements and little to no installation lead time. If you chose a private-cloud or hybrid model, there will be a window of days to weeks during which hardware and software will be delivered to your premises, and the software itself, as well as any necessary infrastructure components, will be installed.
Step 4: Data Migration
Once your chosen ERP system has been installed, company data must be filtered (to remove any incorrect or redundant data) and then entered and/or moved into the new solution's database. This includes "basic records" like customer, vendor, and item master files; bills of materials; production facilities and routing information; general ledger charts of accounts; and so on. Just before Go Live, active transactional data will be converted and/or transactional activity will be moved into the new software.
Note: This is the only step that may bleed over into the next stages. Some data migration may be completed in parallel with training, testing, and validation—e.g., testing the system to verify that all legacy data has been moved and is accessible, etc.
Step 5: Training
Employees you designate as Subject Matter Experts (members of the IT team, the finance team, etc.) should receive specialized training during this part of the ERP implementation process, so they can teach others to use the ERP software and be the "go-to" people for questions after Go Live. All other users should be taught how to perform their own roles within the new system, too.
Step 6: Testing and Validation
This step involves creating and applying a detailed testing plan, which will measure user acceptance and help you determine if the ERP system fits your needs out of the box or if modifications should be made. You should also employ your IT resources here, validating whether the new software is working as expected and making sure that all company data (migrated into the system in Step 4) is complete and as accurate as it was in your previous software.
Step 7: Go Live
When you are ready to roll out the ERP implementation across your company, it's time to choose which approach best suits your context. There are three main options.
Big Bang: The new ERP system is activated and used exclusively going forward.
Phased: The new ERP system is activated in phases to minimize disruptions in operations.
Parallel: Both the legacy system and the new ERP system run at the same time.
Step 8: Ongoing Improvements and Feedback
The ERP implementation process doesn't end at Go Live. From there, as your employees use the software and as your business evolves over time, you'll gather user feedback and make ongoing improvements and adjustments to the system. This is why it is very important to choose an ERP solution that is able to scale with you, according to your fluctuating needs.
ERP Implementation Best Practices
ERP implementation processes should concentrate on project management as the key to success. In her book on the subject, Adrienne Watt defines project management as "the application of knowledge, skills, tools, and techniques" to manage activities and meet project objectives. Project management is all about comparing the progress made against the original plan and thereby updating the plan. This is where your ERP implementation team comes in—to guide the project from beginning to end.
As I mentioned above, each member of the ERP implementation team will be given a specific role. Among others, those roles include:
An Executive Sponsor, who will oversee the project in a part-time capacity. The Executive Sponsor (sometimes called the Champion) outlines the expectations for the ERP implementation and determines what resources are needed to make the project a success. This person should also be available to help answer questions or alleviate concerns that may arise during the implementation.
A Project Leader, who is knowledgeable about your business, has previous management experience, and can communicate clearly. The Project Leader represents the team and the project to upper management and is responsible for achieving the implementation objectives.
The remaining Team Members will be assigned their detailed tasks and responsibilities (e.g., Technical Lead, Subject Matter Experts) during the planning process. The Team Members should be chosen based on their levels of expertise and knowledge related to the task.
Deciding to upgrade your existing ERP software or to implement a new ERP system is a major undertaking. As such, the ERP implementation team you put together should consist of people, drawn from across the organization, who will be most affected by the new technology: the users. The people who will gain the most from the transition will be the most motivated to make sure the project succeeds. During the implementation process, they will be anticipating the results that the new system will provide, and they'll want to get the benefits of those results as quickly as possible. Again, organizational buy-in matters.
The risks of not implementing an ERP solution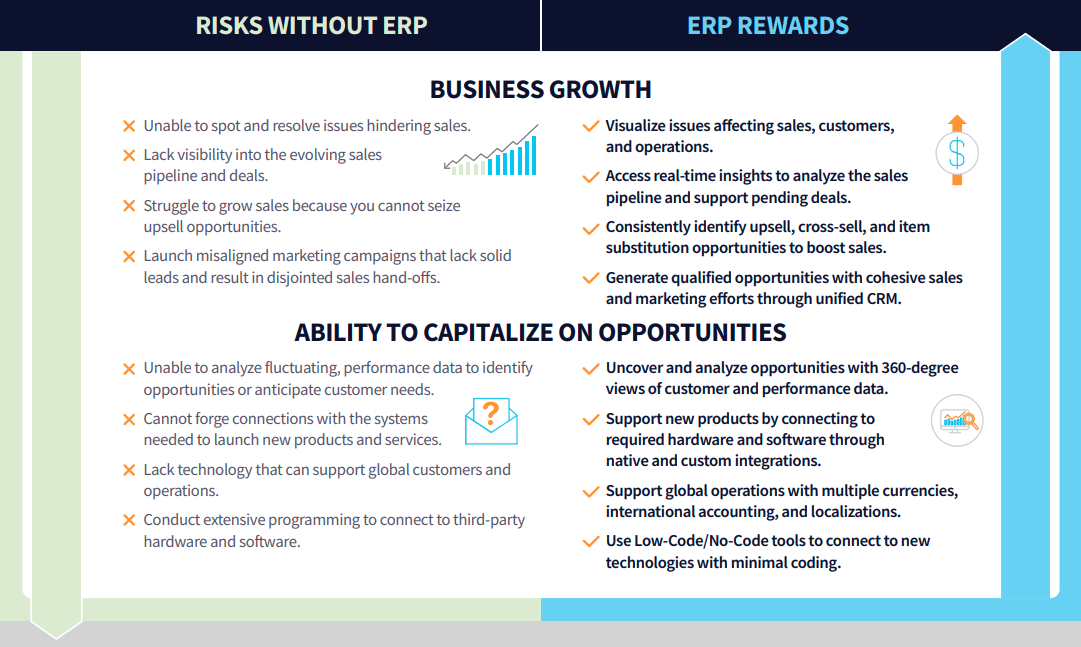 Today's digital economy poses many risks for companies that do not implement ERP solutions. Some of these are:
Disconnected, disjointed data—meaning that your business can't operate cohesively because no one has the same information.
Frustrated employees, whose productivity is hindered by that piecemeal data.
Difficult business growth/change due to expensive hardware/software purchases that just continue to stack up over time.
An inflexible interface that cannot connect your front-office, back-office, field, and remote employees.
Inefficiency and decreased profitability.
Security/compliance issues and extended downtime.
An overall inability to flex with the times.
However, an ERP system can alleviate all of these concerns. You can expect:
Streamlined operations.
Easy-to-use functionality.
A real-time view of your business anytime and anywhere on any device.
A secure platform that can easily adapt to your company's ever-changing needs.
ERP implementations pave the way to continued success
As your company grows and changes; as markets evolve; as people come, go, and grow; and as technology offers new challenges and opportunities, your ERP system and how you use it will change. This is the definition of digital transformation. It's an ongoing journey that transforms businesses—over and over again. ERP implementation is a necessary first step toward maintaining a competitive edge and building success in the digital economy.
Watch ERP Implementation Success Stories