At Acumatica, we recognize that selecting ERP system software is an important decision that takes time and research. Once selected, implementing that software can be intimidating, but it doesn't have to be.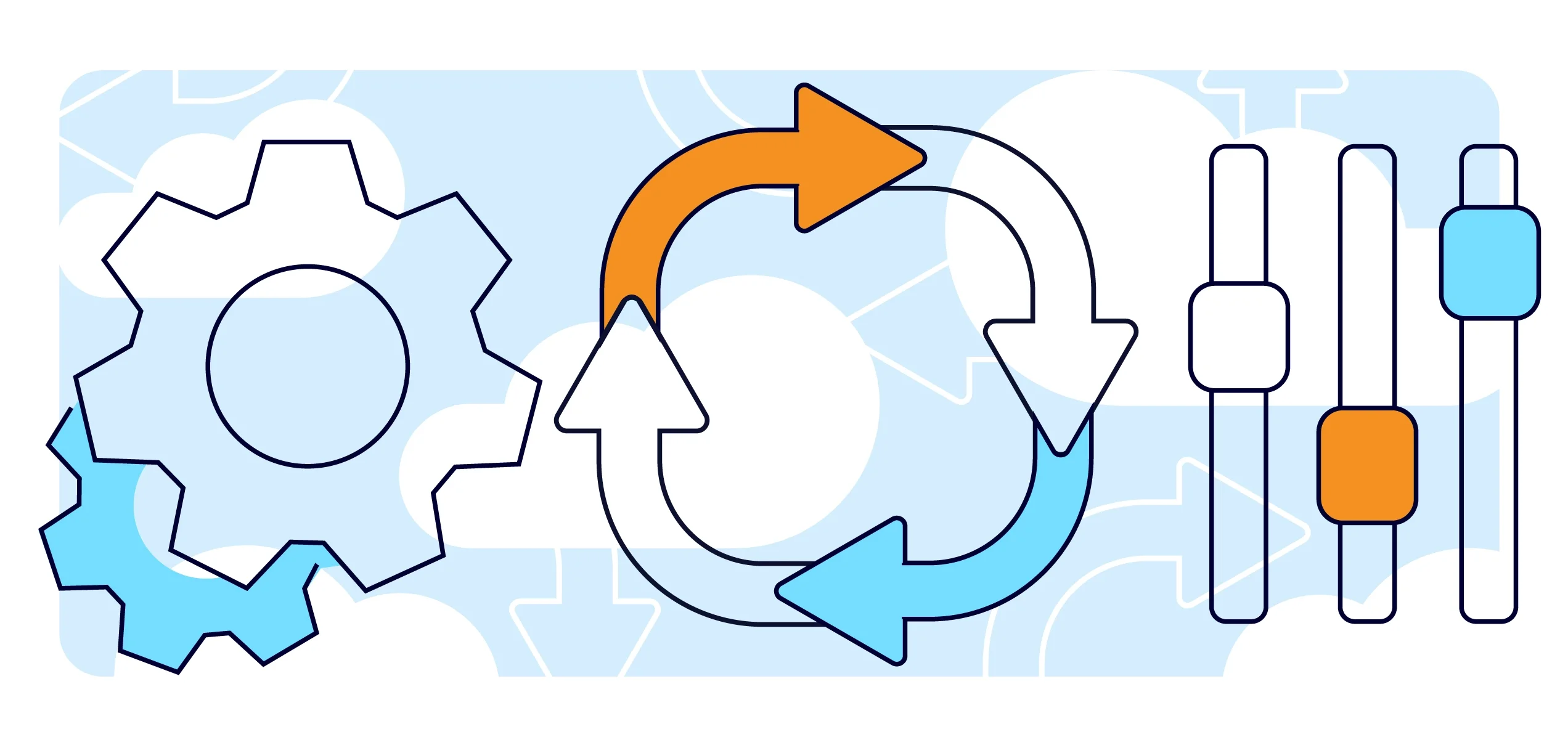 An enterprise resource planning (ERP) system is the "glue that binds together the different computer systems for a large organization," according to Investopedia. In other words, an ERP system connects different systems and allows their data to be accessed through a central location. But, before you can enjoy this "single source of truth," your business must undergo an ERP implementation.
ERP implementations involve installing the software, moving your financial data over to the new system, configuring your users and processes, and training your users on the software.

ERP implementations: One step at a time
As with any large project, it's imperative that you to take things one step at a time with an ERP implementation plan. It's normal to worry about ERP implementation failure, but thankfully, successful and calm ERP implementations are not only feasible, they're actually quite common, especially when you first secure leadership and IT buy-in.
Before we look at the ERP implementation checklist and process in detail, your initial focus should be on selecting the right ERP system software provider for your business. Selecting the right software is incredibly important but choosing the right partner for implementing your ERP system is almost as important.
Assuming you've found the cloud ERP software and the software provider you have been looking for, the expected results of implementing the correct ERP technology are:
Streamlined operations
Easy-to-use functionality
A real-time view of your business anytime and anywhere on any device
An ERP platform that is not only secure but adaptable to the ever-changing needs of your company
What type of implementation project is it?
The actual implementation of your cloud ERP solution begins with determining what type of implementation project it is. At Acumatica, we recognize that there are three implementation project types:
Express: Implementation is functional out-of-the-box (OOB); the customer is a single entity without complex processes and no add-on solutions are required.
Standard: Implementation is for Single or Multiple entities that require minimal customizations and add-on solutions and are single currency and language.
Advanced: Implementation is for Single or Multiple entities with various locations, multiple currencies, and languages. Their business processes and integrations range from moderate to complex. A complex roll-out is involved with multiple phases (Template or Pilot roll-out).
With Acumatica, your partner, whom you should trust, will be responsible for recognizing what project type your ERP implementation is and will then use the methodology and tools we have established in our newly released Acumatica Solution Framework. It is designed to guide our partner organizations through the various project types and emphasize that not every project should be treated the same due to their dynamic nature.
ERP implementations should concentrate on Project Management as the key to success.

What is Project Management?
In the Acumatica Solution Delivery Framework, Project Management is defined as "application of knowledge, skills, tools, and techniques to manage activities to meet the project objectives. Project management is all about comparing the progress made against the original plan and thereby updating the plan." To accomplish this, assembling a Project Management Team to guide the project from beginning to end is necessary.
The Project Management Team includes an Executive Sponsor who oversees the project in a part-time capacity. He or she provides the expectations for the project along with the needed resources; he or she is available to help answer the inevitable questions or alleviate any concerns that arise.
The team also requires a Project Leader who is knowledgeable about your business, has previous management experience, and can communicate clearly. The leader represents the team and the project to upper management and is responsible for achieving the project objectives.
The remaining Team Members will be assigned their detailed tasks and responsibilities during the planning process; the team members should be chosen based on their level of expertise and knowledge relating to the task, as they will be the most affected and the most willing to see the ERP system software implementation succeed.
Deciding to upgrade your existing ERP system software or implement a new ERP system is a major undertaking. As such, the team you put together should consist of people throughout the organization that will be the most affected by the ERP technology—the users. A smooth transition from an old system to a new one is never guaranteed, but the people who will gain the most from it are motivated by anticipating the results they will achieve and getting the benefits of those results as quickly as possible. Essentially, organizational buy-in matters.
It's also important to note that communicating exactly what is happening, why it's happening, and when it's happening throughout the process will keep everyone in the loop and mitigate the anxiety ERP implementations can engender. Surprises can be both good and bad. If your employees—the end users—understand from the beginning that adopting ERP technology is a business initiative and strategy and not just a new software package or an IT project, then they are more likely to support the entire process.
Looking for a way to address your business challenges?
What are the stages of  ERP implementation?
With your team assembled, the stages of implementation come into play. The stages are as follows:
Discovery: Processes that help define the need, vision, scope of the project, and obtain commitment from the customer to continue
Plan & Monitor: Processes that involve developing a strategy to complete the work, as well as measure the progress and take corrective action as required (this occurs throughout the entire process)
Analyze: Processes (a more detailed level of discovery) that involve gathering detailed requirements and analyzing the client's business needs
Build: Processes that carry out the tasks identified in the strategy
Stabilize: Processes to ensure a solution meets the client's requirements and is ready for full deployment to a live production environment—this also includes a client's readiness to use the solution
Deploy: Processes that will deploy the solution to a production environment.
Post Go Live: Processes that are in place to support the client once they are live on the solution, which lead to project closure
Acumatica customer PayWith chose Acumatica's ERP system software over SAP; they desired a cloud-based platform that would scale with their as-yet undetermined business model. Being agile and cost-effective were also factors in their choice. Once they made the decision, their implementation took only five months.
The company, which creates and manages mobile loyalty, rewards, and marketing programs for brick-and-mortar organizations, must settle thousands of daily transactions efficiently and accurately. Utilizing Acumatica's Financial Management Suite and Inter-Company Accounting Module, PayWith has grown 50% year over year since their implementation.
Vice President of Finance, Andrew Black, says, "Our accountants started using it right away and then our dev team integrated it in just a few weeks. We didn't need too much handholding because Acumatica is very intuitive. It follows common protocols in databases and accounting, so no matter which background you have, you can adapt to it very easily."
The business' smooth start and continuing growth is a great example of correctly following Acumatica's stages of ERP implementations. Their Acumatica customer success story provides further details.
"Acumatica allows us to grow without needing a team of accountants or data entry people," Black said. "It makes our whole business possible."

What happens next?
Whether you have an Express, Standard, or Advanced ERP implementation project, you will have the tools, resources, and methodology needed to implement your cloud-based ERP system software successfully. Your Acumatica partner, who has trained on and passed an Acumatica exam regarding ERP implementations, will be with you every step of the way.
The stages of implementing ERP technology ensure that your partner and your Project Management Team (all of whom desire functionality, usability, and flexibility for the end users) expertly handle the steps successful ERP implementations require. Once you go live, be aware that your digital transformation doesn't end there. As Acumatica CEO Jon Roskill says, "Your digital transformation journey should be an open-ended proposition. It's the only way businesses can continue to grow and mature in fluctuating markets and unexpected crises."
All resource planning ERP implementations vary in scope and ERP technology is constantly changing, but Acumatica and our partners know how to handle these changes with ease. If "planning ERP implementation" is on your to-do list, and you want it to be a rewarding process, contact us today or hear our customers talk about their ERP Implementation journeys.


Need more information on ERP Implementation?