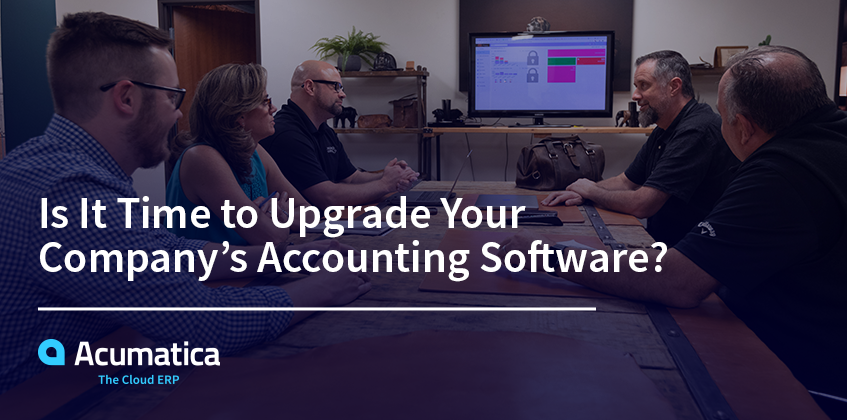 Technology is immersed in our personal and professional lives, and it—and how it's used—continues to evolve. Zippia research shows that experts estimate 38.6 billion IoT-connected devices will be utilized by 2025, 91.6% of Fortune 1000 companies are investing further into Big Data and AI, and technology patents in the U.S. are steadily increasing (47.82 million in 2017, up from 41.25 million in 2015). Obviously, technology is a game changer, and a perfect example is accounting software.
Accounting software—such as QuickBooks—eliminates paper-based, manual-data-entry processes, fueling efficiency and accuracy. It also reduces labor costs through the use of integrated reports, simplified payroll and tax filing requirements, and easy access to data.
However, there are limitations to what standalone accounting software systems can do. Businesses must not only recognize these limitations, but they must also determine if they're serious enough to warrant an upgrade to a full-featured cloud ERP solution.
Limitation #1: Can't Handle Growth
Growth is the goal of every business. Unfortunately, those relying on basic accounting software hinder their forward momentum. Take Bluefin Collectibles, a company that distributes Japanese toys, collectibles, and model kits. It was experiencing phenomenal growth, but it was using QuickBooks Enterprise as its accounting software. The basic accounting software could not scale with the company's expanding financial, warehouse, and distribution needs.
Specifically, QuickBooks did not:
Track inventory.
Allow access to unlimited users.
Support complex cash management needs.
In response, Bluefin sought a more complete business management solution, evaluating a number of cloud ERP software vendors before selecting Acumatica. Bluefin says in the company's Customer Success Story, "The growth potential for Acumatica with unrestricted user license as well as the support of the ISVs and VARs available is outstanding. Acumatica is awesome. It's completely changed our business."
With Acumatica, Bluefin now has an advanced business management solution that automates tasks and offers access to company-wide data from a single source, ensuring real-time visibility.
Limitation #2: Data is Segregated
Segregated data—also known as siloed data—is information lodged within separate departments and third-party applications that is inaccessible or unavailable to every team member. The result is teams attempting to work towards a common goal with disparate spreadsheets and inaccurate data, which causes disorganization and confusion.
Roberts Glass & Service suffered from this disconnect. The company, which designs, manufacturers, and installs glass curtain wall, storefront, and entrance systems as well as provides interior glazing, ran on Sage 50 for many years and stored its data locally on desktop computers.
"Data was very siloed," says co-owner Jeff Hamilton. "We also had paper spreadsheets scattered throughout the office. We knew operating on Excel and siloes wasn't going to allow us to grow or be more profitable or be more efficient and get information out to the field."
Jeff and his business partner Matt Dodson knew it was time to upgrade their accounting software and chose Acumatica after reviewing Sage and Salesforce. Jeff says, "We've torn down the silos we had with the client-server solution, so now we have access in one view of the data. We're now able to see where we are cost-wise with our existing construction projects; we're able to look at the profitability of each project, look at the customer base and understand where we are most successful."
Comprehensive business management systems connect a business from end to end. In fact, team members no longer make decisions based on segregated and unverified data but on accurate data that has been shared across the organization.
Limitation #3: Only Manages Basic Accounting
Finally, general accounting software is not suited for anything but basic accounting needs. While an affordable and solid option for businesses with simple requirements, manufacturing, distributing, and construction companies deal with complex supply chain, inventory, and warehouse logistics.
John Case, CEO, Acumatica, tells Christine Horton in an ERP Today article, "Basic accounting software is not built to handle these complexities. These basic systems cannot integrate data across each line of business, which makes it difficult for decision makers to have a complete picture of the business."
A company that experienced this lack of integration and business-wide visibility is Security Solutions NW (SSNW). SSNW—a company that provides products and services to protect people, property, and assets—was relying on aging software, which Brian Rowerdink, Controller, described as "QuickBooks on steroids." As SSNW grew, the software couldn't keep up. It lacked financial controls, contract and recurring revenue tracking, CRM capabilities, and the ability to automate time tracking, manage inventory, or change pricing in multiple contracts.
"We searched for a provider that was built for the cloud and selected Acumatica TRUE Cloud ERP," says Jamie Vos, Owner/General Manager. "Now we can be seamless by using CRM and the Mobile App, all departments in Security Solutions — locksmith, retail, service, sales, inspections, testing — have instant access to information, helping to speed business and lets us focus on what we do best, which is to design, implement, execute security solution that provide peace of mind."
Is It Time to Upgrade Your Accounting Software?
Though accounting software does its job admirably, its limitations are clear. SMBs have a decision to make: stay with a basic system or upgrade to a robust cloud-based ERP solution, like Acumatica.
Says Case, "With cloud-based ERP software, companies can manage multiple locations using a single database, enabling mobility and productivity for employees on both desktop and mobile devices, from any location, at any time. Scalability and growth are much simpler with cloud-based ERP software."
In fact, according to a Forrester study, businesses that implement cloud ERP software can expect a15% increase in sales volume, a 15% increase in gross margins, and a 45% increase in employee productivity.
To learn more about Acumatica, hear directly from customers who are saving time and transforming their businesses. Or you can contact our experts – they'll be happy to answer any questions or to schedule a demonstration.